Muhammad Ali was known for predicting his fights and trashing his opponent with his mouth before he met them inside the ring. Prior to the rematch with one of his greatest rivals, Joe Frazier, he did the same. Ali appeared to be quite confident about his rematch, despite the fact that he had lost his previous fight with Frazier.
Muhammad Ali verbally dissed Joe Frazier in a television interview when he told a poem predicting his fight with Joe Frazier. Ali said, "The fight goes like this …Ding…Ali comes out to meet Frazier but Frazier starts to retreat, if Frazier goes back an inch further he will end up in the ringside seat, Ali swings with a left, Ali swings with a right…Frazier keeps backing but there is none enough room, it's  a matter of time there Ali lowers the boom now Ali lands on the right, what a beautiful swing, and the pulseless Frazier Clean out of the ring."
On January 28, 1974, in Madison Square Garden, the second fight of the famed duo's trilogy was held. Muhammad Ali was considered the favorite despite his past setback and did succeed in exacting retribution for losing to Joe Frazier three years earlier.
Related: The Night Muhammad Ali nearly killed himself to overcome Joe Fraizer at the Thrilla In Manila
Joe Frazier and Muhammad Ali got into a fight during a television interview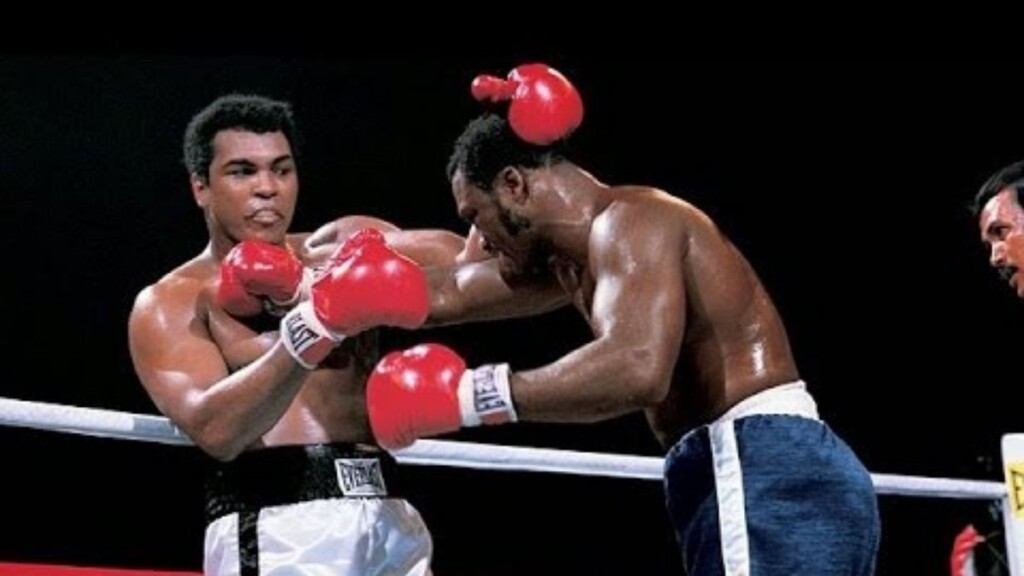 Ali and Frazier visited the ABC studios in New York City on January 23, 1974, five days before the rematch, to discuss their first encounter for ABC's Wide World of Sports. During the interview, Ali started to insult Frazier and called him ignorant for bringing up the hospital, where he had spent a month following the previous bout.
This infuriated Frazier got up from his seat and sat across from Ali while repeatedly saying, "Why you call me ignorant? How am I ignorant?" While the studio staff and Ali's entourage attempted to calm Frazier down, Ali grabbed him by the neck and forced him to sit down, setting off a fight on the studio floor. The following day, the New York state athletic commission penalized Ali and Frazier $5000.00 each for their behavior.
Many fans and analysts believed that the Super Match II fight, which was the second of their three clashes, was the least intriguing and hyped. It was considered a matchup between two former champions who were both defeated and past their prime by critics. Their second fight fell short in comparison to their first and third fight which went down into the boxing lore as classics.
In case you missed it:
"A public n***"- When Muhammad Ali trolled a reporter with a racial slur
Muhammad Ali developed his flamboyant and aggressive personality from this professional wrestler