Well, anyone following the meme culture would know of this really famous meme template. Yes, it's the Drake meme template. A few days back, Drake announced that he would be doing a Kick livestream on his channel on 3rd June. The famous Canadian Rapper Drake was well over an hour in the stream when something happened that left viewers in laughter. Apparently, his credit card declined right when gifting subs to another streamer, and the Rapper yelled "Embarrassing" in a high pitch tone that has given meme makers quite the content to last a whole while.
The fan-favorite Canadian Rapper Drake isn't unfamiliar with live streams. Drake has done quite a few live streams on Twitch & YouTube in the past. However, his live stream on 3rd June was his first stream on the up-and-coming streaming platform, Kick. And his first stream has given fans quite a bit of content to laugh about for a while now!
This was a really "embarrassing" moment for Drake. But a fun one for viewers, though. Prior to this moment, Drake had already gifted 20,000 Kick subscriptions to more than 100 content creators. This made other content creators really happy. This act of Godlihood from Drake was loved by the fans. However, further, in the stream, a moment that went viral soon after on the internet took place.
This all happened while Drake and the gang were watching another content creator on Kick, Daisy. Drake was to gift her 100 subs and asked his associate for help. But the subs couldn't go through. This was because Drake's credit card, which was used for this transaction, actually declined. That, too, live on stream!
Explore: "Why did he just f*cking punch me, bro" Spectator assaults popular streamer IShowSpeed during FA Cup final
"Embarrassing" Drake credit card declines on a live stream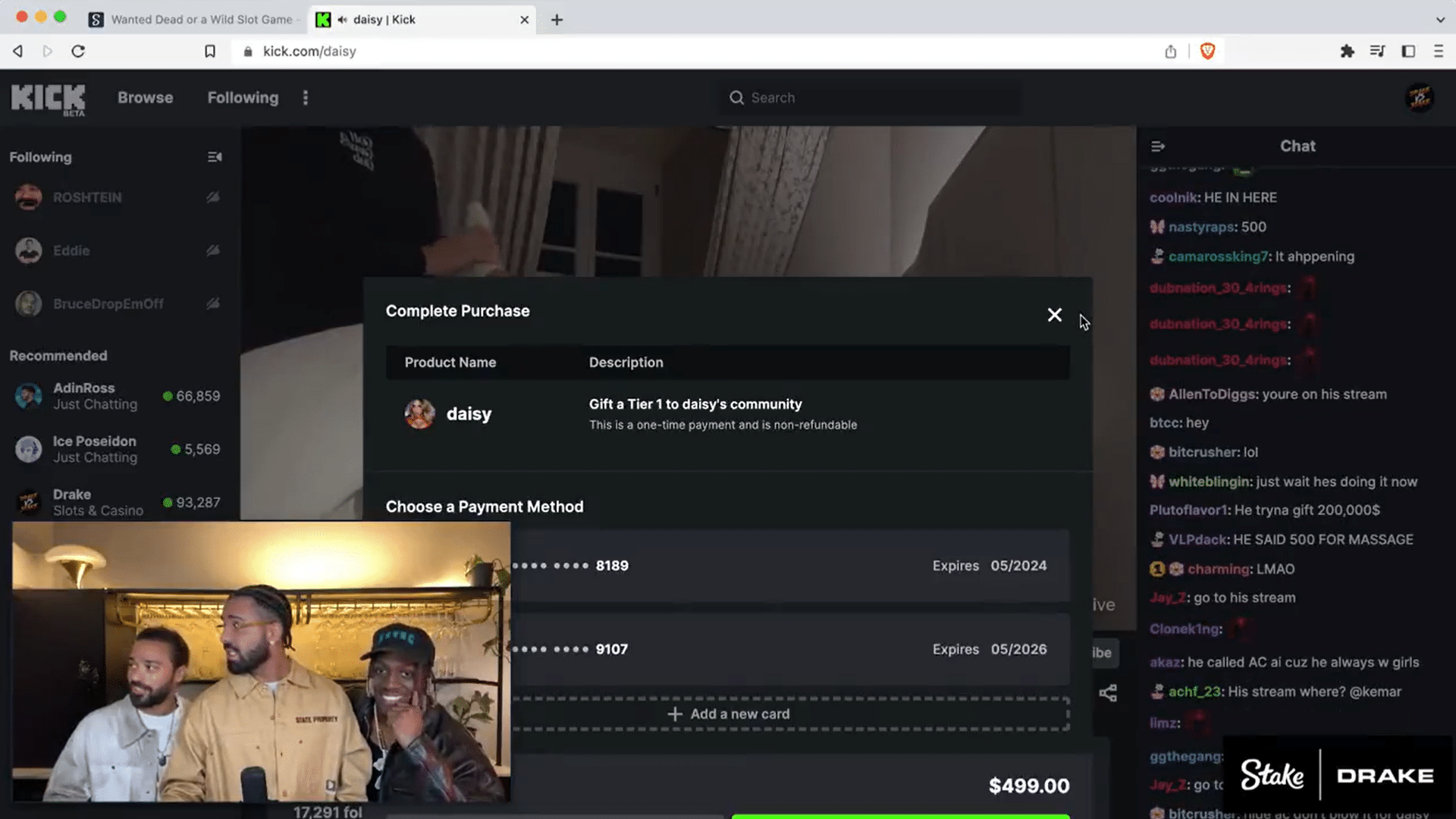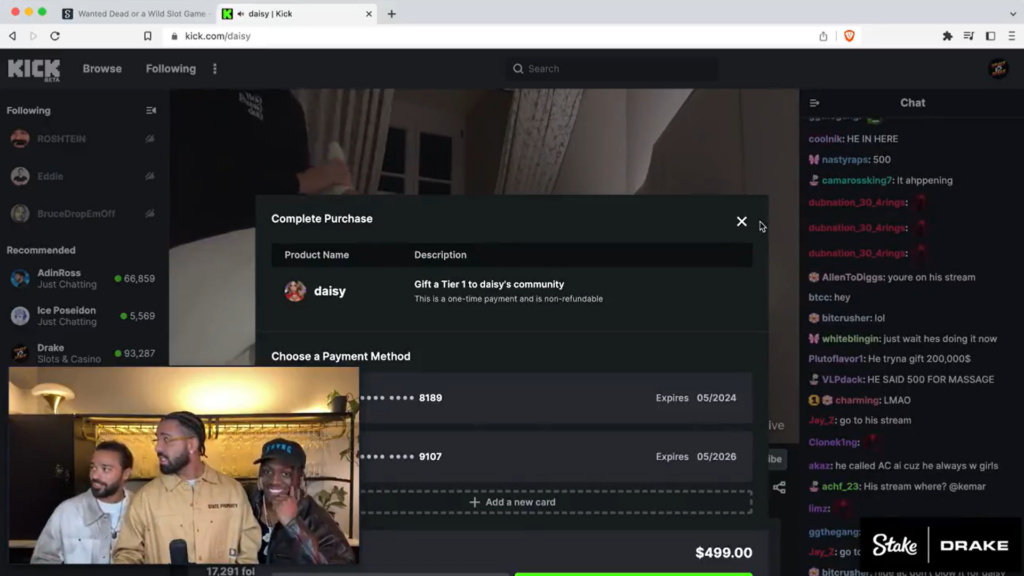 Drake's first Kick stream went really great. While an hour into the stream, Drake wanted to gift 100 subs to Kick content creator Daisy. The celebrity received advice from his associate on how to proceed with the transaction. He also asked which credit card to use. And this is where the hiccup happened. As soon as Drake put in the verification code to complete the transaction, his card was declined. His reaction and the tone of his voice were the more hilarious ones:
"Embarrassing! Yeah, what just happened?!

Drake after his credit card declined
Viewers watching the streams went into a series of laughter over the rapper's reaction. Some of the fans' reactions were:
He definitely fired somebody right after

— exo_edgar (@PerfumeEdgar) June 4, 2023
Casual about it, how you know the card just thought it was fraud 😂 man's isn't stressed.

— Mr. Dåvįd Çërvøñē (@thatweirdguy) June 4, 2023
WAIT ( Whaaaatttt???.)

— NON155 (@Nonstop157) June 4, 2023
he maxed already

— Resp◎nseful (@Responseful) June 4, 2023
"Embarrassing" 💅

— local milkman (@personalmilkman) June 4, 2023
Oh Jeez Louise my credit card got declined

— US-President-Elect-Pablo (@YtSkizzy) June 4, 2023
embarrassinggggg💅🏽 pic.twitter.com/9TlBtbsceM

— SWB 💫 (@ykkswb) June 4, 2023
This scene has gone viral, and fans are already making memes about it. Also, the fans' reactions are really hilarious. Although the reason for Drake's card declining is still unknown, if it's the bank sensing suspicious activity, then it's actually commendable for them to be on the lookout for potential fraud. Overall, this stream has given fans quite a bit of content to laugh at for a while!
In case you missed it: