The Photonic Legacy Set has been a highly sought-after collection in Fortnite, but players who are yet to acquire it need to act fast. Stage 1 of the Photonic Legacy Set is set to leave the Fortnite Crew subscription soon, making it the last chance for players to obtain this exclusive cosmetic item.
Fortnite offers a wide range of cosmetic items that players can purchase from the Item Shop. However, there are certain items that can only be obtained through specific conditions or subscriptions. The Fortnite Crew subscription is priced at $11.99 per month. It provides players with several benefits, including 1,000 V-Bucks, an exclusive skin, glider, harvesting tool, or emote. These cosmetics are only accessible as long as the subscription remains active. Once the subscription is renewed, previous exclusive items become unattainable.
Related: Fortnite x Spider-Man Across The Spider-verse: How to Find Spider-Gwen to buy items
Photonic Striker leaving Fortnite soon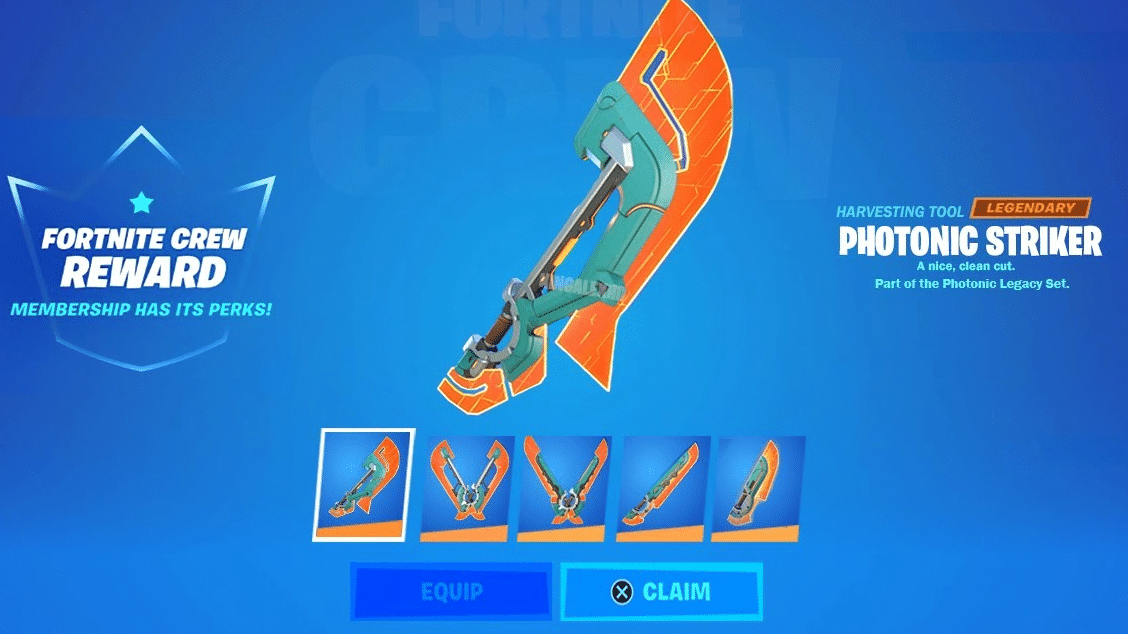 Back in November 2022, Epic Games introduced the Photonic Legacy Set as an added bonus for Fortnite Crew subscribers. This set has garnered significant attention due to its futuristic and eye-catching design. Players who became Fortnite Crew members between November 2022 and May 2023 were eligible to receive the Photonic Legacy Set for free.
However, time is running out for players who have yet to secure Stage 1 of the Photonic Legacy Set. The May Crew Pack marks the final opportunity to obtain this exclusive item before it departs Fortnite Crew permanently. To ensure they don't miss out, interested players must become Fortnite Crew members before May 31 at 8 PM ET.
Upon obtaining the Photonic Striker Pickaxe, players will initially have access to its first stage. However, they will unlock an additional style for this unique harvesting tool. This happens for each consecutive month they remain subscribed to Fortnite Crew. The Photonic Striker Pickaxe has a total of six stages and color variants available with the sixth style. Unlocking all the styles will require a minimum subscription period of six months. Even if players choose to pause their subscription for a few months, they can continue their progress and unlock additional styles in the future.
The departure of Stage 1 of the Photonic Legacy Set from Fortnite Crew marks a significant moment for dedicated Fortnite players and collectors. This exclusive item has captured the attention of many due to its stunning visuals and limited availability. As the clock ticks down, players should seize the opportunity to become Fortnite Crew members and secure Stage 1 of the Photonic Legacy Set before it becomes unobtainable.
In case you missed it: