Michael Schumacher is THE Formula 1 icon. Schumacher truly transformed F1 with utter domination during his famous Ferrari years. The German is widely regarded as one of the all-time greats. Michael still holds the record for the most world championships in Formula 1, albeit jointly alongside Lewis Hamilton. But after a life-changing skiing accident, Schumacher suffered from heavy injuries and is currently still fighting for himself.
Michael married Corrina Schumacher in 1996 and the two had a loving relationship till Michael's accident. Michael Schumacher and his wife Corrina have two kids, Mick and Gina. Mick Schumacher of course, needs no introduction. Mick had a widely successful career in junior racing categories before joining F1. However, for 2023, the young Schumacher will not be driving in the sport after being forced to take a Mercedes reserve role.
But Mick Schumacher's sibling sometimes gets unnoticed by the media, and that's Michael's daughter Gina. Gina Schumacher has had an equally remarkable career in recent years but in a rather different arena. In the Netflix film, Schumacher displayed to the fans the deep connection between the Schumacher family and their love for one another.
Also Read: Remembering the Formula 1 drivers who passed away in 2022
Who is Gina Schumacher? Find out more about Michael Schumacher's daughter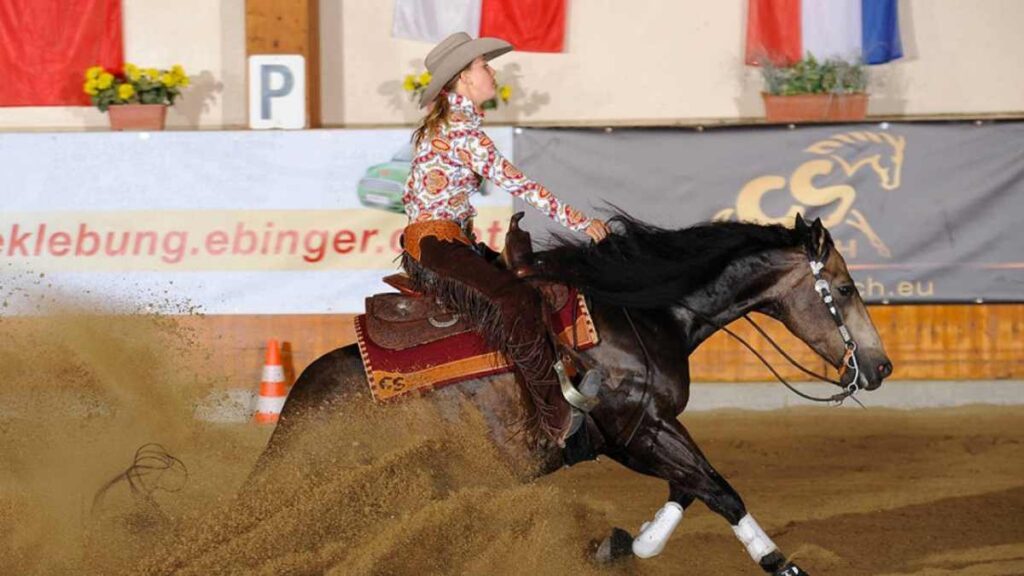 Gina-Maria Schumacher was born on February 20, 1997, and is 25 years old. Gina is the elder Schumacher sibling, 2 years older than Mick. Unlike his brother, she decided not to follow in the footsteps of her father Michael Schumacher in motorsport. Thus Gina didn't take up karting as a kid. However, the 26-year-old had a different passion from an early age, and that was horse riding.
Instead, Gina took on her mother Corrina's love for horse riding. Corrina Schumacher is an avid animal lover and passed on this love to Gina. Gina started horse riding at a young age and has made her mark in this field. In 2017, Gina won the gold medal in the FEI World Reining Championships in Switzerland, a true sign of her talent in horse riding. Gina is currently ranked 7th in the FEI Reining Seniors Rankings.
Gina has been humble and has never been shy of stating her love for her father Michael Schumacher. She also gave tribute to her father in 2019, when she dressed up in a Ferrari race suit on a horse made to look like a Ferrari F1 car. This tribute truly showcased her endearing feelings for his father. The 26-year-old is currently dating Iian Bethke, a showjumper who has been a great pillar of support for the German horse rider.
Thus, Gina Schumacher is a strong and independent woman who made her mark on the world. The 25-year-old managed to get away from the shadow of Michael Schumacher or even her brother Mick. she followed her mother in horse riding and does possess a talent for it. Thus, in years to come, Gina will only garner more success in her professional life, something his dad would be greatly proud of.
Learn More: Carlos Sainz snubs Michael Schumacher and Rafael Nadal to rank Tiger Woods
Learn More: "Thought this was a parody account" – Fans react as Haas F1 team unveils a new logo including title sponsor Moneygram for 2023