The Monaco GP, known for its glamour and high-speed racing excitement, attracted motorsports fans worldwide once again. Among the boom of engines and the attraction of the race, a billionaire F1 enthusiast made headlines by acquiring a front-row ticket like no other. This distinguished gentleman spared no cost in seeing the Monaco GP in unimaginable luxury by chartering the majestic Octopus, a 414-foot megayacht originally owned by Microsoft co-founder Paul Allen.
Monaco has long been a magnet for the world's elite, attracting the richest and most influential personalities year after year. The principality's picturesque backdrop, coupled with the thrill of the prestigious Formula 1 race, creates an irresistible allure for those seeking the ultimate motorsports experience. And this year, it was the floating masterpiece, Octopus, that stole the show. It stood tall as the largest and most opulent yacht to grace the Monaco coastline.
As the engines roared and the cars raced around the iconic Circuit de Monaco, the billionaire F1 enthusiast and Swedish entrepreneur Roger Samuelsson enjoyed an enviable position aboard Octopus. But securing a prime mooring spot near one of the expensive racetracks came at an astonishing price. The parking fee for Octopus, measuring a staggering 414 feet in length, amounted to an eye-watering $138,000 for a week in the coveted Zone 1.
With the race in full swing, the Monaco GP provided its fair share of excitement. Max Verstappen's commanding victory, leading by a remarkable 27.2 seconds over Fernando Alonso, was a treat. The race's drama was further intensified by a sudden downpour, adding an extra layer of unpredictability to an already grand event.
Discover: $200 Million worth Red Bull Monaco GP guest Neymar Jr. snubs Max Verstappen, proclaims his support for Lewis Hamilton
The Octopus features cutting-edge technology and luxurious amenities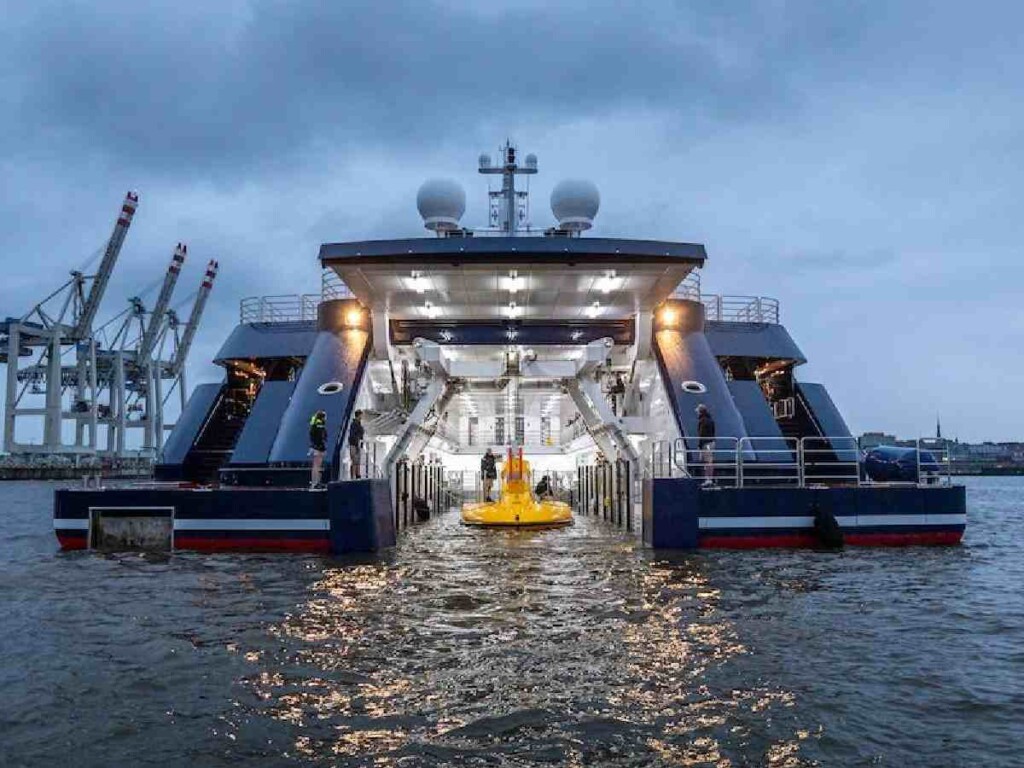 The Octopus, a mega-yacht with a deep history and incredible capabilities, was at the core of this year's maritime exhibition. Octopus was originally commissioned by Paul Allen as a platform for exploration, scientific study, and even rescue operations. Octopus, armed with cutting-edge scientific equipment like a submersible and an ROV, delved into new territory, playing a critical part in various marine efforts. This megayacht could accommodate up to 26 guests and had a staff 63 to ensure a faultless experience. It had a range of 12,500 nautical miles and a cruising speed of 12.5 knots.
Beyond its impressive technical specifications, Octopus exuded opulence and luxury. The vessel featured lavish amenities, including a helicopter, a submarine, and a floatplane, ensuring that guests could embark on extraordinary adventures both on and below the water's surface. Octopus also boasted technological marvels such as touchscreens and state-of-the-art AV equipment, showcasing Allen's forward-thinking approach to yacht design.
Octopus, which underwent a refit between 2018 and 2019, was put up for sale in 2019 with a staggering price tag of $325 million. Eventually, finding a new owner in 2021, the identity of the fortunate individual remains undisclosed. This year, the billionaire F1 fan had the privilege of chartering Octopus for a mind-boggling $2.4 million per week, further cementing their status as a true motorsports aficionado.
In case you missed it: