The Monaco Grand Prix is a popular destination for influencers, celebrities, and sporting individuals. The allure of the historic race is hard to deny, with the stunning race taking place around the streets of Monte Carlo—one personality who made his presence known as global football sensation Neymar Jr.
The Brazilian superstar, with a stunning net worth of 200 Million USD, is Red Bull Racing's guest at the GP. However, speaking to the media, Neymar has snubbed favorite Max Verstappen for the win. He said, "I am with red bull supporting them and rooting for my friend Hamilton." He has vocalized his support for Lewis Hamilton, whom he considers a friend, while parallelly supporting his host Red Bull.
Max Verstappen, held the lead of the Grand Prix throughout and always looked set to take victory, dominating with the race lead. The rain threw a spanner in the works. However, he persevered and took victory for the second time in his career at the principality, while the Neymar-backed Hamilton crossed the line in P4.
Related: WATCH: Spiderman actor Tom Holland arrives at Monaco GP without girlfriend Zendaya
Neymar Jr snubbed PSG's title celebrations to attend the race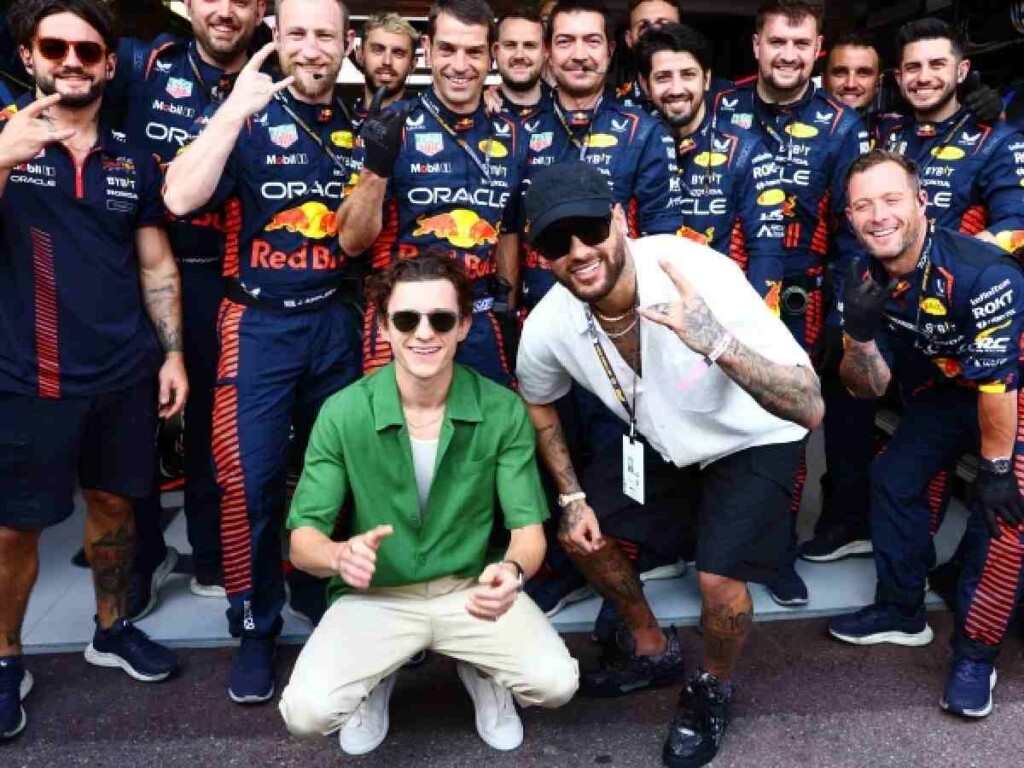 The accomplished player was notably absent from Paris-Saint Germain's celebrations as they were crowned Ligue 1 champions. As a result, he found himself at the center of attention amidst the dazzling glitz and glamour, resulting in numerous photos and videos capturing his every move. It isn't unfamiliar for him, however, given he is one of the biggest football stars in the world.
Neymar was also in the company of renowned Spiderman actor Tom Holland as they posed for a picture with the crew of the Red Bull garage. According to Express, the Samba winger left behind the dazzling lights of Parc des Princes and opted for the allure of a casino in Monaco. While his teammates were celebrating their Ligue 1 title victory, the superstar was deeply engrossed in a poker game on the morning of the Monaco Grand Prix.
One amongst the many celebs who dazzled around the paddock, he is an avid supporter of all-time great Lewis Hamilton and had no qualms with voicing his support of the Englishman despite being the esteemed guest of Hamilton's rival team Red Bull. The GP saw Max Verstappen take the checkered flag in first once again, further asserting his lead in the championship, a recurrent theme as of late.
Lewis Hamilton drove a strong race, but the podium eluded him, given the difficulty in overtaking at Monaco. However, the upgrades Mercedes introduced have undoubtedly boosted their performances, and they will proceed to the next race weekend with the confidence of being able to battle for a podium.
In case you missed it: