The Spanish Grand Prix went brilliantly for Red Bull, who again secured victory courtesy of golden boy Max Verstappen. On the other hand, Scuderia Ferrari copied Red Bull's sidepod design but couldn't emulate their success. Despite starting P2 on the grid, Carlos Sainz dropped back out of the podium places, finishing P5, while star Charles Leclerc finished P11, scoring no points.
Speaking on the Sky Sports F1 podcast, Rachel Brookes said, "My worry is Ferrari are going in the opposite direction. They changed their car and we saw a very different Ferrari in Spain, they are now trying to chase that route as well." Despite implementing upgrades, Ferrari seems to have fallen further behind the likes of Mercedes and is in no position to mount a challenge to leaders Red Bull.
Damon Hill added to his co-host's claims, "It's a funny season in a way because we have seen quite a lot of disparity between apparent form on one circuit and the same form, or expectations, on another circuit. Everyone is scratching their heads apart from Red Bull, who are delivering on every track. Then what can you say about Ferrari? When one is up, the other is down. It's like they are running with one leg all the time. So going forward, you have got the development curve and cost-cap restrictions to think about."
Charles Leclerc continually complained about drivability issues with his SF-23 throughout the weekend, which eventually prompted his pitlane start, rendering his point-scoring endeavors fruitless. As Rachel Brookes mentioned, Ferrari doesn't seem to be progressing toward Red Bull's level of prowess on the track, and it is a major cause for concern in the upcoming races.
Related: Ferrari team boss Frederic Vasseur voices frustration with underwhelming SF-23 upgrades
Ferrari fail to produce results yet again with another disappointing showing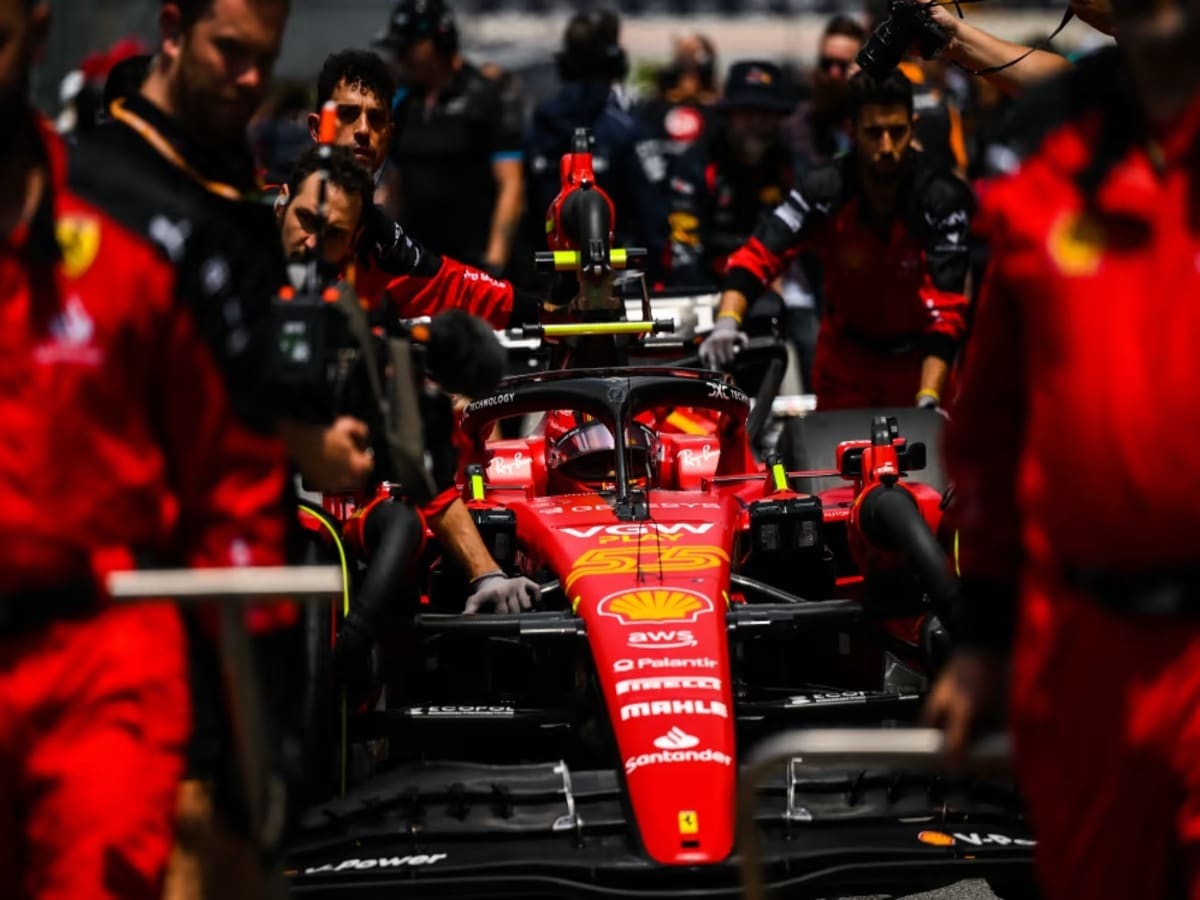 Charles Leclerc achieved an 11th-place finish at the Spanish Grand Prix after starting from the pit lane. Meanwhile, Carlos Sainz experienced a drop from his initial second-place grid position to fifth place. In a surprising turn, the Monegasque faced an unexpected elimination from qualifying, securing only P19. Although Ferrari found no mechanical issues with his SF-23, the team made overnight changes to his car, leading to Leclerc starting from the pit lane in the race.
Despite a marginal improvement on Sunday, Charles Leclerc could not muster enough speed to secure a points finish. He ended up in 11th place, as his attempts to overtake Pierre Gasly of Alpine in the final stages were unsuccessful. Despite his strong qualifying performance, Carlos Sainz struggled to maintain a competitive race pace. He was easily overtaken by Mercedes cars and Sergio Perez of Red Bull. As a result, Sainz settled for a P5 finish in the race.
Following an impressive performance in the first half of the previous season, where Ferrari posed a significant challenge to Max Verstappen and Red Bull, the team has struggled to replicate the same pace. They have not regained their position as a genuine contender for the championship title.
The Ferrari averaged a loss of 7-tenths of a second per lap to the race winner. They also exhibited poor pit strategy, a recurring mistake that the Scuderia can't seem to shake. They sit fourth in the Constructors' standings, 34 points adrift of Aston Martin. The team has difficult days ahead of them if they do not root out their car's issues, which hinder them in every race.
In case you missed it: