Formula 1 is a sport filled with glitz and glamour. Celebrities who may not even be interested in the actual racing, often flock to the nearest Grand Prix, simply attracted by the sheer adrenaline of witnessing 20 drivers risking their lives as they go round and round at over two hundred miles an hour. Thus it is no surprise to see F1 drivers socialize with various movie stars, actors, singers, and performers frequently.
Lewis Hamilton is perhaps the best example of that. Lewis is one of the most popular drivers ever in Formula 1. The 7-time world champion has built a strong presence on and off track over the years. Apart from rewriting the history books with his performances on the track, he is regularly spotted hanging out with A-list celebrities and he has even attended the Met Gala. He has also featured in the song "Pipe down" with Christina Aguilera.
Thus Formula 1's expansion in the United States serves as the ideal opportunity for Hamilton, as he is greatly connected to the stars of Hollywood. The Las Vegas Grand Prix launch was highlighted by Lewis driving a Mercedes on the famous strip with blue under-glow lighting, delighting the fans and giving us a taste of how magnificent the race next year could be.
Also Read: "It's really a lose-lose situation," Nico Rosberg thinks the FIA are in a tough spot with the budget cap breach verdict
Fans are thrilled seeing Anthony party alongside Lewis Hamilton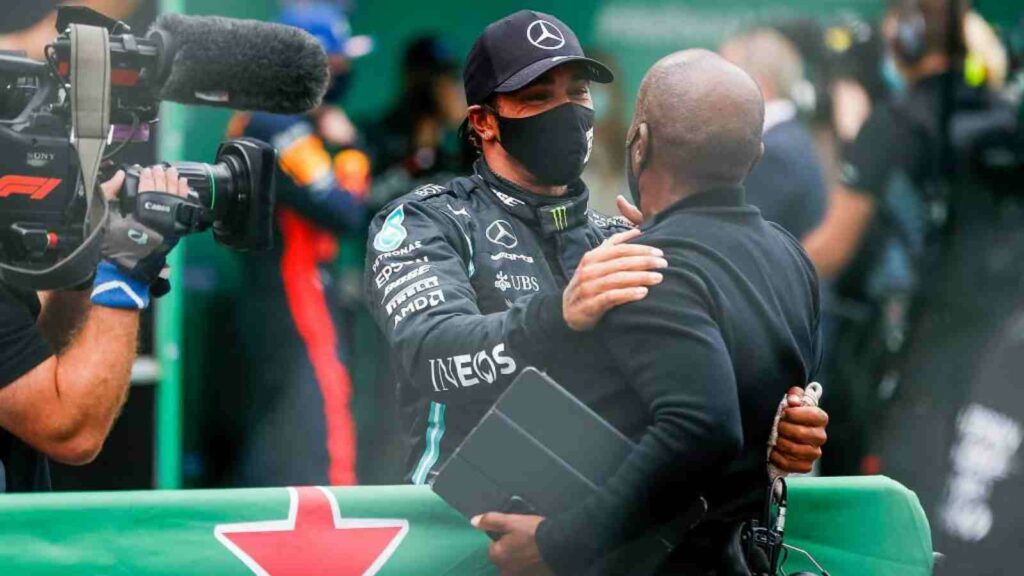 As such it came as no surprise to see the British driver party with famous DJ and music producer, DJ Diplo post the Las Vegas Grand Prix launch on Saturday. Yet one thing caught the eyes of the fans on Twitter, and that was Anthony Hamilton, the father of the 7-time champion. Anthony was spotted partying alongside and the fans are loving it. F1 Twitter cannot stop admiring the father-son duo to spend such a wonderful time together.
The love could not stop pouring in as one user said, "With his dad, This is so cute" while another user pointed out their surprise in seeing Anothony asking, "Is that Anthony" Fans also wished the pair to have a good time, one user replied, "stay blessed and safe." It is clear that people were glad to see the fun side of Daddy Hamilton, hoping that he had a great time while also wishing to see more of such instances between the two Hamiltons.
Read More: 'Then we will make a decision,' Guenther Steiner says decision on Mick Schumacher's Haas future on 'last details'
Read More: "The best F1 car ever made, period!" – A throwback to one of the most dominant cars in Formula 1, the Mercedes W11