The picturesque streets of Monaco saw one of the greatest Qualifying Sessions of recent times in F1 go down yesterday. It is a well-known fact that the narrow street circuit of the Principality does not allow for much overtaking during the Main Race, which makes it all the more important for the racers to deliver a stellar performance during the Qualis and secure a good starting position for themselves. And this time around in the Circuit dé Monaco, Max Verstappen achieved the feat of winning a pole position, and he was felicitated by Maria Sharapova–the tennis sensation from Russia.
Having retired from professional tennis in 2020, Grand Slam winner Maria Sharapova has not been away from the spotlight. She recently appeared at the F1 paddock during the Miami Grand Prix with fianceé Alexander Gilkes. And now, it seems like the Olympic gold medallist followed the F1 circus to their base in Monaco as well. During Saturday's Qualis, the Russian beauty was spotted in a stunning yellow outfit, that caught several fans' eyes on social media.
Maria Sharapova, a certified Lewis Hamilton fan, was there to present the Pole Award at the 80th edition of the Monaco GP. Unfortunately for her, Lewis was not the one who received the prize, but it was the seven-time World Champion's biggest rival at the moment–Max Verstappen. The Dutchman put up a brilliant performance during the Qualis as he delivered an astonishing final lap in Q3 and snatched away the pole position from Fernando Alonso. But despite Max's flair behind the wheels, all fans could talk about at the end of the session was the baffling height difference between him and Sharapova.
Related: "Sacrifice" in 2023 is necessary for better results in 2024: Williams' James Vowles clarifies his targets for the team
Fans gasp at the height difference between Max Verstappen and Maria Sharapova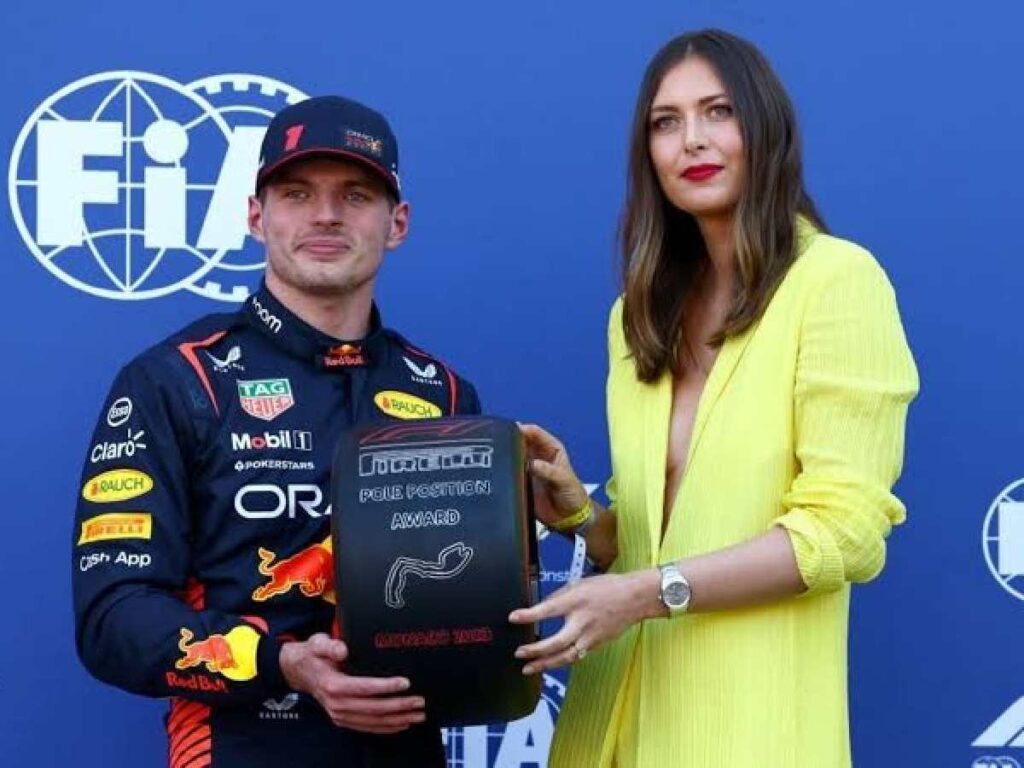 As Maria Sharapova handed out the Pirelli pole-sitter's prize to Max Verstappen, the Russian seemed to tower over the two-time World Champion. Then, some fans pointed out that Sharapova is 6'2″ while Max Verstappen is 5′ 11″, and on top of that, the retired tennis star was sporting heels to match her look. Thus, it is no surprise that the height difference between the two seems quite uncanny at first glance.
In other news, Max Verstappen is expected to have some good competition at the Monaco Main Race from Fernando Alonso. The Aston Martin racer drove like a beast during the Qualis but thanks to Max's last lap, he trumped the 41-year-old and got the pole position. Now, all eyes will be on the start of the race as a slight mistake in reaction time could cause Max to fall back in the grid, yielding his leading position to Alonso.
In case you missed it: