With 39 wins throughout his tenure at Red Bull till now, Max Verstappen recently surpassed Sebastian Vettel's record number of Grands Prix victories for the team with his fantastic drive at the Monaco Grand Prix. Now, the F1 circus is all geared up to travel to Barcelona, the place where Max Verstappen had scored his first-ever F1 race win at the age of 18. At that time, the Dutchman was a newbie in the world of the highest league of motorsports, with big aspirations in his eyes as he went on to become the youngest racer ever to win a Grand Prix.
Now, at 25, Max Verstappen still has the exact same level of enthusiasm coming into Barcelona, as he wants to further his advantage over his rivals for the World Championship title with a win at the Spanish GP. Recently, the chicane before the final corner at the Circuit de Barcelona-Catalunya was removed altogether. This chicane was introduced in 2007, but with its removal, the turns 14 and 15 will be back to their original form. Verstappen has commented on wanting to test his mettle at racing around them during his outing in Spain this weekend.
The Spaniards have two of their countrymen contesting against Max Verstappen for the Grand Prix victory this year–Carlos Sainz and Fernando Alonso. While this race is special to Max because he won his first Grand Prix here, it is equally important to Nando as he had won his 32nd and last Grand Prix victory till date at the 2013 Spanish GP.
Thus, Max Verstappen's winning the Barcelona race will not come easily, but he said, "I'm looking forward to going back to a track that we all know so well. I'm also interested to see the new layout for the last two corners. Of course, I have great memories from this circuit, especially winning my first Formula 1 race there. Hopefully we'll have some nice weather to throw into the mix too."
Related: "Pushed me over so brutally," Ralf Schumacher demands 'apology' from Miami GP stewards and security over mistreatment
Sergio Perez vows to never repeat his Monaco GP mistake again if he wants to win against Max Verstappen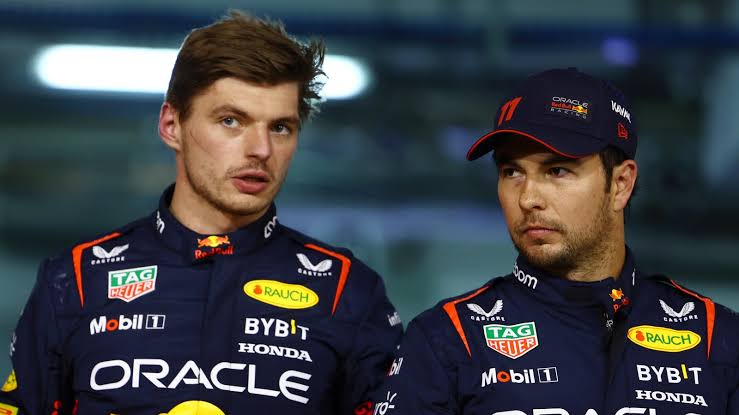 It is known to all by now that Max Verstappen's biggest challenger for the World Championship this year is none other than his own Red Bull teammate Sergio Perez. Such is the power of the RB-19 that no other squad has been able to come close to the Milton-Keynes-based team in the points table till now, so the title fight has remained between the two of their recruits.
But in Monaco, Sergio Perez slipped and hurt his chances disastrously. He crashed during the Qualifying, earning a 20th-place start on the grid, and ultimately finished the race in the 16th spot with zero points. And then he vowed to try to be flawless in his attempts from now on because, "It is unacceptable to have this kind of mistake. I just have to move on, learn from it, and I cannot afford another zero in the championship."
Now, all these new developments have set the stage for a massively interesting showdown in Barcelona. With some new upgrades added to the RB-19, Max Verstappen is charged up for a Spanish victory, as is Fernando Alonso, who will be returning to his home ground for the first time as an Aston Martin racer. On the other hand, Perez will be looking to make no mistakes, and Carlos Sainz will try to keep the Tifosis happy in his own country.
In case you missed it: