Ferrari racer Charles Leclerc recently confirmed on his official Instagram handle that he has called it quits with his girlfriend of three years Charlotte Sine, who is an architecture student from Monaco. While the couple had been one of the most popular ones amongst all fans of the Formula 1 community, their split has divided the internet as some feel devastated at the news while others believe Charles will be more focused on his racing abilities now.
Charles Leclerc had first made the headlines because of his relationship with Charlotte Sine in 2019. The two of them were spotted many a times at the F1 paddocks, sharing some sweet moments. Charlotte's Instagram shows that she has regularly visited the Ferrari driver's races and she even got a kiss from pole-sitter Charles Leclerc at the Singapore GP while she was cheering for him from amongst the crowd.
Twitterati had been obsessed with the celebrity couple from Monaco, who posted amazing pictures with each other from their vacations during Charles Leclerc's off days. Even during the summer break of the 2022 season, Charles and Charlotte spent some time together before the 25-year-old Ferrar recruit had to return to racing. But now, it has all come to an end as the two have broken up.
Also Read: "The test is going to happen," Toto Wolff reaffirms Romain Grosjean's hopes for Mercedes Test
Charles Leclerc and Charlotte Sine's breakup splits the opinions of the Twitterati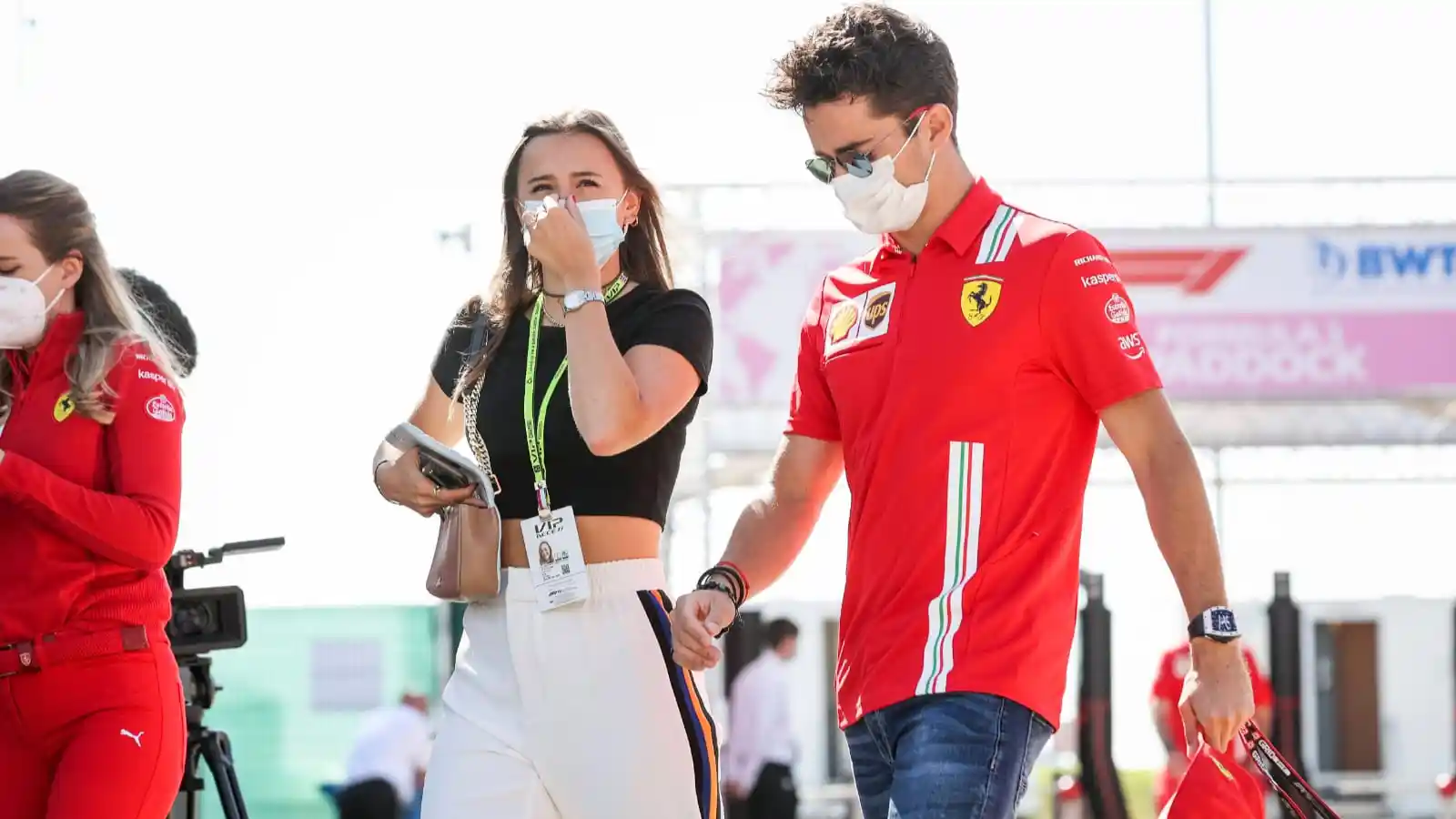 Charles Leclerc suffered a massive blow in the recently-concluded 2022 Formula 1 season as he lost the top position in the Championship to Red Bull's Max Verstappen despite being touted the early favorites with two wins in the first three races. Thus, as he announced his breakup from Charlotte Sine, some of the fans are of the opinion that he will be able to give more focus on his profession now, and that give him an advantage as he goes for the Championship again.
Charles winning wdc 2023
No distractions anymore

— Rishi (@RishJ01) December 6, 2022
Bye bye finally she's gone and he can focus on winning with Ferrari. She was dragging his down big time

— Joanne Cronin (@Joanne_cronin_x) December 6, 2022
It means Charles will focus on sim time and driving and winning that wdc. Hell yeah!

— Honest F1 Follower (@HonestF1er) December 6, 2022
Waking up to the news of Charles Leclerc being single… how sad. pic.twitter.com/SZnWnV6PJV

— 𝐉𝐊𝟔 (@formulakimmich) December 6, 2022
But some of the other fans are quite disappointed that the Instagram-favorite couple will no longer be spotted at the races together. Here is what they had to say about Charles Leclerc and Charlotte Sine's breakup–
shook to my very core
i'm glad they're still remaining good friends tho

— rach/11 yrs w/ 5SOS (@coolbabyblue_) December 6, 2022
i don't believe in love anymore

— jess (@nexoreh) December 6, 2022
Wdym they broke up?? Never believed in true love & this further solidifies that. Of all d couples i never expected Charles/ Charlotte 2 breakup. They looked so happy together in AD. So either they were very good actors or something has gone really wrong since Abu Dhabi🥺🥺🥺🥺

— Nandan Tantry (@nandy_here) December 6, 2022
No wayyy this is trueee 😫

— 🦕 (@_yelb_) December 6, 2022
We got Pierre and Yuki recently, NOW THIS????!?

— zerosixteen. (@0sixteen_) December 6, 2022
Charles Leclerc recently claimed that he will be back in the 2023 World Championship with Ferrari in a completely new form since he wants to surpass Max Verstappen and prevent him from scoring a hat-trick with a third World title. Now, only time will tell if he will be able to find success on his quest for a debut World Championship trophy, or not.
Read More: "My job is running an F1 team, it's not being an actor" : Guenther Steiner makes a shocking claim that he has never seen Drive to Survive
Read More: "I'm not going to be nice anymore," Romain Grosjean heavily criticized by rivals in IndyCar