Fans of Formula 1 and MotoGP rejoice as their two worlds collide with Ferrari racer Carlos Sainz posting a strong of pictures which feature his close friend and countryman Marc Marquez–the six-time MotoGP World Championship winner who currently drives for Repsol Honda. It is no news that the Spaniards have "football fever" ingrained into their genes, and these two motorsports maestros are no exception to the rule. Carlos Sainz posted a picture of the two of them watching a World Cup football game on his official Instagram and Twitter handles.
Marquez and Sainz got together for the Spain versus Japan match which proved crucial for the two racers' home team to qualify for the knockout round in this year's FIFA World Cup. Both the Spaniards have already ended their Championship campaigns in their respective motorsports franchises with results that leave a massive room for improvement. While Carlos Sainz bagged the P6 position in the F1 World Championship standings, 60 points behind his teammate Charles Leclerc, Marquez ended his MotoGP year with 13th position and 1 podium win.
This is not the first time that Marc Marquez has been seen out and about with a Formula 1 racer in recent times. The Repsol Honda rider was present in Japan only a few days ago, celebrating the Honda Thanks Day alongwith Max Verstappen, Sergio Perez, Pierre Gasly, and Yuki Tsunoda–all F1 racers recruited under teams which used Honda-powered engines. But fans loved the football spirit that Carlos Sainz and Marc Marquez showed, sporting their Spain jerseys proudly, and hence they commented to the picture.
Read More: WATCH: George Russell spotted with his gorgeous girlfriend courtside enjoying a Miami Heat game
Twitter fans say congratulations to Marc Marquez and Carlos Sainz as Spain gets through to the World Cup knockouts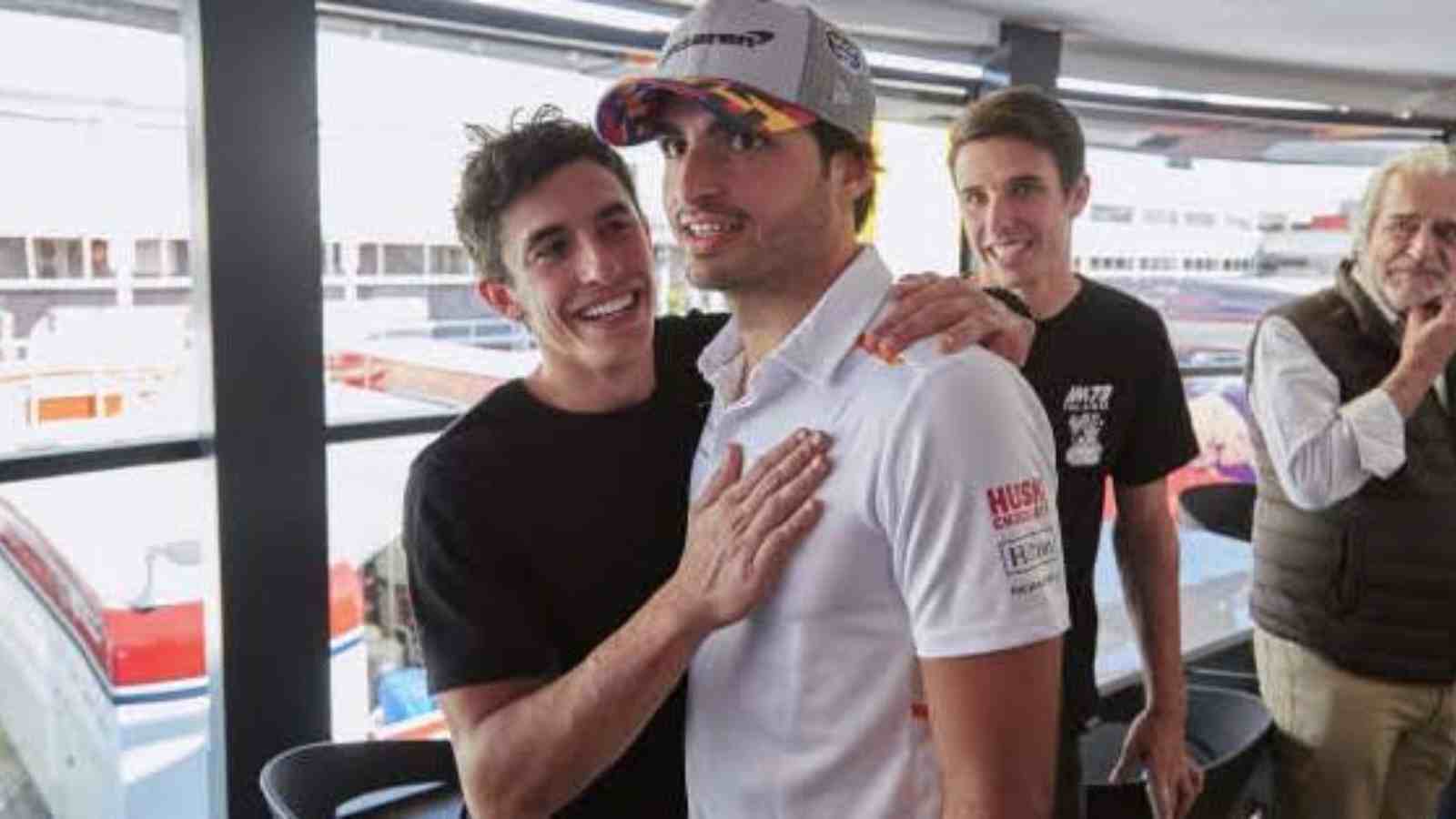 The latest FIFA World Cup match between Spain and Japan held a huge importance in setting the course of the rest of the games in the knockouts as all the participating teams in Group E, which is also touted as the 'Group of Death', were in a neck-to-neck competition for a place in the next round. Even during the match, the course changed from time to time and it all ended with Germany and Costa Rico bowing out of the World Cup while Spain and Japan proceded to the knockouts.
Tarde de mundial con @marcmarquez93
Vamos! @SEFutbol pic.twitter.com/xcswOYsLgi

— Carlos Sainz (@Carlossainz55) December 1, 2022
As the match went well for the Spaniards, Carlos Sainz decided to post his picture with Marc Marquez to celebrate the game and here is what the fans had to say for it–
Lucky 🍀 this time…. 😅

— Alf (@Helder_DAlmeida) December 1, 2022
CAN'T STOP SMILING TO SEEING THIS PICTURE 💖😭😭💖😭💖😭💖 I CAN DO THAT ALL OF DAY 😭💖

— 👽🌶 (@_erspiritum) December 1, 2022
My boy in two sports 🫶🏼✨

— เชอร์เบตเลม่อน 🍋 (@ladydesainz) December 1, 2022
We needed this carlos 🥹🥹😭🥰😍❤️

— Leema⁵⁵ | ayesh week👵🏼| 🏴󠁧󠁢󠁥󠁮󠁧󠁿🇧🇷🇨🇷 (@Halyma221) December 1, 2022
VAMOS VAMOS!!

— anny 🌶️ | wc era 🇪🇦 (@formulanny) December 1, 2022
Tsunoda sent you a message!

— Elliot 🏴‍☠️ (@brasil_blade) December 1, 2022
WE WON IDOLO 🇪🇸🇪🇸🇪🇸🫡

— Selim🇪🇸🇯🇵🏁 (@PAPASELIM) December 1, 2022
On the other hand, Carlos Sainz has already made some headway in terms of helping Ferrari develop their car for the F1 2023 season as he took part in the post-season testing with the Italian outfit. While this year ended with some disappointment for the Scuderia as they had to settle for second place in the Championship despite being the early favorites, they have vowed to make a flashy comeback that, undoubtedly, all Tifosis will be waiting for.
Read More: Pierre Gasly gives a glimpse of his "unforgettable dinner" with NBA legend, Michael Jordan in Miami
Also Read: "We will do everything in our power," Toto Wolff warns F1 teams of a Mercedes resurgence in 2023