Rumors have pertained after the 2022 World Cup final that Lionel Messi and Kylian Mbappe do not share a great relationship. The videos have gone viral around the Internet, where Messi can be seen alongside his teammates and Argetnitne fans making fun of Kylian Mbappe. It is a sign of a red flag for any manager when both players are going through such a patch, which is the case for Christophe Galtier as both play under him at PSG.
Christophe Galtier, the PSG manager, has ruled out any personal duel between two of his important players on the squad. He said, "I would focus on the relationship between them. It wasn't Leo Messi winding anybody else up. What I saw after the final, what I have experienced, is there is no reason to mix these things up because the goalkeeper's behavior is down to him,".
He has clearly stated that Emiliano Martinez has led to this small confusion between two players and that the goalkeeper is solely responsible for mocking Mbappe. Galtier has also claimed that Lionel Messi is a man of great character and excellent professionalism and is not at all interested in teasing Mbappe and is expected to be back at the club by January.
Read More: "A minute of silence for … Mbappe!" Emiliano Martinez mocks Kylian Mbappe during Argentina's locker room celebration after winning the 2022 FIFA World Cup
What did Christophe Galtier say about Kylian Mbappe after the final loss?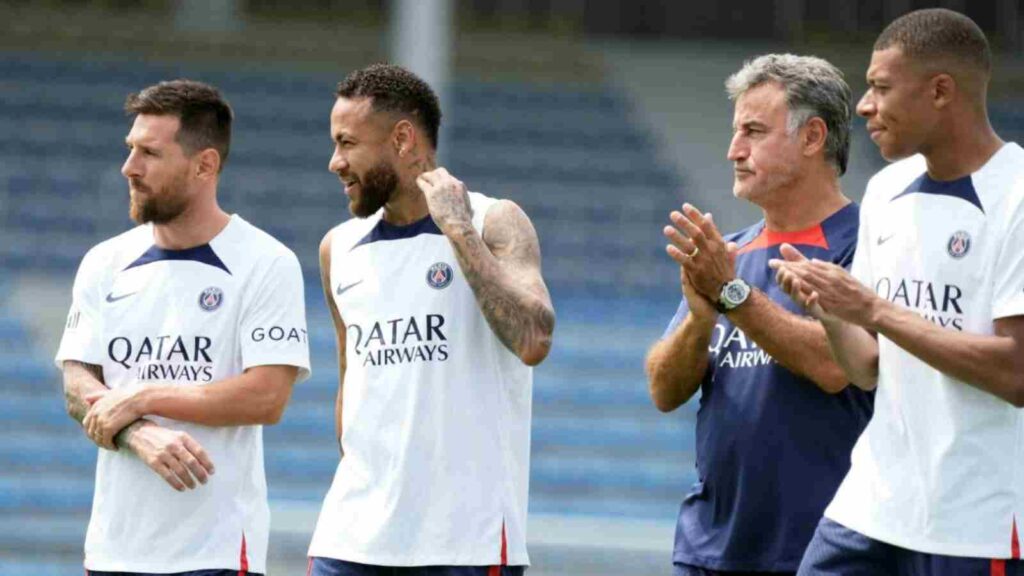 Christophe Galtier was in a lot of praise for both his players and especially stood by the side of the Frenchmen after such a rough loss despite a stellar performance. He said, "What matters to me is the relationship between the players. Kylian Mbappe had a very good attitude, despite losing,".
He added, "Of course, he was very disappointed, but he did that in a classy way. He congratulated Leo Messi and that is a very good thing for the club and for the team." Kylian Mbappe has been on the news the whole season firstly for his shocking renewal with PSG at the start of the season and for snubbing Real Madrid who was close to signing him.
The news came up yet again a few months before when the management and rumors manhandled him stood out that he wanted out of the club because he felt betrayed. Now that Real Madrid has also expressed their clear statement that they are no longer interested, he would look to get his head in the right place, perform as he has been, and bring the UCL trophy into Paris.
Read More: Fans claim that Argentina's third goal against France in the 2022 World Cup Final is 'illegal'
Read More: Pele sends a wholesome message to Lionel Messi as he wins the 2022 FIFA World Cup