Football is undoubtedly the most popular sport globally, and many fans debate who is the greatest of all time. Two players have been competing for this title for some time: Lionel Messi and Cristiano Ronaldo. Recently, Andrew Tate weighed in on who he believes is the best between the two football legends.
Lionel Messi recently clinched the FIFA World Cup and was also honored with the Golden Ball award for his outstanding performance. On the other hand, Cristiano Ronaldo was eliminated in the quarter-finals by Morocco in Qatar. Consequently, a lot of fans declared that the Messi vs. Ronaldo debate was settled.
When Piers Morgan asked Andrew Tate who is the real goat in football, he replied, "They're both two very hard-working men. I have absolute respect for anybody on Earth who dedicates themselves." Andrew Tate has a great appreciation for the accomplishments of two renowned soccer stars who have been ruling the game for over a decade. His own history as a professional kickboxer gives him an understanding of the hard work and skill that it takes to achieve such a high level of success.
Also Read: "So it was all about the money; Messi would never"- Fans react as Cristiano Ronaldo reportedly agrees to play for Al Nassr at a $75 million-per-year deal
Lionel Messi and Cristiano Ronaldo expected to play in a friendly match in January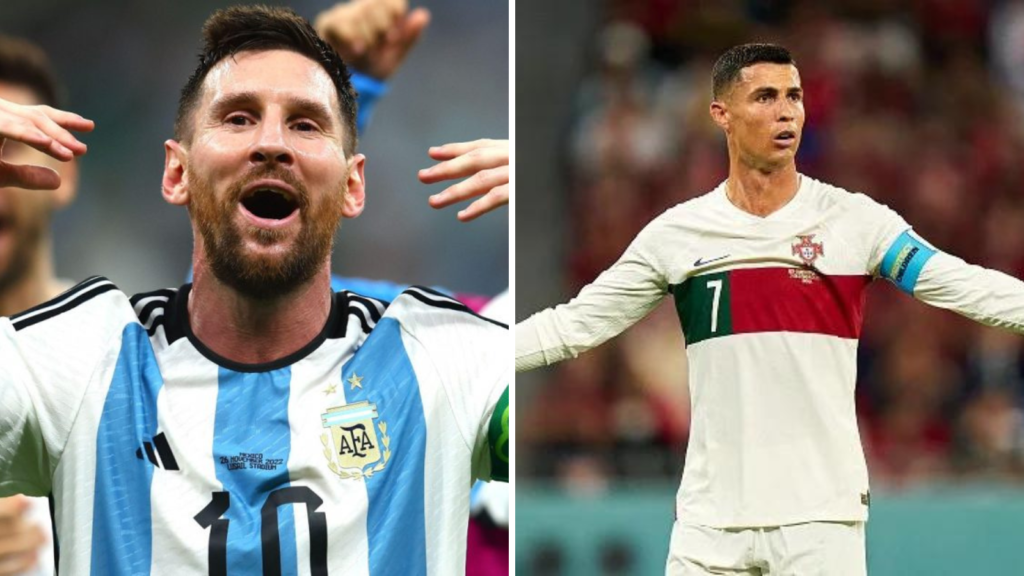 In 2023, Lionel Messi and Cristiano Ronaldo will be on different continents for the first time since they kicked off their professional careers with Barcelona and Sporting CP in the early 2000s. Messi has decided to remain with Paris Saint-Germain for another year, while Ronaldo has signed a 2.5-year contract with a team in Saudi Arabia, Al Nassr.
Speculations are circulating that Cristiano Ronaldo and Lionel Messi could potentially face each other in January. According to sources, Paris Saint Germain is set to take a trip to Saudi Arabia during the winter break for an exhibition game. It is likely that the opposing team will consist of players from Al-Nassr and Al-Hilal, with Ronaldo having recently joined the former.
After Manchester United severed ties with him following a controversial television interview in which he spoke negatively of manager Erik ten Hag and the owners, Ronaldo had been without a team. At the World Cup, he showed a lack of form and was substituted during the knockout phase, leaving the pitch in tears after Portugal was defeated by Morocco in the quarterfinals. On the other hand, Messi has propelled Argentina to their third World Cup victory, furthering the claim that he is the greatest footballer of all time.
Also Read: Kylian Mbappe was reportedly infuriated by the actions of his rumored girlfriend at 2022 FIFA World Cup
Also Read: "Obrigado Pele," Sergio Perez shares a special throwback picture as he pays condolences to the late Football legend