Cristiano Ronaldo, widely regarded as one the greatest player of his generation, recently shared a heartwarming moment with a fan in Saudi Arabia. The fan, who was clearly a huge admirer of Ronaldo, mimicked the star's signature celebration "suiiiii" and embraced his idol.
The moment was captured on camera and has since gone viral on social media, with many praising Ronaldo for his kind and humble nature. The fan, who was visibly emotional during the encounter, was undoubtedly thrilled to meet his idol and receive such a warm and genuine response from him.
Cristiano Ronaldo's reaction 😅 (IG/gabrielbjj7) pic.twitter.com/ACrZIOrOZG

— GOAL (@goal) January 26, 2023
The moment is a reminder of the positive impact that sports stars can have on their fans. Ronaldo's genuine interaction with the fan shows that he is not only a talented athlete but also a kind and humble individual who understands the importance of connecting with his fans.
It also highlights the power of sports to bring people together and create memories that will last a lifetime. For the fan, this moment will undoubtedly be a cherished memory that he will treasure forever.
The former Man United Captain's AL Nassr teammate Anderson Talisca's son was also seen copying the iconic "suii" in front of Ronaldo during a team gym session, Ronaldo seemed to enjoy his young fan's attempt, with his mum capturing it and posting on Instagram.
You may like: Who is Gerard Pique's new girlfriend Clara Chia?
Cristiano Ronaldo's Eyewatering Contract with the Saudi Giants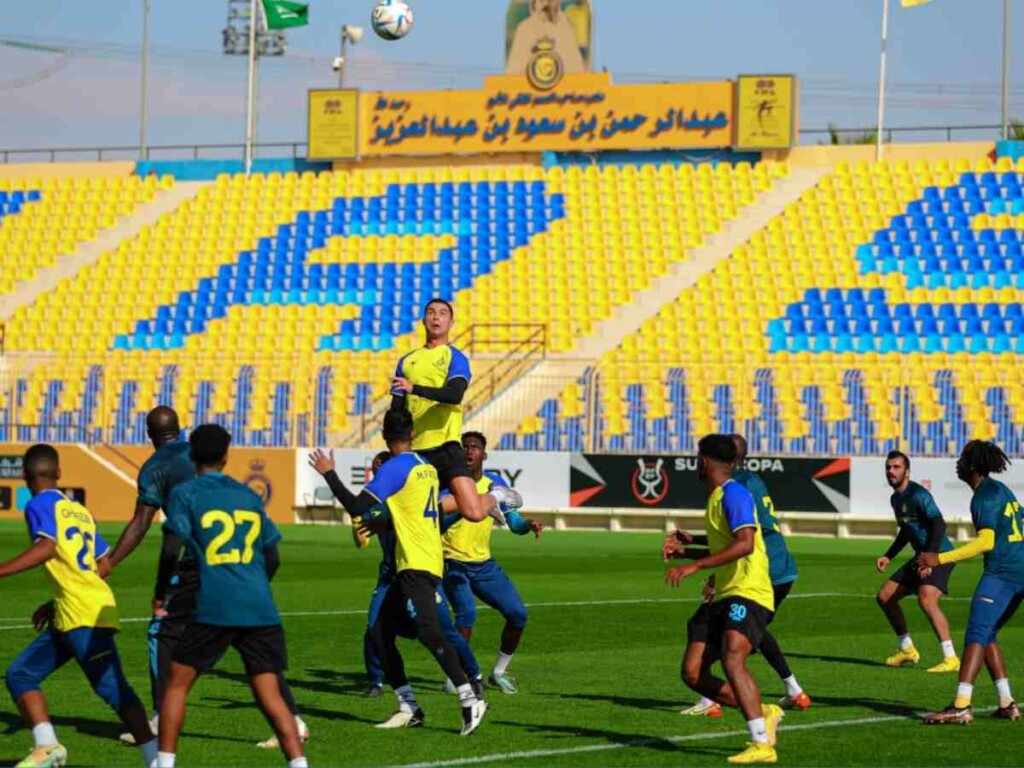 Cristiano Ronaldo has agreed to a historic deal worth an astonishing €200 million per year, including commercial deals. This is the biggest salary ever in football and will run until 2025. This deal solidifies Ronaldo's status as one of the topmost earning athletes in the world and is a testament to his incredible talent and marketability.
The commercial deals included in the contract are also a significant factor in the overall value of the contract. Ronaldo has a massive global following and is one of the most recognizable athletes in the world. His endorsement deals and partnerships with major brands are a testament to his marketability and the impact he has on consumer behavior.
The former Juve man's salary dwarfs that of any other footballer, with the next highest earning player Kylian Mbappe, earning less than half of what Ronaldo will be earning per year. The 38-year-old has decided to join Al Nassr after a shock interview with British Journalist Piers Morgan resulted in his contract with Manchester United being terminated mutually during the World Cup.
While major sources believed that the superstar would not leave Europe, the number of teams that could support his wages were negligible. This resulted in his move to Saudi, a league famous for offering huge contracts to Europian stars in the twilight of their careers. Ronaldo subsequently broke his long-standing contract with super agent Jorge Mendes in the wake of the interview debacle.
In case you missed: