Tiger Woods had a stupendous rise to stardom, and his fall from grace was in front of the whole world to see. One of golf's greatest gems was marred with controversies once his affair out of wedlock came to light. Woods who has multiple majors to his name couldn't quite recover from the personal trauma and embarrassment and hasn't been the same ever since on the course.
Currently, Tiger is recovering from an injury with his aim being to participate on the PGA Tour in early 2023. Tiger Woods and Michael Jordan have accomplished everything there is in their respective sports.
Both MJ and Tiger have been spotted on golf courses playing in tournaments. The duo has been great friends for quite some time now from the days when Jordan was still ballin' in the NBA.
Michael has been critical of Tiger's professionalism and choices over the year but that hasn't hurt their friendship much. Guess, Tiger is good at taking criticism and tries inculcating Michael's advice in his life choices.
Also read:- 'A bit shy' – Tiger Woods has little experience with the ladies
Michael Jordan's advice – Constructive criticism or a sly dig at Tiger Woods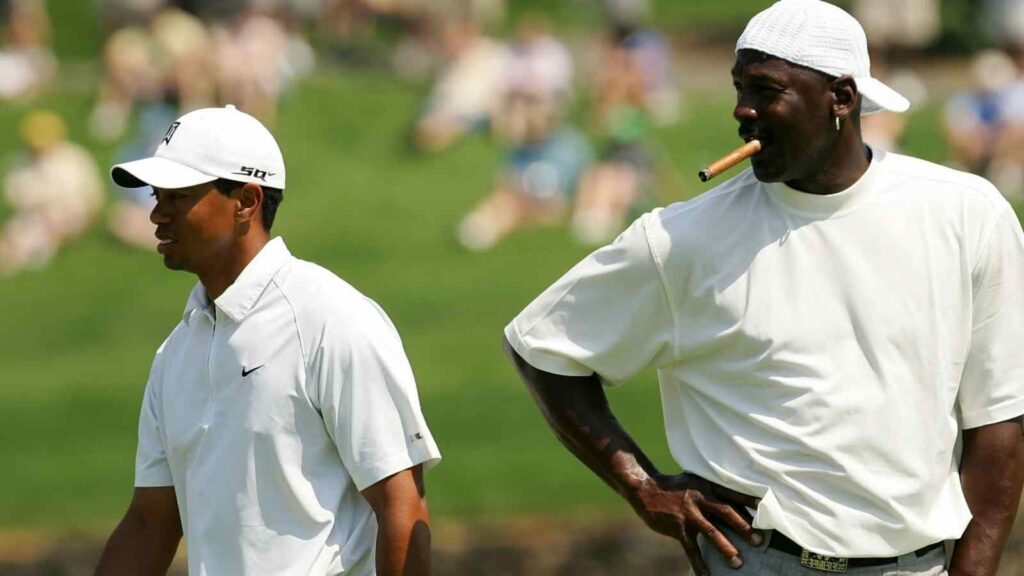 With 6 NBA titles to his name, Michael Jordan has made himself synonymous with basketball. And on similar lines, Tiger has 15 PGA titles to boast. Although he hasn't been the same ever since troubles circled him in his private life thus affecting his performance on the course. Such has been his downfall, that even after nearly one and half decades, Woods isn't the marvel he once was.
Extra-marital affairs and horrendous car accidents were among the major controversies which led Tiger to spiral down in his personal and professional life. Jordan on being asked for some advice for Tiger, stated – "He has no companion. He has to find that happiness in his life, that is the thing that worries me. I don't know if he can find that kind of happiness. He will have to trust someone."
"To be fair, all athletes are sensitive. Tiger is sensitive sometimes. Michael is sometimes sensitive. Charles is the least sensitive. But they are all relatively young. Things come up perfectly." Though MJ's comments over the years made a dent in their friendship, the GOAT of their respective games hasn't let all this affect their friendship to a level of no return. The superstars remain as close as ever enjoying a casual game of golf every now and then.
Also read:- "Messed up big time" Lisa Miceli, who claimed Michael Jordan impregnated her, was given a prison sentence after breaking the law
Also read:-"Ready for a FIGHT," Gisele Bündchen hires Tiger Woods' lawyer as divorce leads to an epic battle with hubby Tom Brady
Do follow us on: Facebook | Instagram | Twitter