Joe Gibbs Racing co-owner Coy Gibbs passed away just hours after his son Ty Gibbs was crowned the Xfinity series champion. The death sent shock waves around the NASCAR garage, and it was too much to handle for JGR, hoping to ride the momentum they got from the Xfinity win.
No:20 Camry driver Christopher Bell was the only TRD driver in the championship 4 and was tipped to secure the win, considering the clutch form he had last year. But the day was too emotional for Bell to produce magic as he was close to Coy Gibbs. He finished P3 in the championship and never really threatened the win.
Now it seems that Coy Gibbs's death might not just cost him a mentor, but also an advocate for his dirt racing endowers. Joe Gibbs is not a big fan of dirt arcing and is opposed to Bell participating in such events. Coy convinced his father to let the youngster race in dirt events in the past, and now he has none to speak for him. He had to bail from the 2023 Chilli Bowl, the most prestigious dirt race which he has won 3 times.
"I love the Chili Bowl. It's a very special place to me. Definitely the largest event that I grew up going to as a kid, and it means the world to me that I've been able to win it. But Joe Gibbs has been extremely, extremely vocal about his — I don't want to use the word hatred, but it's pretty close to hatred — towards dirt-track racing. He does not love dirt-track racing or open-wheel racing at all," Bell told David Gravel in a special live-stream appearance.
"Me and Coy had a great relationship. Coy Gibbs, I would always funnel my dirt track stuff through Coy, and Coy loved it. He thought it was really good for me to do, and he would kind of tell his dad that we talked about it, and he thought that it was fine for me to go do," Bell added.
He pointed out that he might not race in the dirt series anytime soon. Bell explained, "So obviously, Coy passed away in November, and I kind of lost that connection, and Joe was very vocal about me not dirt-track racing. So, for the time being, I'm not going to be dirt-track racing,".
Learn more: Erick Jones wants to get the No:43 team to Busch Light Clash victory lane, something Richard Petty was never able to do
Christopher Bell was the man for JGR in 2022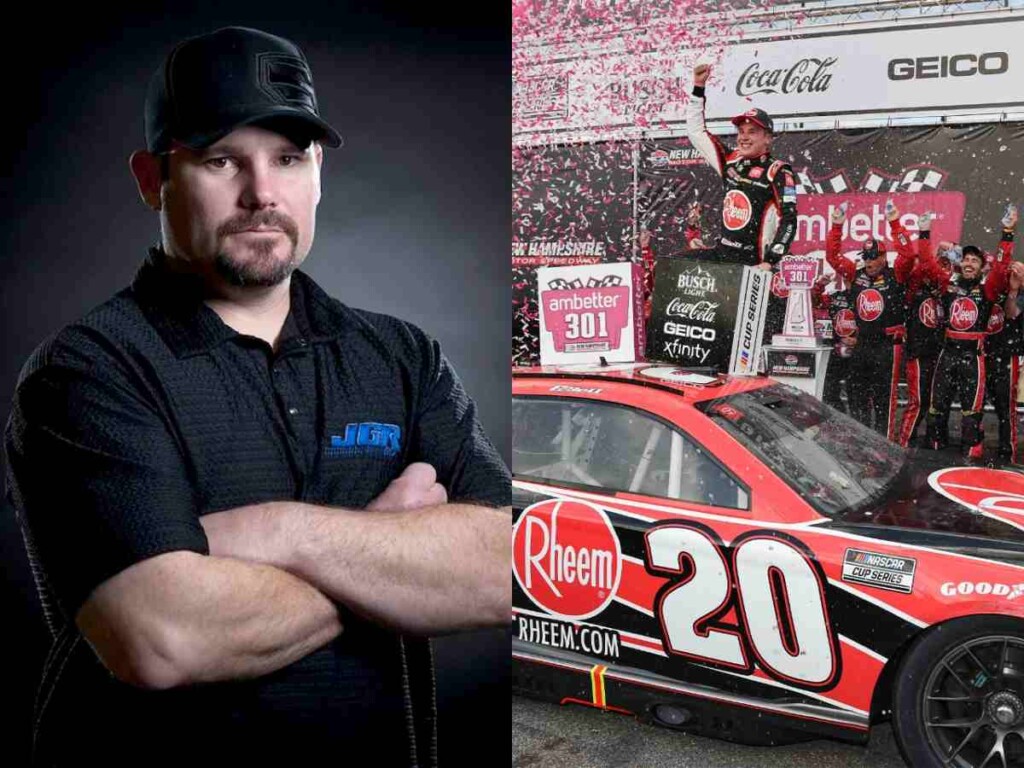 The 2022 Cuyp season was the breakout year for the youngster as he finished as the best Toyota on the grid and the only one to secure championship 4. He scored 3 wins, and 8 top 5s to finish a season that was highlighted by his clutch performances.
Bell started the season decently, with a couple of top 5s and multiple top 10s. He scored his first win in New Hampshire and produced decent runs to progress to the Round of 12. He faced his first bid challenge in the third playoff round as he had no choice but to win to progress in the round cut-off race in Roval, and he lived up to the challenge.
He and Denny Hamlin were the reaming JGR drivers in the payoff. He had a rough start with a p34 at Las Vegas and p11 in Homestead. At Martinsville, he had the same challenge to win to progress, and he did exactly that to secure the championship 4 entry while Hamlin missed out. The season finale disappointed the youngster, but he proved why he is the team's future.
Discover: