Just 2 months into the year and the NBA seems entertaining as ever. Donovan Mitchell of the Cleveland Cavaliers couldn't help but smile as he observed the NBA's rather disorganized beginning in February 2023. Only three days have passed since the beginning of the month, yet the league has already had two altercations. Of course, Mitchell and the Cavaliers played a significant part in that. In their game against the Memphis Grizzlies on Thursday, Mitchell was ejected after getting into a physical altercation with Dillon Brooks.
With 5:48 left in the third quarter of Thursday's 128-113 victory over Memphis, Mitchell was dismissed from the game. Dillon Brooks, a Grizzlies wing, elbowed Mitchell in the groin while attempting to recover a lost ball after Mitchell started a fight. Mitchell shoved Brooks to the ground after hurling the ball at him in the incident. Due to his involvement in the altercation, Brooks was also dismissed.
As if one incident in a week wasn't enough, Mo Bamba and Austin Rivers threw punches during the Orlando Magic and Minnesota Timberwolves' violent altercation on Friday the next day. Their teammates joined in, which resulted in the dismissal of five players. Mitchell felt compelled to weigh in after seeing the most recent NBA brawl. He posted the "The Longest Yard" fight scene on Twitter. He wrote "NBA script been crazy recently"
Back-to-back confrontations in the NBA are hilarious, but they are undoubtedly not helpful for the league's image. They wouldn't be in the basketball business, after all, if they sought to amuse their followers with violence. With the All-Star celebrations approaching, let's hope the madness soon comes to an end.
Related: "He is the most beautiful basketball player to watch," Austin Rivers claims Kyrie Irving to have the SEXIEST game on the court
Donovan Mitchell's strong words for Dillon Brooks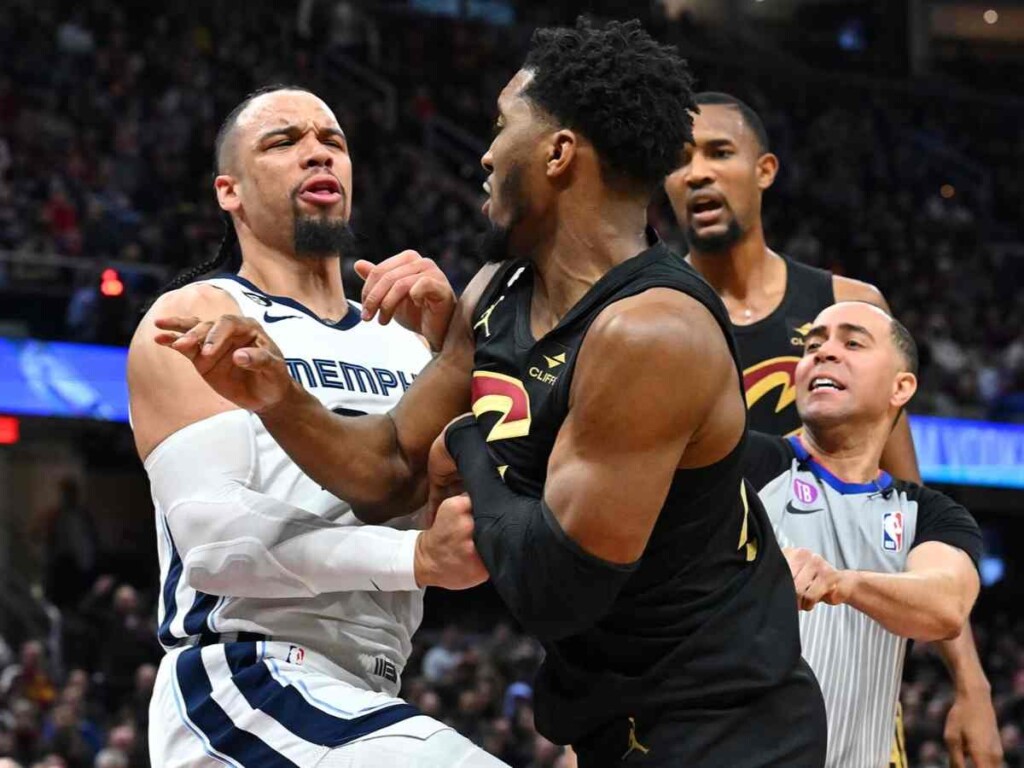 Mitchell had some harsh words for Dillon Brooks after their battle, saying that Brooks has been outclassing him for years. He said, "That's just who he is. We've seen it a bunch in this league with him. Him and I have had our personal battles for years. Quite frankly, I've been busting his ass for years, playoffs, regular season. And the one game he does an alright job on me today, he decides to do something like that. There's no place for that in the game and you've gotta protect yourself at the end of the day,"
He further added, "This has been brewing for years, with me, with other guys in the league. You all see it. This isn't new. Tonight was just the end of it. It's tough when you can't guard somebody and can't do something with somebody, you gotta resort to that and that's what he's done to a lot of players … I'm glad my guys held it down tonight and had my back throughout the whole thing," After the game Dillon Brooks was suspended for one match and Mitchell was fined $20K for it.
In Case You Missed It!
"Hate that guy," Charles Barkey torches Skip Bayless for his constant attack on LeBron James
REPORT: Kyrie Irving decides to request a trade from 4th-seeded Brooklyn Nets
Do follow us on Google News | Facebook | Instagram | Twitter