In a recent faceoff against the New York Knicks, Anthony Davis, a key player for the Los Angeles Lakers, failed to live up to his usual high standards, only managing to score 15 points while shooting 6-of-17 from the field. To make matters worse, Davis missed a crucial shot that could have tied the game in the final seconds. In the aftermath of the disappointing loss, Davis stepped up and took full responsibility for his performance, apologizing to his team and fans alike.
However, not everyone was satisfied with Davis' apology. Chris Broussard, a prominent American sports analyst and commentator for Fox Sports, took to social media to criticize Davis for his post-game comments. Broussard called Davis' apology "too little, too late," comparing it to the NBA's 2-minute report that reviews officiating decisions made in the final minutes of close games.
Broussard's comments have sparked a debate about the value of apologies in professional sports. While some argue that taking responsibility for one's performance is a crucial aspect of being a team player, others believe that apologies are meaningless unless they are accompanied by real improvements in performance.
"It's too late for Anthony Davis to put the loss on himself. If this was Game 12, it'd be great. I'm tired of this. This is player equivalent of the 2-minute report. Instead of apologizing, go out and ball," Broussard said.
The Lakers have been struggling in recent games, with Davis missing several games due to injury and the team struggling to find its rhythm on the court. As a result, the pressure is on for Davis to step up and lead his team to victory. It remains to be seen whether his apology will have any real impact on the team's performance moving forward.
In the world of professional sports, apologies are often viewed as a way for players to take responsibility for their actions and demonstrate their commitment to their team. However, as Broussard's recent comments have highlighted, not everyone is convinced that apologies have any real value. As the Lakers navigate through a challenging season, all eyes will be on Davis and whether his apology will lead to tangible changes in the team's performance.
Also Read: "They are finished!" NBA Twitter SLAMS Jason Tatum and the Celtics for a HORRENDOUS display against the 'out of form' Rockets resulting in an embarrassing loss
Why didn't Anthony Davis celebrate LeBron James' scoring record?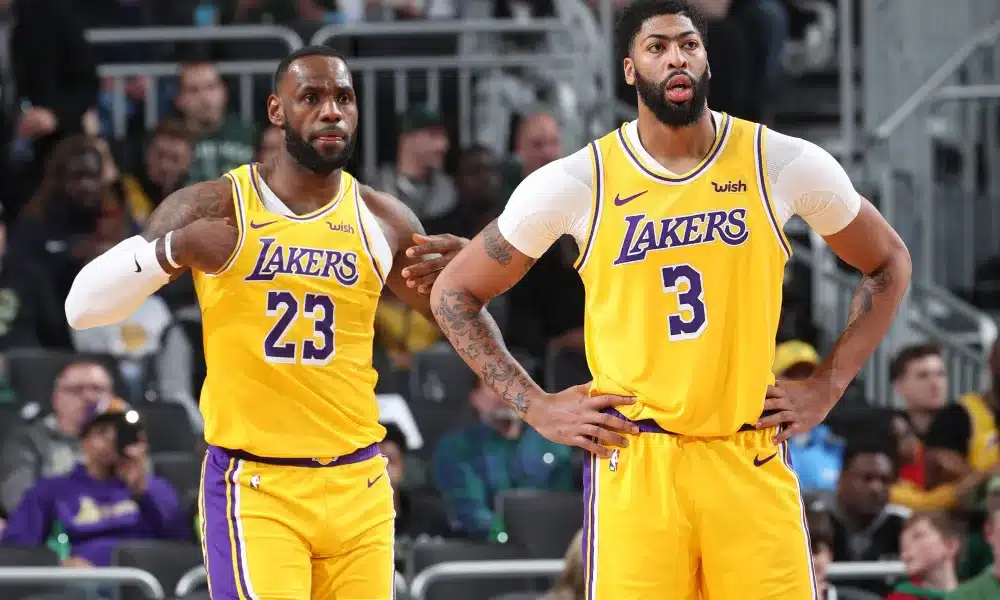 It's difficult to know for certain why Anthony Davis didn't celebrate LeBron James' record-breaking achievement, but there could be several possible reasons. One possibility is that Davis was simply focused on the game at hand and didn't have the mental bandwidth to fully appreciate the milestone at the moment.
Alternatively, Davis may have had mixed emotions about the achievement, as he himself is a superstar player with his own accomplishments and goals.
It's also possible that Davis simply didn't feel the need to outwardly celebrate the achievement, as he and James have a close relationship and likely share many more moments of success to come.
In Case You Missed:
Gilbert Arenas FIRMLY stands in support of Ja Morant by calling him a 'philanthropist' for donating $50k to a strip club
"He got game," Paul George speaks highly of Jaden McDaniels, believing he isn't on everybody's radar and is very underrated
"LeBron can't do this"- NBA Twitter lose their mind over Andre Iguodala's age-defying reverse dunk against the Suns