Kyrie Irving and James Harden are often in the spotlight for various reasons. The duo teamed up for the Brooklyn Nets in 2021 and were expected to run the league for years to come, but a lack of chemistry between the two and the constant absence of former Net, Kevin Durant led to the trio parting ways. Harden now plays for the Philadelphia 76ers while Durant and Irving signed with the Phoenix Suns and the Dallas Mavericks respectively.
Harden and the 76ers visited the Dallas Mavericks on Thursday and encountered a 7-point loss in a high-scoring game. At the conclusion of the game, Harden and Irving were seen embracing each other and swapping jerseys (often done as a sign of mutual respect). This rubbished all the speculations and rumours regarding an apparently toxic relationship between the duo following the split up of the Brooklyn Nets' core.
The Philadelphia 76ers are riding behind the efforts of Harden, Joel Embiid and Tyrese Maxey. The 76ers are currently placed third in the eastern conference and Joel Embiid is averaging a career-best 33 PPG.
Related: Is Andrew Wiggins playing tonight Vs the Pelicans?
Kyrie Irving-Luka Doncic combine for 82 points against the 76ers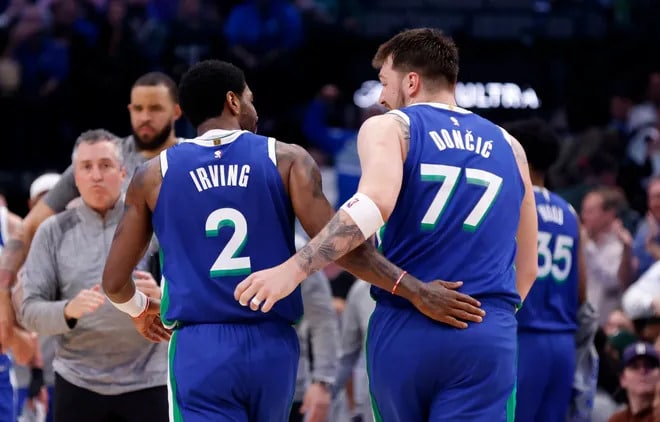 Kyrie Irving and Luka Doncic became the first Mavs teammates to each score at least 40 points in the same game as they powered Dallas to a 133-126 victory over the Philadelphia 76ers on Thursday night. "Luka was ready for the party," Irving said. "I was ready for the party tonight. It was one of those games where we had some special performances. I'm just grateful that the work was translated because it could have gone either way.
The Dallas Mavericks seemed to have a shaky start to the Irving-Doncic era with 3 consecutive losses and a lack of coordination between the two in clutch scenarios. But the game against the Philadelphia 76ers showed us the magical DNA these 2 possess. Doncic exploded for 42 points and 12 assists while Kyrie assisted him with a huge 40-point game.
"They were tough with one wizard with the basketball in Luka," Sixers forward Tobias Harris said. "Now they've got two of them out there. Those are tough matchups. They just picked us apart tonight."  The Mavericks currently sit at the 6th place in the western conference with a record of 33-31.
In case you missed it:
Charles Barkley claims Luka Doncic-Kyrie Irving duo can't last long due to their one-on-one basketball tactics
Shannon Sharpe takes a brutal shot at Ja Morant after his gun-pointing allegation