The Los Angeles Lakers have been struggling to stay afloat in the Western Conference playoff race without their injured superstar LeBron James. But could they have a chance to land another star in the offseason? According to NBA insider Brian Windhorst, the Lakers could be in the mix for Dallas Mavericks' Luka Doncic if Kyrie Irving continues to cause trouble for his team.
Windhorst, who appeared on ESPN's The Jump on Monday, said that Irving's recent absence from the Mavericks due to foot soreness has raised some eyebrows around the league. Irving, who was acquired by Dallas in a blockbuster trade with Brooklyn in February, has missed four of the last five games for the Mavs.
Windhorst said that Irving's situation could affect Doncic's future with the Mavericks, as the Slovenian star is eligible for a supermax extension this summer. Doncic, who is averaging 33.1 points, 8.7 rebounds and 8.2 assists per game this season, has not committed to staying with Dallas long-term.
"If Kyrie Irving continues to be unhappy or continues to be unreliable or continues to be injured, I think that opens up a window for Luka Doncic," Windhorst said. "I think Luka Doncic is going to look at his options this summer. He's going to look at what Dallas can do for him. He's going to look at what other teams can offer him. And I think the Lakers are going to be one of those teams that are going to be very interested in him."
Windhorst added that the Lakers have a history of pursuing star players in free agency or via trade, and that they have some assets that could entice the Mavericks if they decide to move on from Doncic.
"The Lakers have always been aggressive. They have always been willing to take risks. They have always been willing to go after big names," Windhorst said. "They have some young players that they can offer. They have some draft picks that they can offer. They have some expiring contracts that they can offer. They have some flexibility that they can offer."
Also Read: "He's so corny" – NBA Twitter ROASTS LeBron James for 'astonishing' comments about foot doctor upon much-awaited return
How likely is a Luka Doncic-Lakers deal?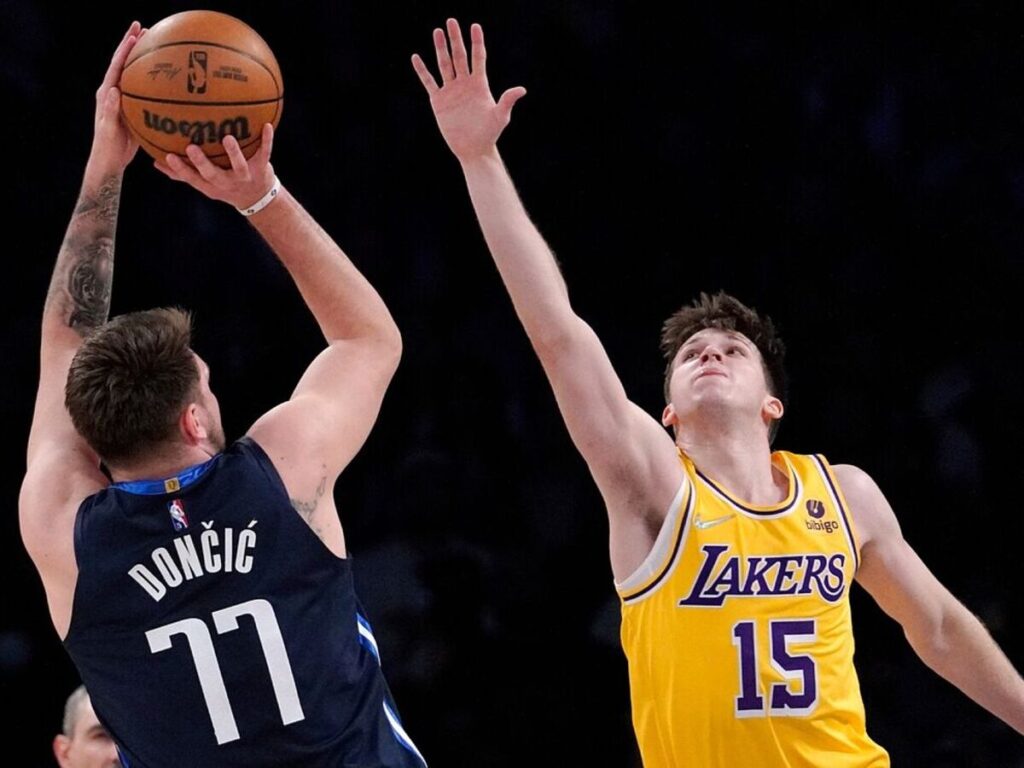 It is not very realistic that Doncic will end up with the Lakers. Many things could stop this trade from happening, such as Doncic's dedication to the Mavericks, Irving's health and performance, and the Mavericks' hesitation to trade their star player.
Doncic has said that he loves playing in Dallas and that he wants to win a ring with them. He has also formed a close relationship with Mavericks owner Mark Cuban and coach Jason Kidd. He may not be keen on leaving a situation where he is the main leader and representative of the franchise.
Irving, on the other hand, may not be as troublesome as Windhorst implies. He has played well for the Mavericks when healthy, averaging 27.1 points and 5.5 assists per game while shooting 40.9 percent from beyond the arc. He has also shown compatibility with Doncic on the court, creating a powerful duo that can score from anywhere.
The Mavericks may also not be eager to part with Doncic just yet. They may think that they can make a contender around him and Irving, or that they can get another star to join him in the future. They may also ask for a huge return for Doncic, which could make it difficult for any team, including the Lakers, to match.
Therefore, while a trade that would send Doncic to the Lakers may look appealing for both sides, it is not likely to happen anytime soon. The Lakers may have to look for other options in their quest to return to title contention next season.
In Case You Missed:
"I got ego too!" Charles Barkley REIGNITES age-old feud with Michael Jordan by calling him a 'jerk'
"He ain't lying" – Pat Beverley HITS Shannon Sharpe with 'the Lakers stink' gesture after thrashing them at their home
'Too soft?' – Kyrie Irving gets a Hornets fans ejected who was heckling him 'unnecessarily'