Brock Purdy has had an incredible season ever since he became the 49ers starting QB due to injuries to Jimmy Garoppolo and Trey Lance. However, every journey must come to an end and Purdy may have seen the last of the ball this season. The 49ers QB picked up an injury during the first half of the much-awaited NFC clash between the 49ers and the Eagles.
Purdy picked up an elbow after just throwing the ball two times. However, he completed both passes before heading out to the locker room due to the brutal injury. The 49ers' rookie is currently wearing an elbow brace and the possibility of him returning on the field looks less likely every passing minute.
This injury will be a brutal blow for the 49ers as Purdy was their knight in shining armor and helped the team reach the NFC conference playoff by beating two quality teams. However, this may be the end of the road for Mr. Irrelevant, who tried his best to become relevant.
On the other hand, The Eagles have picked up quick 7 points from a touchdown by RB Miles Sanders and have taken a lead in this interesting game. 49ers QB Purdy is replaced by QB Josh Johnson, who has played just two matches in his entire playing career. Johnson will be under tremendous pressure as he has been chosen to lead his team to the Super Bowl finals.
Related: "Not surprised at all," Rob Gronkowski DEFENDS Tom Brady's NSFW podcast blowup by citing his mental capacity over retirement decision
Brock Purdy trolled heavily on social media following his injury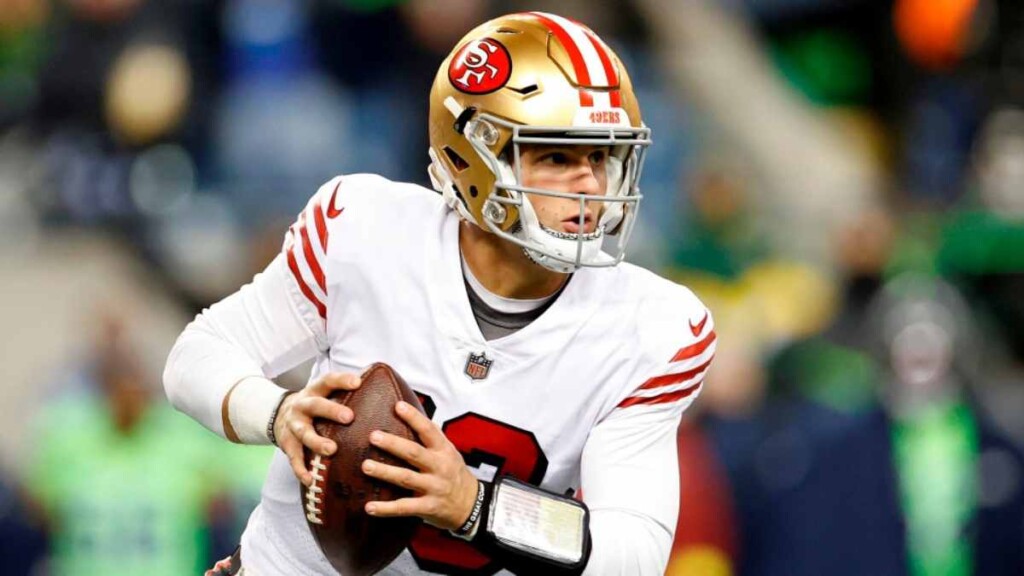 The Eagles fans' are having the time of their lives currently. On the other hand, the 49ers fans will be getting miserable and thinking that the game is finished before it even started. Brock Purdy's injury can turn out to be very costly and can even cost them the game.
However, Philly fans will be rejoicing and hoping that Jalen Hurts will complete the job and get the better of the best defense in the league. Purdy's injury wasn't taken well on social media as countless started to slam the QB for his injury.
Many pointed out that the QB may be overreacting and he isn't injured at all. It is just an act so that Purdy can get off the field because he's scared. Take a look at some of the most interesting reactions down below.
The extent of Brock Purdy's injury is still unknown, though he's currently not ruled out yet, it is speculated that the QB won't take any part in the 49ers-Eagles game and maybe his NFL Super Bowl journey ends here.
Do follow us on: Facebook | Instagram | Twitter
Read Further: Rich Eisen suggests the Cowboys to 'blow it up' and move on from Dak Prescott after their disappointing early exit from the postseason
Read Further: "It's always someone else's fault," Former NFL head coach BASHES the Cowboys for their shameless tweet on Dak Prescott after divisional playoff loss