Things are not going well for the Las Vegas Raiders defensive end Chandler Jones. The star defensive end has been away from the Raiders since September 5 following a reported dispute over access to the Raiders' facilities. And now, the former All-Pro pass rusher has been arrested in Las Vegas on Thursday night.
According to reports, the Raiders defensive player was booked into Clark County Detention Center on multiple charges of violating a domestic violence protective order. Initially, the cops arrested Jones after he stole some things outside of his ex-girlfriend's house in Las Vegas. He then proceeded to send videos of him burning the stolen stuff to his ex-girlfriend.
The former Pro Bowl defensive end was served with a restraining order but he immediately proceeded to violate the order by sending Snapchat videos to her. Moreover, Jones then allegedly went to his ex-girlfriend's house at least twice as he was seen on her security cameras according to a report from Las Vegas Locally.
After the alleged violation of a restraining order, Jones was arrested by authorities in Nevada around midnight. He was reportedly cooperative with the cops during the arrest. Nonetheless, the Raiders' star player has already been released on bail.
This arrest comes a day after Jones' bizarre social media posts. On Thursday, a day before the arrest, Jones posted a video on social media, in which he could be seen hysterically crying and baselessly implicating the Raiders' head coach Josh McDaniels in the death of the former New England Patriots tight end Aaron Hernandez. Hernandez took his own life in prison back in 2017.
This wild accusation came a few days after he made another wild allegation of being forced into a mental hospital for treatment. Chandler Jones also claimed that he was injected with medications that he didn't want to take.
Related:Michael Irvin demands a championship from Micah Parsons before being compared to Lawrence Taylor
Raiders release a statement regarding Chandler Jones
The 33-year-old defensive end Chandler Jones has been posting bizarre videos on social media accusing his head coach Josh McDaniels of wild things. Moreover, Jones was arrested by the cops on Friday for violating a restraining order.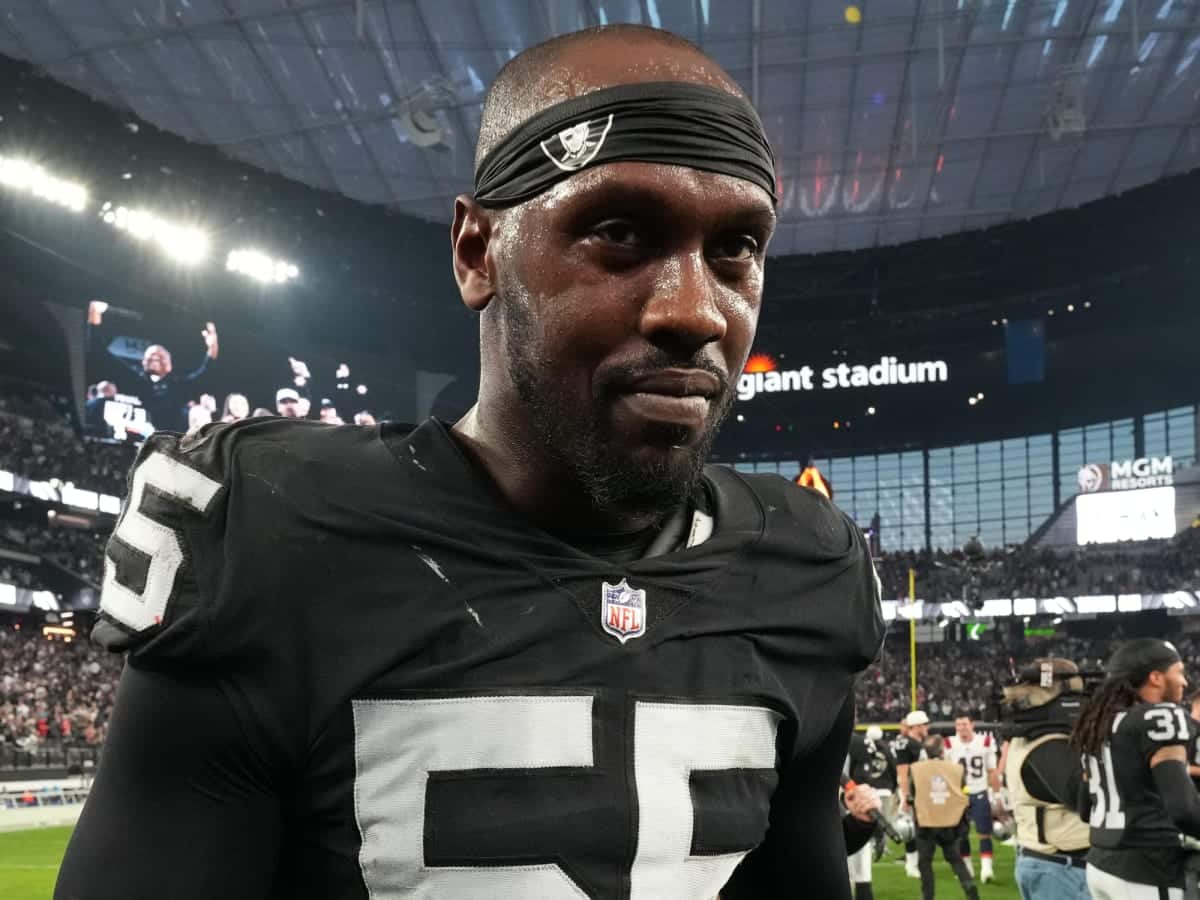 Amidst this, the Las Vegas-based football team has released a statement regarding Jones' situation. "The Raiders are hopeful that Chandler Jones receives the care that he needs," the team said in a statement. "He, his family, and all those involved are in our thoughts. As this is now a legal matter, we will not be providing further comment."
Jones has been posting some bizarre videos on social media, including one where he said that the NFL players are being injected with fluoride and CTE doesn't exist. Fans have been raising concerns about Jones' activities in the past few weeks and now he has gotten himself into legal trouble. Jones is slated for a December 4 2023 court date regarding the restraining order violation which got him arrested on Friday.
In case you missed it: