On Monday, Patrick Mahomes and the Kansas City Chiefs went against the defending NFC Champions Philadelphia Eagles in their week 11 matchup. The Eagles' defense put up a solid outing against the Chiefs in the much-anticipated game. During the game, one particular moment caught the fans' attention, as the Eagles rookie Jalen Carter tried to intercept Mahomes' spike attempt.
During the final seconds of the game, Mahomes and the Chiefs had a 7-point lead and were trying to put more points on the board. They got into field goal range following a four-yard completion from Mahomes to his running back Jerick McKinnon. They rushed the field to spike the ball and give their kicker a chance to convert a 43-yard field goal attempt.
As Mahomes and the Chiefs lined up to spike the ball, the Eagles rookie defensive lineman Jalen Carter decided to attempt the unthinkable. Carter dove right in between two offensive linemen in an effort to intercept Patrick Mahomes' spike attempt and he came stunningly close to achieving that.
As he attempted the unthinkable, the entire Chiefs offensive lineman looked at Carter in shock, trying to process what he just tried to pull off. Check out the footage of the athletic play attached below.
But he couldn't intercept the ball and the Chiefs kicker Harrison Butker managed to convert the 43-yard field goal try. As a result, the Chiefs took a 17-7 lead, heading into the locker room at halftime. Still, the Eagles managed to pull off a great comeback in the end and secured a victory against the Kansas City-based football team.
Jalen Carter and the Eagles defense held the Chiefs to 0 points in 2nd half
The Pro Bowl QB Jalen Hurts, and the Eagles were trailing by 10 points at halftime in their crucial week 11 game against the defending Super Bowl Champions, Kansas City Chiefs.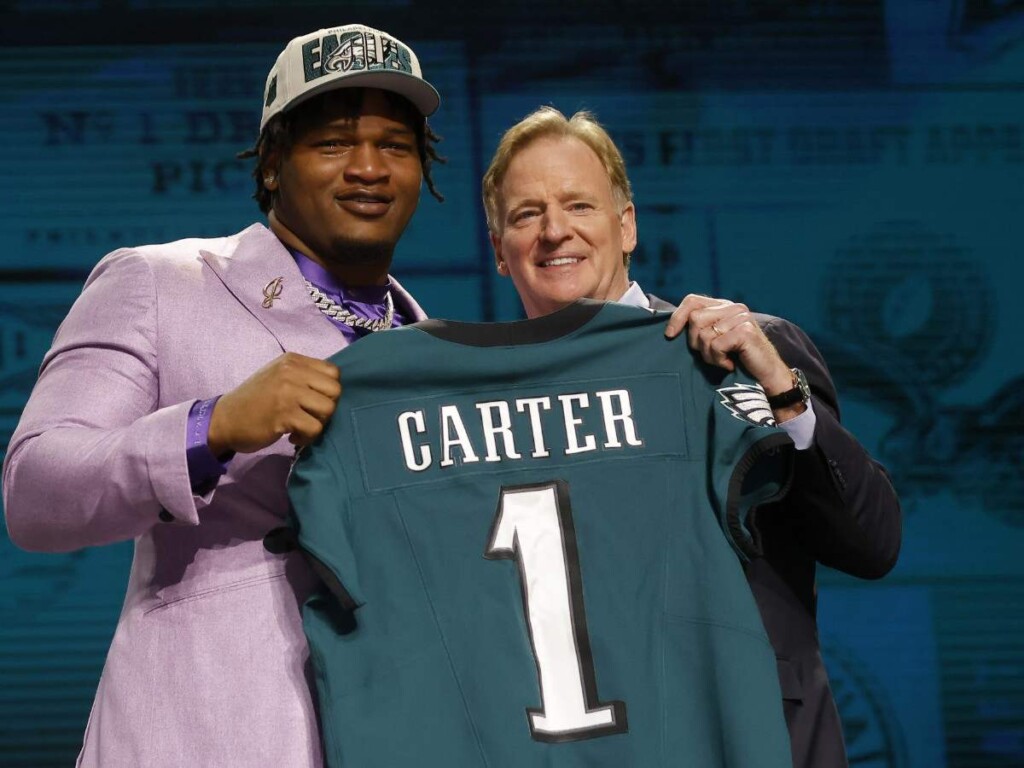 However, they managed to pull off a great comeback in the second half, thanks to their defensive unit playing relentless football. Carter and the Eagles defense were constantly applying pressure on the Chiefs backfield.
As a result, they were able to hold Mahomes and the Chiefs to zero points in the second half, allowing the Eagles' offense to secure a comeback victory against the Chiefs.
In the end, the Eagles managed to secure a 21-17 victory on Monday. With that victory, the Philly-based franchise improved to a league-best 9-1 record and is currently holding the No.1 seed in the NFC playoff picture.
In case you missed it: