Former Buccaneers-Patriots legend Tom Brady is arguably the greatest quarterback of all time. Besides his 7-Super Bowl rings, the 45-year-old also leads the league all-time in most quarterback stats in both the regular season and playoffs. It will take a long time for anyone to even come close to the achievements of Tom Brady, but the Chiefs' star QB Patrick Mahomes is planning to do the impossible.
If any current player does have a shot at eclipsing Tom Brady, it would be the 6th-year quarterback Patrick Mahomes. The Chiefs QB is currently the best quarterback in the league and is on his way to possibly dethroning Brady as the best QB of all time. Mahomes has been to Pro Bowl in all 5 seasons he started and has been named to the All-Pro team two times.
Furthermore, he also already has two league MVP awards. In comparison, Brady has been named to the All-Pro team three times and has won 3 league MVP awards in 23 seasons. However, Brady does have a monumental lead in most of the other QB stats, and if anybody can match the 15-time Pro Bowler's longevity, then they will have a shot at dethroning the Buccaneers legend.
Nonetheless, along with Mahomes' early achievements and unprecedented talent, some people are controversially claiming that the Chiefs' star QB is already a better quarterback than Tom Brady.
Related: "We need the right QB," Brandon Marshall issues STERN warning for the Jets against trading Aaron Rodgers
Patrick Mahomes chasing Tom Brady's greatness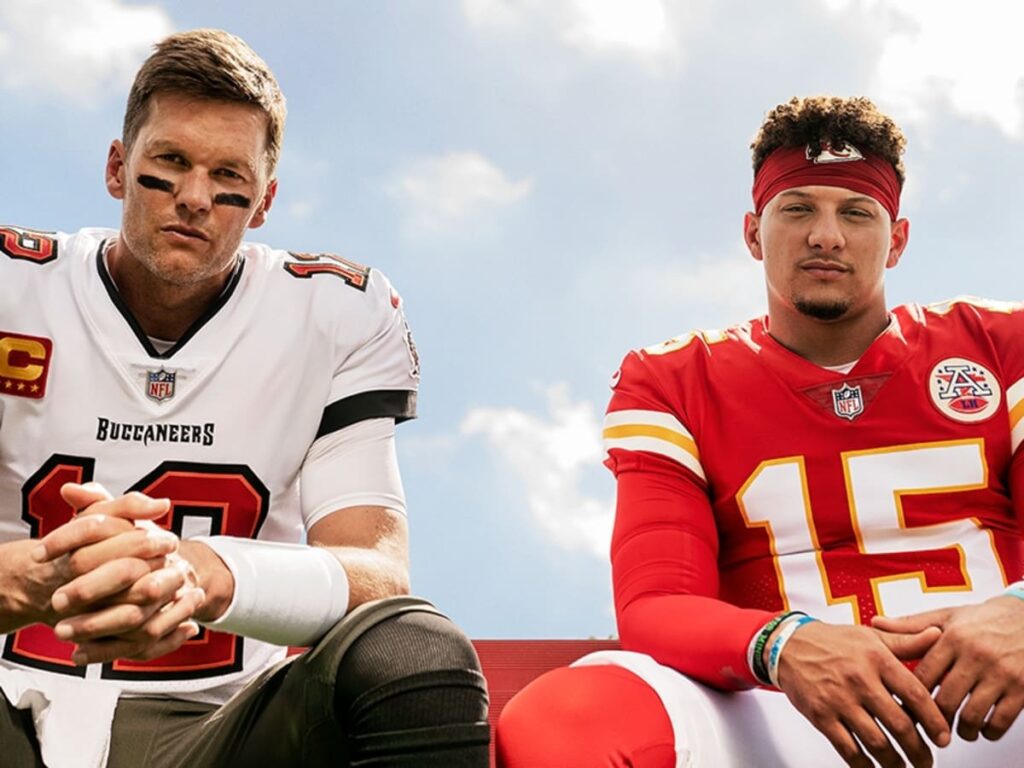 Patrick Mahomes is currently preparing to win his second Super Bowl ring. During the days leading to the much-awaited Super Bowl, the Chiefs QB Mahomes was asked about matching the resume of the Patriots-Buccaneers legend Tom Brady, to which Mahomes had a sensible answer.
"It's going to be tough. I mean, seven Super Bowl wins, 10 Super Bowls. There's a reason he's so far ahead of everybody else. It's tough, but I'll do my best to chase it. I've got to start by trying to win this week," said Mahomes about matching the former Patriots QB. "Ask me when I'm 38."
The two-time All-Pro QB Mahomes just capped off a stupendous season as he managed to become the QB with the most total yards in a single season, which eventually led to him winning the league MVP award and he's only 27 years old.
But still, as Mahomes said, it's very tough to match the longevity of Tom Brady. So Patrick Mahomes would now only be focused on getting a second ring when he and the Chiefs go against the Jalen Hurts-led Philadelphia Eagles in the Super Bowl this Sunday.
Do follow us on: Facebook | Instagram | Twitter
Related : Cowboys LB Micah Parsons SHOCKINGLY reveals that 95% of the NFL pushes players to play through injuries by injecting anti-inflammatory drugs
Related : "It's gonna be lit," Raiders TE Darren Waller is on cloud nine at the prospect of 4x NFL MVP Aaron Rodgers joining Las Vegas in 2023