Joe Burrow and Patrick Mahomes will be one of the greatest rivalries to watch and cherish in the future. The talented quarterbacks' rivalry has just begun and it doesn't seem like it will slow down anytime soon. Furthermore, ahead of their clash in the AFC Conference Championship game this weekend, their teammates Travis Kelce and Mike Hilton have added fuel to their rivalry.
The Cincinnati Bengals went into Highmark Stadium last weekend as road underdogs and decimated the Bills in the second round of the NFL postseason. The Bengals dominated the Bills on all sides of the football game and never gave Josh Allen and his team a chance to win the Game. Moreover, Cincinnati QB Joe Burrow outplayed the Bills QB and had a solid game while guiding his team to victory by throwing for two touchdowns.
Everyone expected a slugfest between the two football juggernauts but the way the Bengals dominated the Bills has caught everyone's attention and now the people are starting to believe in the Cincinnati-based franchise. After the game, the Bengals DB Mike Hilton set social media on fire by disrespecting the Chiefs by calling their home stadium "Burrowhead"
"We'll see y'all in Burrowhead, let that sink in your mind," said a Mic'd up Mike Hilton. "Burrowhead" is a wordplay on the Chiefs' home stadium Arrowhead since Joe Burrow is 3-0 against the Chiefs and Mahomes. This comment got mixed reactions on social media and he angered many Chiefs fans who called out him including Chiefs tight end Travis Kelce.
Related : "Not surprised at all," Rob Gronkowski DEFENDS Tom Brady's NSFW podcast blowup by citing his mental capacity over retirement decision
Travis Kelce claps back at Mike Hilton for disrespecting Patrick Mahomes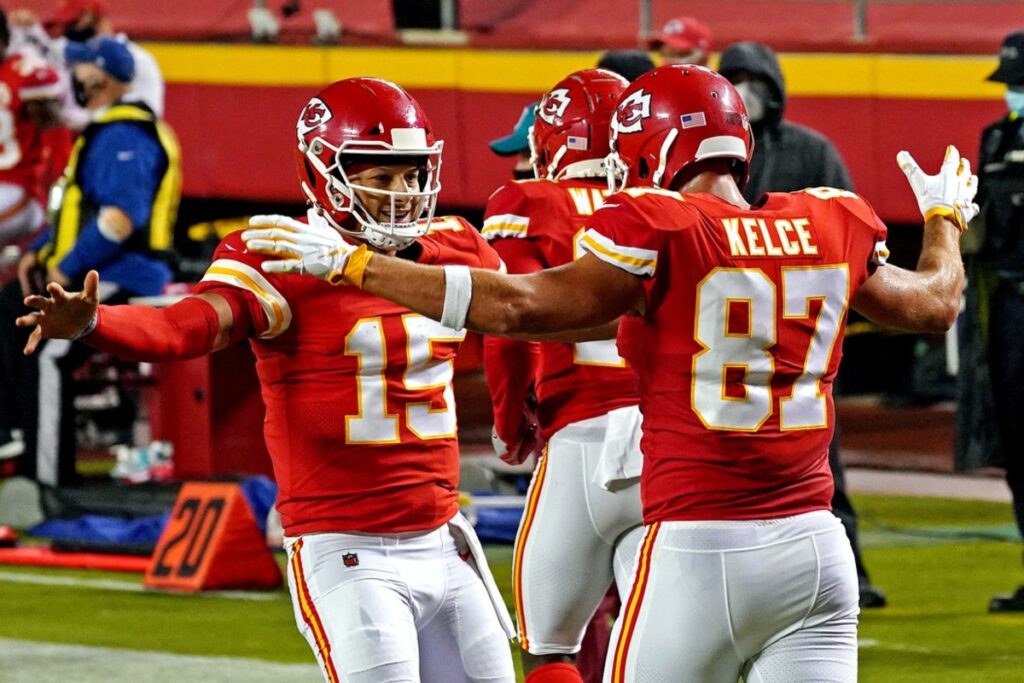 Mike Hilton's disrespecting Patrick Mahomes and the Chiefs didn't sit well with tight end Travis Kelce, who subtly clapped back at Hilton and Cincinnati Bengals fans who keep calling the Chiefs' home stadium "Burrowhead."
Speaking on the New Heights podcast with his brother Jason Kelce in a recent episode, Travis Kelce said that the Bengals fans are giving a lot of bulletin-board material ahead of the playoff game by disrespecting his team.
"We are the loudest stadium in the world, on record … 142 decibels… I don't know, I don't know, maybe we're gonna have to break it this week because a lot of Cincinnati Bengals fans are calling it 'Burrowhead' instead of Arrowhead. They're throwing a lot of bulletin-board material out there," said Kelce in a recent episode of his podcast.
Nonetheless, these two teams wouldn't need any extra motivation to play hard but this back-and-forth between two players will definitely ignite their thirst to beat the other team in the AFC Championship game this weekend.
Do follow us on: Facebook | Instagram | Twitter
Related : "But I'm the A-hole," Odell Beckham Jr hilariously reacts to Sha'Carri Richardson getting 'kicked off' the airplane
Related : "Stop that sh*t," Bills QB Josh Allen slams Damar Hamlin's body double conspiracy theorists during Bengals defeat