A beer shower was a must after Washington Capitals captain Alex Ovechkin marvelously rocked the ice with his 800th goal against the Chicago Blackhawks at United Center on Sunday. Hold on! Beer shower wasn't all he got, the whole arena including the Blackhawks fans shouted out "Ovie! Ovie!".
They threw hats on the ice as a gesture to celebrate his hat trick, as the winger joined legendary NHL players Wayne Gretzky and Gordie Howe in the 800th club. The team also enjoyed a complete victory against the Blackhawks with a 7-3 win.
Ovechkin's recent hat trick moved the 'Great Eight' only 1 goal closer to passing Howe's record in league history. Ovie commented, "It's a huge number". "It's the best company you ever can imagine since you start playing hockey to be connected to Gordie."
"Eight hundred, I'm the third person who ever scored that many goals. So without my teammates, without the organization, the fans, my family, I would never get that number and I would never talk to you right now about those numbers."
Also Read| "He's not satisfied" – Alex Ovechkin UNSTOPPABLE, breaks Gordie Howe's NHL record for most goals with one team
Alex Ovechkin is only 1 goal shy from crossing Gordie Howe's NHL goal record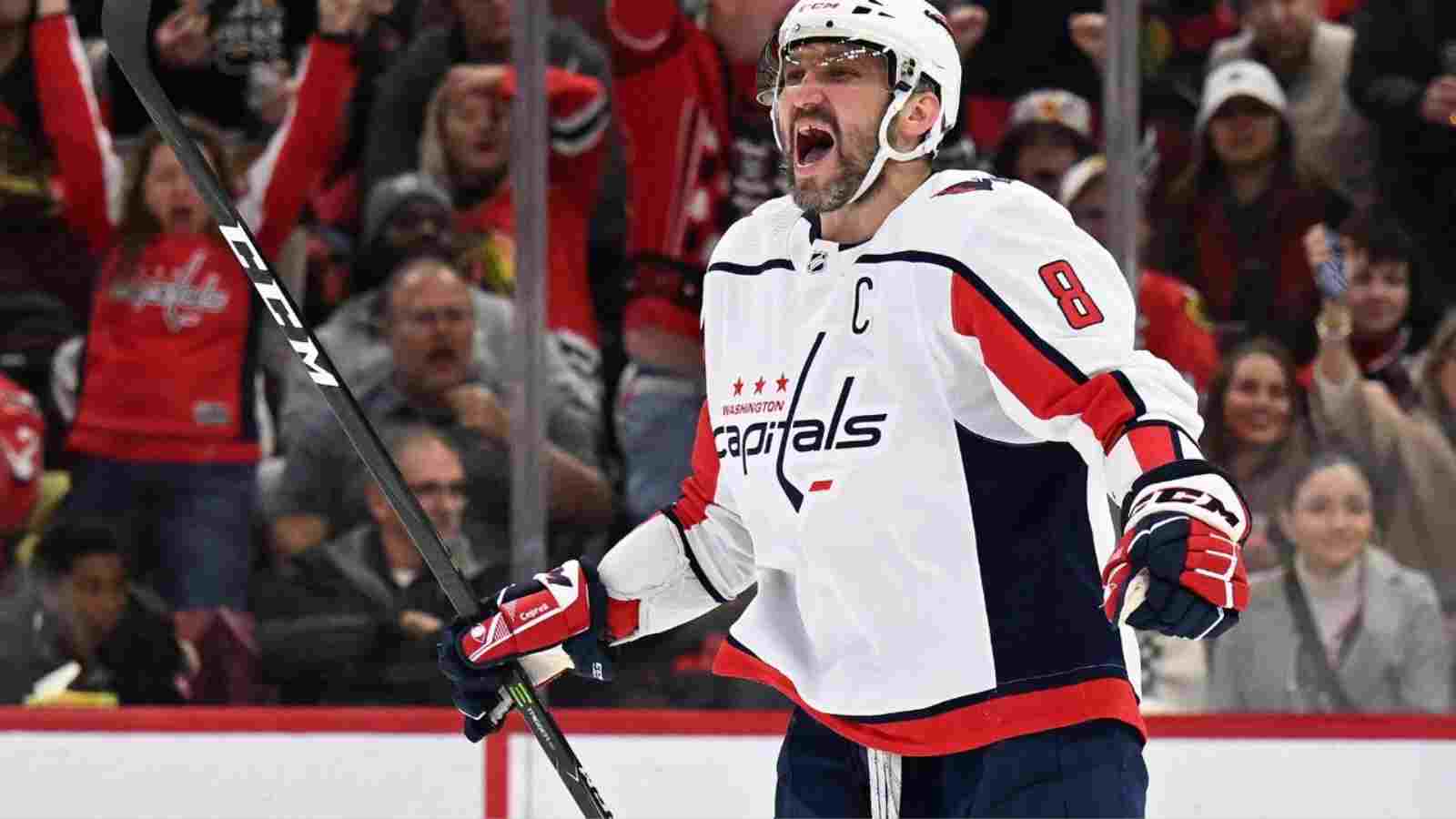 Gordie Howe after retiring sits on the NHL throne with 801 goals in 1,767 games in 26 NHL seasons with Detroit Red Wings and Hartford Whalers. He's only 94 goals away from reaching the Great One as he recorded 894 goals in his professional career.
Capitals center Evgeny Kuznetsov said, "For some reason, I feel like sometimes when he gets the goals around the net he is always by himself and nobody cover him". "And for me, still it is something I have to probably learn one day…"
"…to see if he is doing something to isolate himself. But so many times he is just by himself with an empty net and that is probably something special inside of him."
As hats rained down and the "Ovie" chants filled the room, Ovechkin put his hands in the air as a sign of acknowledgment before placing them on this thumping heart. He stated that he felt the same energy before he started the game. It's a historical moment that no one in the arena will ever forget.
Not only was his achievement the 3rd in NHL, but he also joined Marcel Dionne and Bobby Hull for 6th in NHL hat trick in the league, as Ovie scored his 29th hat trick. He also became the 3rd National Hockey League player to record 20 goals in 18 seasons joining Howe with 22 and Brendan Shanahan with 19.
Blackhawks captain Jonathan Toews said, "Obviously, pretty incredible milestone. One of kind,". "In some sense, when we're out of this moment, it's one of those things you'll look back on."
"He's one of the great players of all time, so all due respect to him in scoring three goals to do it, getting himself an ovation and the 'Ovi' chant in our building." Capitals coach Peter Laviolette noted, "Yeah, we said it after the game. That's an incredible accomplishment."
"When somebody has a career where they can get 200 goals, that's a heck of a career. But 800 is something and I think everybody is just really happy for him." Ovechkin said, "How I always say, without you guys, obviously, I would never reach those kind of numbers. It's huge, good for hockey, great for the organization, and, obviously, happy to do that with you guys. It's special."
Also Read| "Always nice when you beat the Great One" – Capitals celebrate Alex Ovechkin crossing Wayne Gretzky record for NHL road goal marks
Also Read| Alex Ovechkin gets acknowledged by Mark Howe after tying Mr. Hockey's single team goal record