Philadelphia Flyers defenceman Tony DeAngelo can't seem to catch a break this NHL season. After his recovery period, he once again got sidelined after being involved in a brawl on Saturday night's game against the New York Islanders. All hell broke loose as Oliver Wahlstrom manhandled Tony, letting the fists fight.
The officers came in to rescue the defenceman who bit more than he can chew. Nevertheless, he showed up during Tuesday's practice which once again turned sour soon. It was reported that Tony left practice in a very agitated way, though not exactly clear on the reason.
Even before all these, he was dealing with injuries, and even Flyers head coach John Tortorella mentioned that his availability on ice is questionable at the moment. Things are not going well with the Flyers who are currently handling a score of 8-11-5.  It seems they are de-railing quickly.
Also Read| "God No" – Ex-NHLer Theo Fleury rips League apart in charges of pushing woke agenda, brainwashing fans in process
Tony DeAngelo engages in a brutal brawl with Islanders Oliver Wahlstrom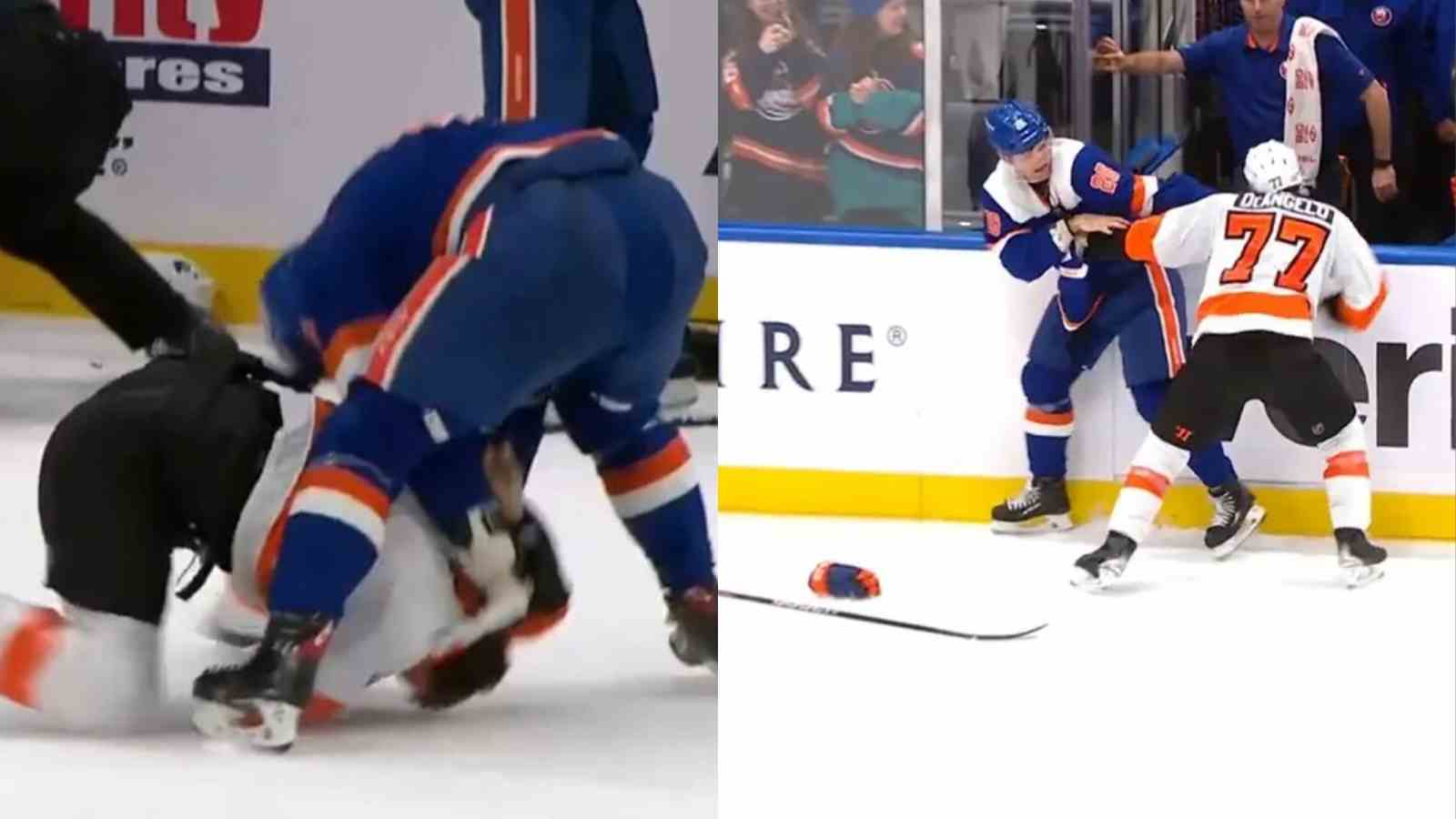 Tortorella, also known as "Torts" has mentioned that the team roster now needs some heavy shifting to keep them o track. They have lost 10 games in a row, which is pretty bad for the NHL season. Last week's brawl between Tony and Wahlstrom attracted attention all over the media.
The fight initially started after Islanders defenceman Alexander Romanov accidentally hit Flyers players. Tony joining in the fight, took up the challenge to Wahlstrom who instantly crushed him left and right. One can look at the video where Wahlstrom is shown smashing Tony on ice, while the latter lay straight on it.
Things would have been worse if the officials were any late in separating the duo. Nevertheless whatever happened on the ice that day is in the past. As the present seems gloomy for the team. Torts have indicated that some serious "re-tooling" is in process. Compared to the current state of the team, it seems that this process will bring life to the organization later on.
Flyers players are quite under pressure themselves. They know well enough how the plays going, how the fan base is reacting, and what they need to do to improve the condition. Then again important pieces of the team are missing as they are currently serving IL.
Torts to have been in the neck of the players and their scores. Things are going to get riled up, hopefully, the Flyers fan will get something "interesting" to see by the end of the season.
Also Read| WATCH: "Clocked" BLOODY brawl breaks out during Jets vs Avalanche game, players paused to witness the scene
Also Read| Pat Maroon SLAYS Bruins broadcaster Jack Edwards for comments on fat-shaming, NHL world reacts
Do follow us on:  Facebook | Instagram | Twitter