The Phoenix Mercury star Brittney Griner's recent comments on trans athlete right draw ire from former swimmer Riley Gaines following a recent interview. Griner went as far as to call it a "crime" to "separate someone for any reason" when asked about the recent ban discussions on trans athlete participation in women's sports.
On Sunday, Gaines tweeted that it was "heartbreaking" to hear such remarks from an athletically successful person like Griner. On Wednesday, Kansas State High School Activities Association's executive board declared that high school and middle schools should verify first birth certificates of transgender athletes prior to deciding their teams.
It was only last week that the Protection of Women's and Girls in Sports act was passed. It stated that biological males cannot compete in women's sports. Whenever trans right discussions are hyped up, Riley Gaines and Lia Thomas' names are bound to be brought up.
Related: Riley Gaines files $2 million lawsuit against trans athlete Lia Thomas for cheating and exposing "male genitalia" in women's locker room
Riley Gaines slams Brittney Griner for her comments on trans rights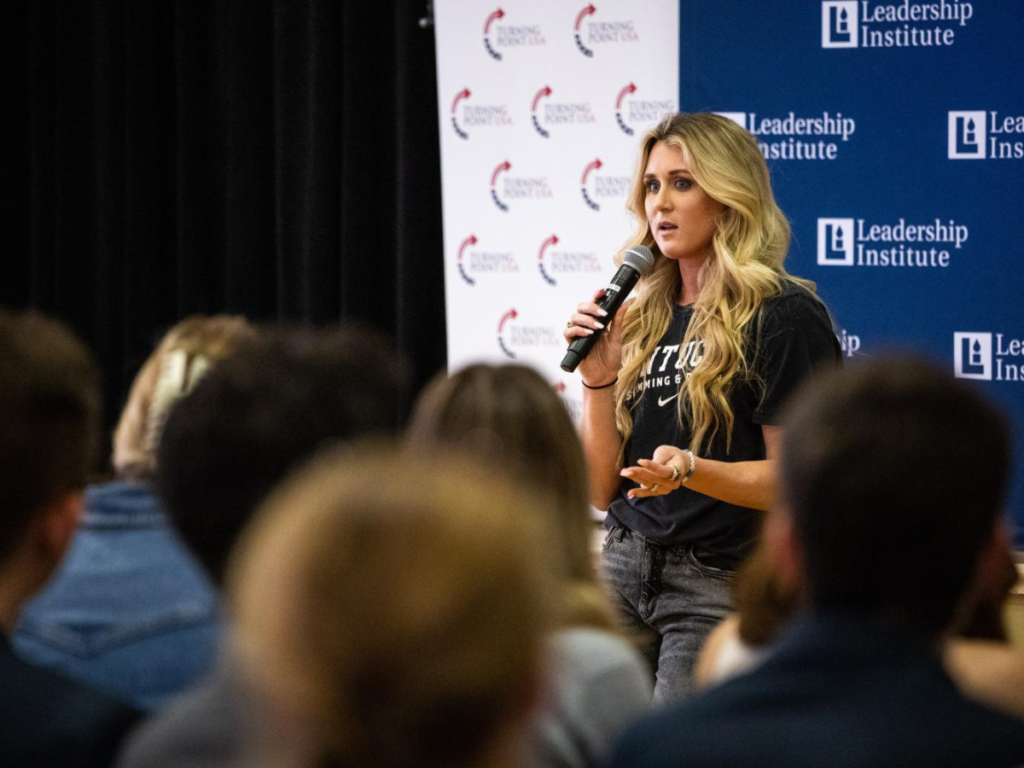 Brittney Griner stated that fighting for trans rights is one of the first priorities of the WNBA star. Furthermore, she said that among the things she'll be fighting for, trans rights "rank high on the list of things". According to an ESPN reporter, Griner stated that "Everyone deserves the right to play." 
She said that everyone should feel safe when they take their seats in the athletic world and not "feel like there's the threat, or they can't be who they are, or like it's just all eyes on them." Griner said that it's a "crime" to separate anyone from the sports world for any reason.
Griner makes her stance clear that she'll definitely be on the side to protect the trans right and speak against the "laws that are trying to be passed, for sure." In reply to her comments, Riley Gaines tweeted that it's "Heartbreaking to see athletically successful women take this demeaning stance". 
Gaines being a supporter of women's rights has time and again criticized the participation of trans athletes to compete in women's sports. She even sued Thomas with a $2 million lawsuit claiming she cheated in the NCAA Championship event.
The 2022 NCAA Championship game sparked up controversy after trans athlete Lia Thomas' participated and walked out with the trophy in hand. Following this incident, several debates took place with Gaines taking the wheel, answering the controversies.
Apart from Gaines, social media personality Jake Paul's trainer Benjamin Flores called Griner "uneducated" following her support of trans rights. He tweeted, "She's uneducated. Trans can't compete against women and ruin their hopes n dreams they have worked there entire lives for." 
"It's ignorant to even say a man should compete against a woman in athletic events. Trans should have their own league. I'm sure other Trans would support."
In case you missed:
Martina Navratilova ridicules transgender athlete Lia Thomas over controversial remarks on feminism
Clay Travis BRUTALLY slams Lia Thomas over her "feminist transphobes" comment