Riley Gaines, the former NCAA swimmer has continued to rage a war against Lia Thomas and fight for the ban of transgender athletes in women-based events. Recently Gaines revealed the trauma she went through when Thomas was allowed to share the same locker room with her and other female participants.
Thomas, the NCAA champion, has faced a lot of criticism regarding her participation in female-based events. She has been accused of cheating and having an unfair advantage over others because of her biological male body. As a result of this, Thomas has been asked by many users on social media to hand over the titles she won and relinquish her championships.
"A 6 foot 4 male walks in, disrobes, and is fully intact with male genitalia while we we're simultaneously undressing. As 18 to 22 year old girls and there was nothing we could do about it… How is this allowed ?" Gaines mentioned.
Related: Riley Gaines files $2 million lawsuit against trans athlete Lia Thomas for cheating and exposing "male genitalia" in women's locker room
Riley Gaines speaks about the terrible attack on her at the San Francisco State University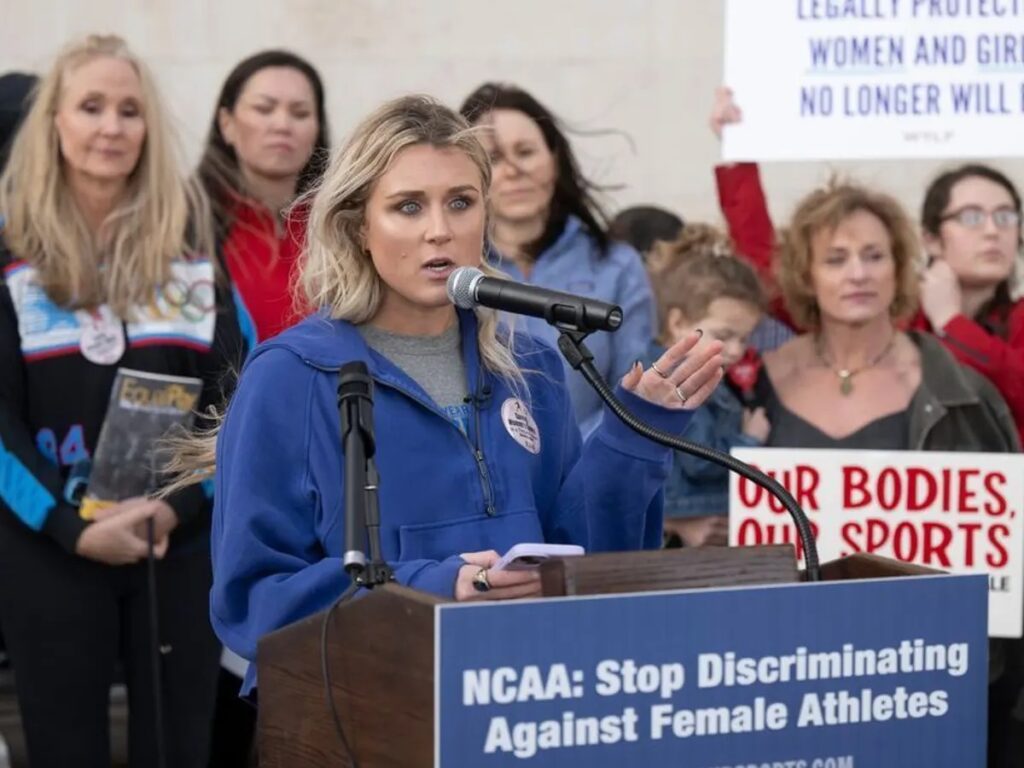 The involvement of transgender athletes in women-only sporting events has seen major developments in recent times. In March, the World Athletics placed a ban on the participation of trans athletes. This, accompanied by the talks of change in Title IX by the Joe Biden administration, has started a war of words among experts and fellow athletes.
Lia Thomas, who has continued to push the Biden government to make the changes, faces Riley Gaines in her way. The 12-time All-American swimming champion recalled the traumatic experience of her being attacked by an angry mob of anti-transgender protesters. Speaking before the Congress on Tuesday, Gaines revealed how the security team was afraid to take any action.
"I went to the classroom building where I was supposed to speak, which was on the third floor, and I entered the room, which soon began to fill with protesters. Still, the campus officers did not show like I was told they would."
"They [protesters] rushed at me with fists raised, most shouting and angry faces coming around me. They flickered the lights and, ultimately turned the lights off," Gaines said in her response.
Despite this incident at the San Francisco State University, Gaines has not backed down from the fight. She recently even filed a lawsuit of $2 million against Thomas for the damage she caused in the dressing room incident. Gaines has continued to speak out and has stayed strong on her ground, protesting against the participation of trans athletes.
In case you missed it: