Spanish World No.2 Carlos Alcaraz took it to Twitter to share his excitement about facing Jannik Sinner in the Indian Wells Masters semi-finals and the tennis world went crazy under the post pointing out the sportsmanship and the spirit of the young guns. As the promising young talents take it on yet again in the USA, the tennis world will be looking to see a recap of the firework they made during the epic US Open 2022 quarter-final.
As Alcaraz tweeted, "Can't wait to play Jannik tomorrow! No matter who won, I think our previous matches have been great fun for the fans, and also for us!". The tennis fans and even the official ATP page replied to the post stating, "This is what it's all about."
It is not a usual thing in tennis that players tweet about upcoming matches with their own quotes. With the hype already being there for a match between these two, some tennis fans pointed out that this rivalry will be the face of World Tennis in the coming years. There were retweets on the same stating "can't wait," "gen Z is something else" and "the future of tennis is very bright".
Also Read: Carlos Alcaraz reveals he took inspiration from Rafael Nadal and Novak Djokovic in handling of injuries
Head-to-head between Carlos Alcaraz and Jannik Sinner is tied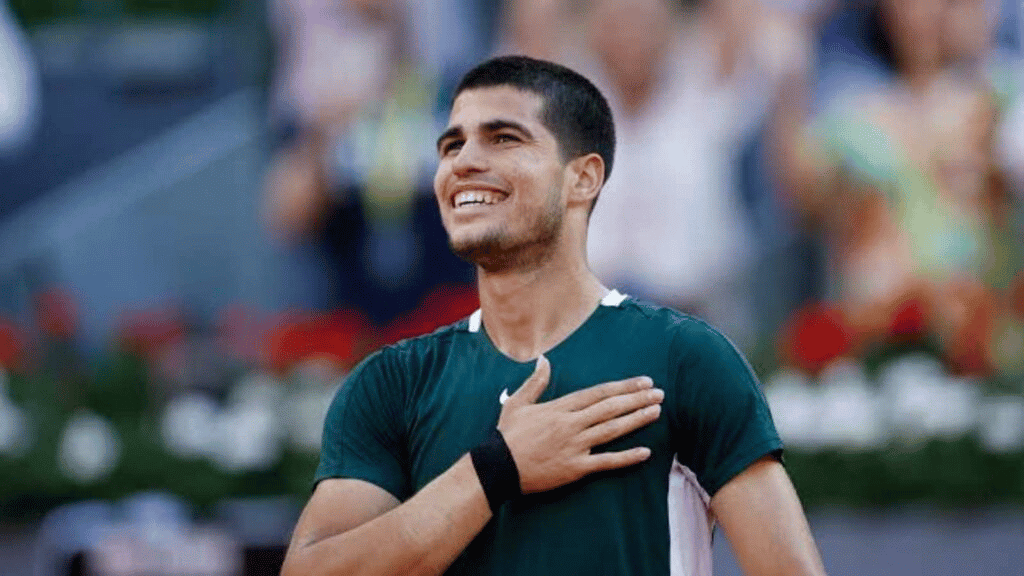 The rivalry between Carlos Alcaraz and Jannik Sinner is expected to make a huge noise in the coming years. These two have played four times against each other with two wins each. Alcaraz had won their first and last encounters. They also have met twice in Grand Slams with one win each.
Sinner vs Alcaraz US open 2022 Quarter Finals was one of the most thrilling matches ever in the history of tennis as the youngsters battled out for 5 hours and 18 mins with animalistic rallies, reminding us of the Rafael Nadal- Novak Djokovic iconic rivalry on the court. Apart from the US open encounter in Grand slams, the pair battled out earlier in Wimbledon 2022 Round of 16 where the Italian came out on top in 4 sets.
The Italian World No.13 Jannik Sinner is 21 years old whereas Carlos Alcaraz is younger at 19. With already epic matches under their belts, the encounter at tennis paradise is also expected to be a blockbuster. The tennis world is excited to see who will take the lead in their head-to-head.
In case you missed it!
WTA Chief insists governing bodies are committed to support Ukrainian players after recent criticisms
"I am going to be one of the best athletes on the tour," Emma Raducanu talks about developing a big part of her game