Stefanos Tsitsipas was easily defeated by the 35-year-old Novak Djokovic 6-3, 7-6(4), and 7-6(5) to reclaim the world No. 1 spot, win his record-extending 10th AO trophy, and win his 22nd Grand Slam title to tie rival Rafael Nadal's men's major record. The 35-year-old is now being praised by Toni Nadal. In his most recent column, the seasoned coach acknowledged that "what the Serbian player has achieved is as astounding as it is impressive."
With his most recent victory at Melbourne Park, the 35-year-old won the championship match on Rod Laver Arena, sending him back to the top of the world rankings. Djokovic won the first major of the new season while on a triumphant return to Australia, giving him 22 Grand Slam singles championships overall, matching his great rival Rafael Nadal.
The outcome in Melbourne was a display of Djokovic's "full" game as well as the fact that he is a "fighter to the point of exhaustion" – much like his nephew, according to Uncle Toni, who is currently Felix Auger-Aliassime's coach. According to Nadal's most recent El Pais column, "His game is undoubtedly the most complete on the circuit, which allows him to play both attacking and defending."
Toni further elaborated: "He also has the ambition and the consequent desire to continue improving. Proof of this is his service, highly perfected in recent times." Nadal commented on Djokovic's highly trained skills and his ability to maintain calm under pressure and on decisive points during matches too. Precisely, this was the reason Djokovic won yet another major.
Also read: "Amazing achievement Nole. Well deserved," Rafael Nadal congratulates Novak Djokovic on his tenth Australian Open title.
Toni Nadal explains what sets Rafael Nadal apart from others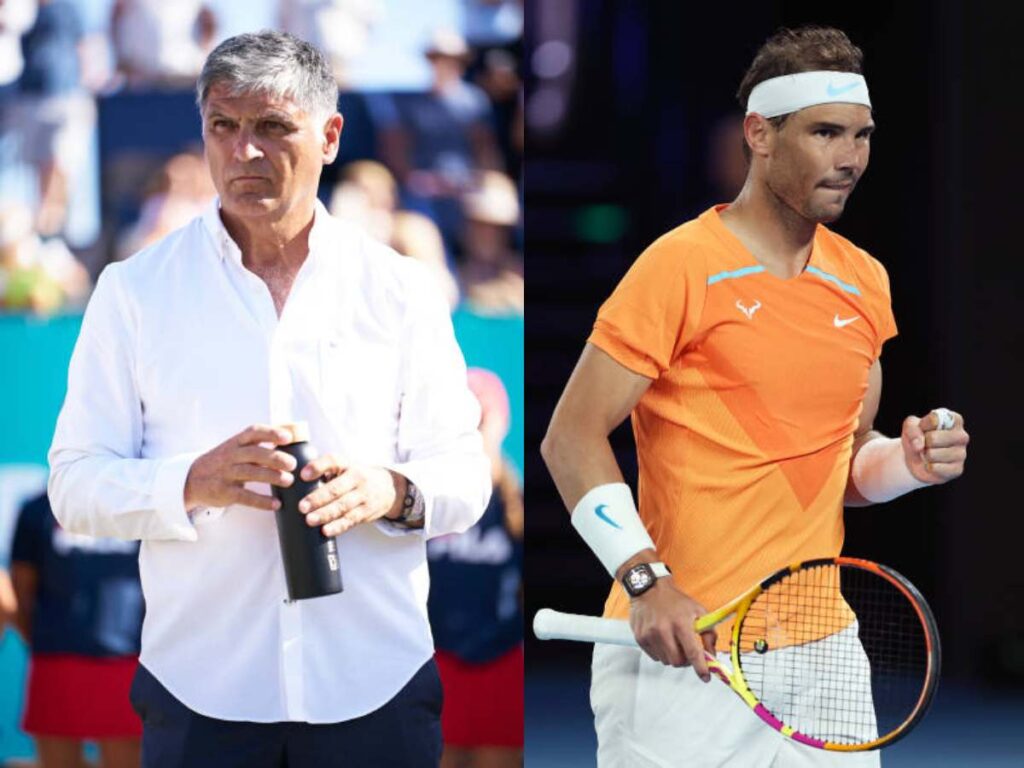 Under Toni's instruction, Rafael Nadal, the 22-time Grand Slam champion, picked up tennis when he was four years old. His uncle made the deliberate choice for him to switch to playing left-handed. In an interview with Vanity Fair, he admitted that the 14-time Roland Garros champion's obedience set him apart from other lads. When instructed to do anything, Toni's nephew never questioned him, which is precisely what coaches want.
The Spanish star is one of the few players who has never smashed a racquet on the court and is frequently praised for his classy demeanor both on and off the court. The sixth-ranked player's parents, according to Toni, were responsible for his upbringing. In response to a question about his future, Toni Nadal said that having injury problems was normal for a player who had been active on the tour for such a long time.
However, more interestingly, the Spaniard expressed confidence in his nephew's ability to bag the 2023 French Open. Toni also said that it had been years since he had moved quickly and hard when hitting the ball. Toni has faith in him to win the Roland Garros trophy this year.
In case you missed it:
"Success is his life's dream," Boris Becker comments upon Novak Djokovic's singular goal in tennis
Novak Djokovic jokes about keeping the 'special jacket' with '23' ready for the French Open