Danish wunderkind Holger Rune is set to play his first tournament ever as the top seed in MontPellier Open. Before starting the proceedings, Rune spoke out in an interview that he is ready to face the challenges of being the top seed. He is also aware that the splendid performance that got him into the Top-10 rankings will make him a player to beat for the rest of the tour.
Rune said, "I'm ready for it, Obviously, I feel it. It's going to be more like everybody who is going to play me wants to beat me even more than last year. But that's fine. I mean, it shows that I did well and it's a positive thing."
Continuing the train of thought, Rune spoke about the differences for him from the last year, "Obviously it's going to be harder matches from now on because I'm, in a way, supposed to win more matches than I was last year. But as we all know, everybody can play extremely good on the Tour. And if I'm not there, I'm going to lose. So I have to be 100 percent ready to play my best tennis in every match. And if I don't, I have to try to find solutions and be ready to fight."
Also Read: WATCH: Jelena Ostapenko clashes with Danielle Collins in a heated dramatic encounter in Abu Dhabi
Holger Rune had his best season in 2022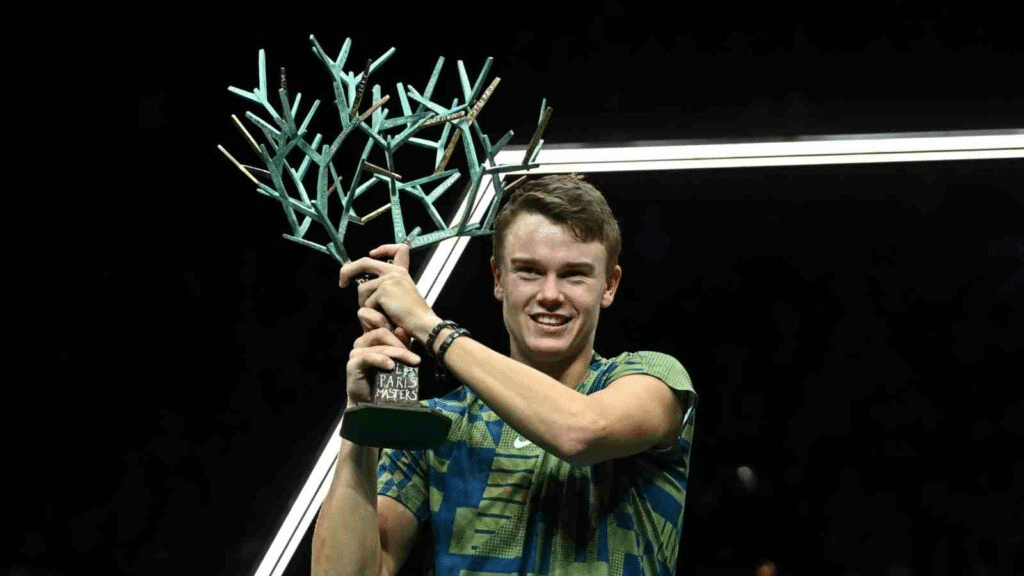 Despite losing in the pre-quarterfinals of the Australian Open 2023, Holger Rune has enough time left to come back stronger. He will try to start fresh in the Montpellier Open after taking care of an injury that sustained during the third-round encounter against Ugo Humbert in Australian Open. The Danish 19-year-old had his best season in 2022.
His meteoric rise reached new heights after making an impressive comeback to defeat Novak Djokovic in the finals of the Paris Masters 2022. However, before his incredible Parisian run, the up-and-rising Danish showcased distinctive form in other important tournaments.
Holger won the title in the Stockholm Open beating Stefanos Tsitsipas in straights. Then he reached the finals in the Basel Open before losing to Felix Auger Aliassime. After that, he started the 2022 Paris Masters tournament ranked as World No.18.
In the Paris Masters finals, he outgunned Novak Djokovic in one of the most thrilling matches of the season in three sets after 2 hours and 34 minutes (3-6, 6-3, 7-5). The victory outlined the mental toughness of the Dane where he saved 10 out of the 12 break points against one of the game's best men in the business with the return of serve.
In case you missed it!
"Federer's debut on IndianTV" Roger Federer's mimicry by an Indian movie actor has the internet in splits
"It was more than just tennis," Jimmy Connors pays tribute to John McEnroe detailing their rivalry