Czech-American tennis icon Martina Navratilova mocked Elise Stefanik for her apologetic stand on former US President Donald Trump. The congresswoman was recently featured in a New York Times article that mentioned her political transformation over the last few years. Navratilova took to Twitter and called the Congresswomen an 'an opportunist of the highest degree'.
The 18-times single major winner has been voicing her political views on social media actively. Just a few days back she mocked Donald Trump. This time Elise Stefanik became her target.
Navratilova was commenting on a tweet sharing a snippet from a New York Times article. "With breathtaking speed and alacrity, Ms. Stefanik remade herself into a fervent Trump apologist, adopted his over-torqued style on Twitter, and embraced the conspiracy theories that animate his base…", the original tweet read.
Navratilova supported the views presented in the article. "Yup. An opportunist of the highest degree", she wrote.
Related: WATCH: Novak Djokovic gets a hero's welcome on return to Australia after 2022 deportation drama
Martina Navratilova's political activism on social media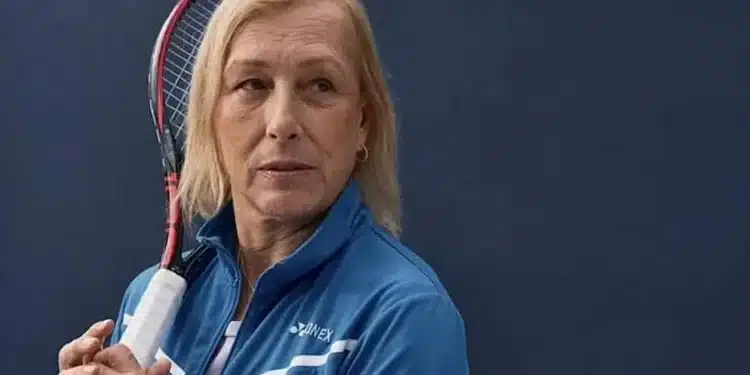 Tennis icon Martina Navratilova has never been shy about taking a political stand. The former World No. 1 has quickly countered every unfavorable opinion concerning politics. She has taken on Donald Trump various times because of his abuse of power, disregard for women, and policies.
Other than voicing her opinions on political matters the 66-year-old has maintained her views clear on issues concerning gender equality, human rights, the environment, etc. Being an open homosexual herself, Navratilova has supported rights for the LGBT community. This makes her one of the most trusted tennis personalities.
A forever champion on and off the court, Navratilova created several invincible records in her career. She dominated the court overcoming all odds. Even after her retirement, she remains a source of motivation for players and fans alike.
Related: List of tennis players who retired in 2022
Related: "Not a disaster," Rafael Nadal calls for calm after shock defeat to Cameron Norrie at United Cup