On his comeback, Rafael Nadal lost in the quarterfinal of the 2022 Madrid Open to 19-year-old Carlos Alcaraz. The 21-time grand slam champion lost the match in three sets 2-6,6-1,3-6. This was just his second loss of the season and it wasn't an ideal start to the clay season for the 'King of Clay'.
After the match, Nadal spoke about how he came with very less expectations to Madrid. He had already said that be wasn't at his 100% but opted to play in Madrid in order to get some matches on clay under his belt. In the press conference, he said that the reality is that he didn't have any preparation coming into Caja Magica.
"The reading of the tournament is I have played three matches and that I came here with hardly any preparation, with no preparation. This is the reality," Nadal said. "I said that before coming here it was going to be a tough week, even though I have lost to one of the fittest players of the world with no doubts, I even had my opportunities."
He took the positives from the tournament and said that from here onwards, he is just looking forward with a lot of optimism. He said: "I have played two-and-a-half hours [today] and three matches. This is a positive outcome. From here onwards, just looking forward with optimism and [I'm] happy and excited. We will see what happens. You have to believe."
Also read: 'What just happened?' Carlos Alcaraz can't keep calm and writes an exciting message on camera after his dream victory over Rafael Nadal
'He was better than me in several aspects of the match': Rafael Nadal on Carlos Alcaraz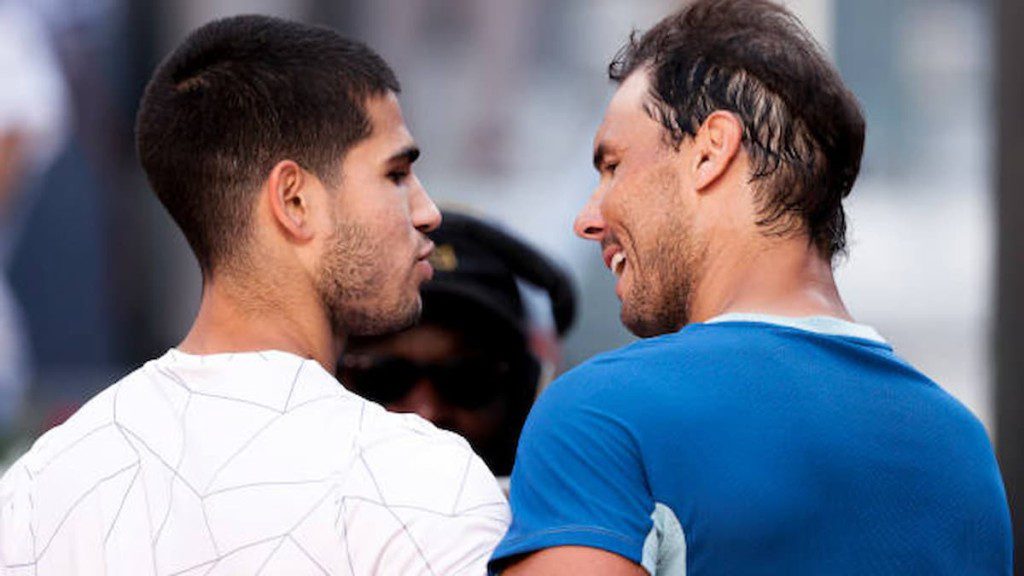 Nadal was clearly outplayed by a better player. The 21-time grand slam champion lauded Alcaraz's game and said that he was better than him in several aspects during the match.
"He was better than me in several aspects of the match and several aspects of the game, and I need to improve. I just accept it naturally with calm and with security that there is a path to continue," he said.
Despite not being at his 100%, Nadal didn't take any credit away from Alcaraz and wished him luck for a great tournament going ahead. "It's an easy loss to digest in that regard because we knew what we could expect here, and now because of that, I don't take away any merit from Carlos. Congratulations to him. He's playing great, and I hope the best for him for the rest of the tournament," he said.
At the end, Nadal revealed that his only dream is to get healthy before the French Open and compete at the highest level once again. Because if that happens, he has the confidence to do well there as he has for many years.
"I tell you, honestly, my only dream is to be in Paris healthy enough and physically good enough to compete at the highest level possible. If that happens, I know it's a tournament that I have been playing well a lot of times in my career. I know very well the place, and why can I not be competitive again and give me one more chance. That could be a dream for me," he said.
Also read: "It means a lot to beat the best player in history on clay," Carlos Alcaraz elated after recording the biggest win of his career over Rafael Nadal
Also read: Andy Murray withdraws from 'another' tournament after stomach upset