Nikola Pilic, the former coach and captain of the Serbian Davis Cup team in 2010, believes Novak Djokovic is the greatest tennis player in history. The verdict was based on his record-breaking performance at the Australian Open 2023, where the Serbian won his 22nd Grand Slam title. After all the injustices that occurred a year ago, he thinks this special victory shows how good he is.
Pilic said, "Regardless of the treatment he received last year in Australia, Djokovic returned to Melbourne and played his best tennis. The results say it all. With all the numbers on the table, I objectively state that Djokovic is the best tennis player of all time. He deserves it. We worked together for years and I'm glad I helped him. I say all this without any exaggeration."
This year, the rejuvenated Serbian eye the big prize of a calendar Grand Slam (winning all four Majors) as he is now eligible to play the US open. The United States of America has announced they will be lifting the national emergency on May 11. It means, those not vaccinated, can also enter the USA. The US Open will be played from August 28 to September 10 this year. (Source: We love Tennis, translated via google)
Also Read: "Could not have played any better," Dominic Thiem admits defeat to Novak Djokovic in the 2020 Australian Open finals is enough to declare the Serb the GOAT
Novak Djokovic will be looking to top the Grand Slam race for the first time ever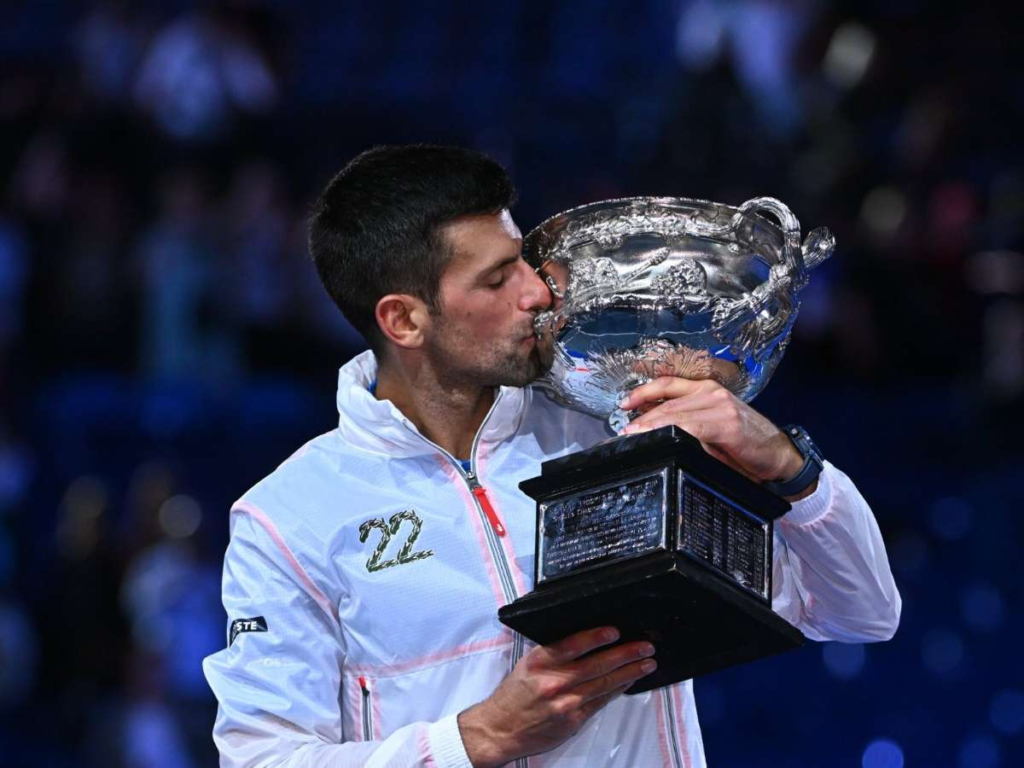 Though Novak Djokovic has breached most tennis records already, he was never able to top the Grand Slam race alone. By clinching Wimbledon 2021, he was able to reach the top then but shared the top spot with his biggest rivals — Rafael Nadal and Roger Federer. He lost the US Open final in 2021 to Daniil Medvedev and was deported from Australia 2022, which wrecked his AO plan. Following his quarterfinal defeat to Rafael Nadal at the French Open in 2022, the Serbian had to wait until Wimbledon 2022 for his Grand Slam count to increase again.
The next Grand Slam, French Open, will be the first in which Rafael Nadal and Novak Djokovic play simultaneously for the biggest record in tennis. This could have happened at the US Open 2021 and Australian Open 2022, but Rafael Nadal withdrew from the former and the Serbian World Number 1 was knocked out of the latter.
The GOAT debate seems to be limited to Novak Djokovic and Rafael Nadal now (at least according to the numbers). Both have 22 Grand Slam titles each. Though Rafael Nadal leads in head-to-head at Majors 11-7, the overall head-to-head is almost in equilibrium with 30-29 to Djokovic now. Another epic chapter in this rivalry will be written if the Spaniard can compete in the clay season.
In case you missed it!
Fernando Verdasco talks of his son Mateo's obsession with Rafael Nadal after their Australian Open meeting
"Overwhelming opposition from the match caller and the crowd," Alycia Parks mistreatment by Lyon Open after defeating Caroline Garcia angers fans