Nick Kyrgios and Roger Federer have faced each other on-court a total of seven times. And now, Kyrgios wants to face off with the retired legend yet again. In a recent Instagram story post, Kyrgios expressed his desire to compete against the Swiss maestro once again in an exhibition match in Switzerland.
Federer took retirement from the sport after playing his final match at the 2022 Laver Cup. Since then, he has not been seen on the court again for an official match by fans. Kyrgios had showered praise on Federer when he put down his racquet during the time. The Australian wishes to recreate another match with him, as he also posted a clip from their match at the Miami Masters in 2017.
Kyrgios posted the clip from his much-loved and iconic Miami Open semifinal matchup asking Federer, "Shall we do it again?". The Swiss triumphed against the Australian in the competitive tiebreak match, winning 7-6 (9), 6-7 (9), and 7-5(5). The epic match lasted over three hours, which Nick has also labeled his favorite match ever.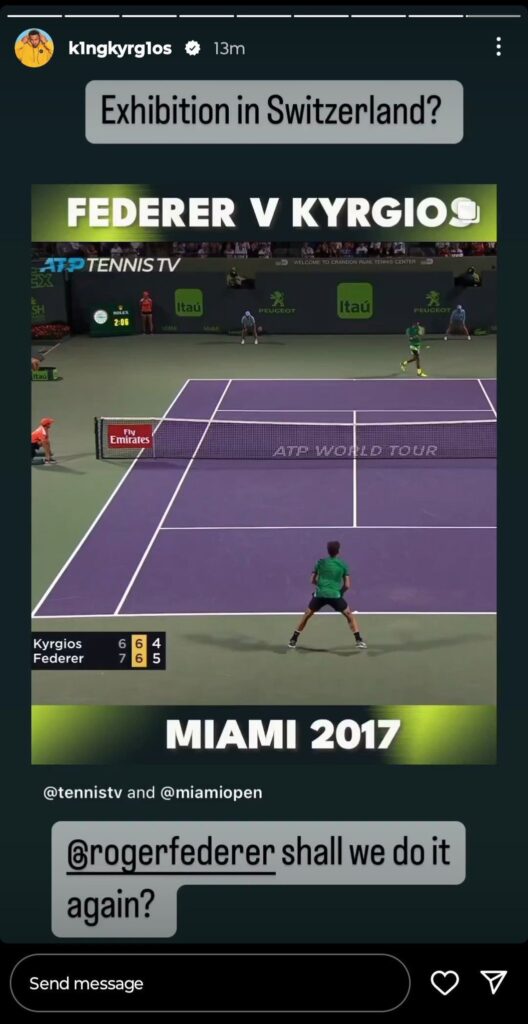 Kyrgios has always respected the 20-time Grand Slam champion for his excellent display of skills on the court. Over the past few months, he has continuously recounted the match. After his severe knee surgery, the World No.24 has been on an extended break, as he reminisced about his grueling experience against Federer. A few days before, Kyrgios once again mentioned the semi-final encounter.
The pair have previously participated in charity exhibitions prior to the Australian Open. In their head-to-head clashes, the 2022 Wimbledon runner-up won his first-ever battle against the 41-year-old at the 2015 Madrid Masters. In the other six encounters, it is Federer who has come out on top. Regardless, the brutal semi-final in Miami has left a lasting impact on Kyrgios.
Also read: Nick Kyrgios gives heartfelt reply to Holger Rune's recent comments calling him 'hell of a player'
Nick Kyrgios claims Miami Open semi-final in 2017 to be his favorite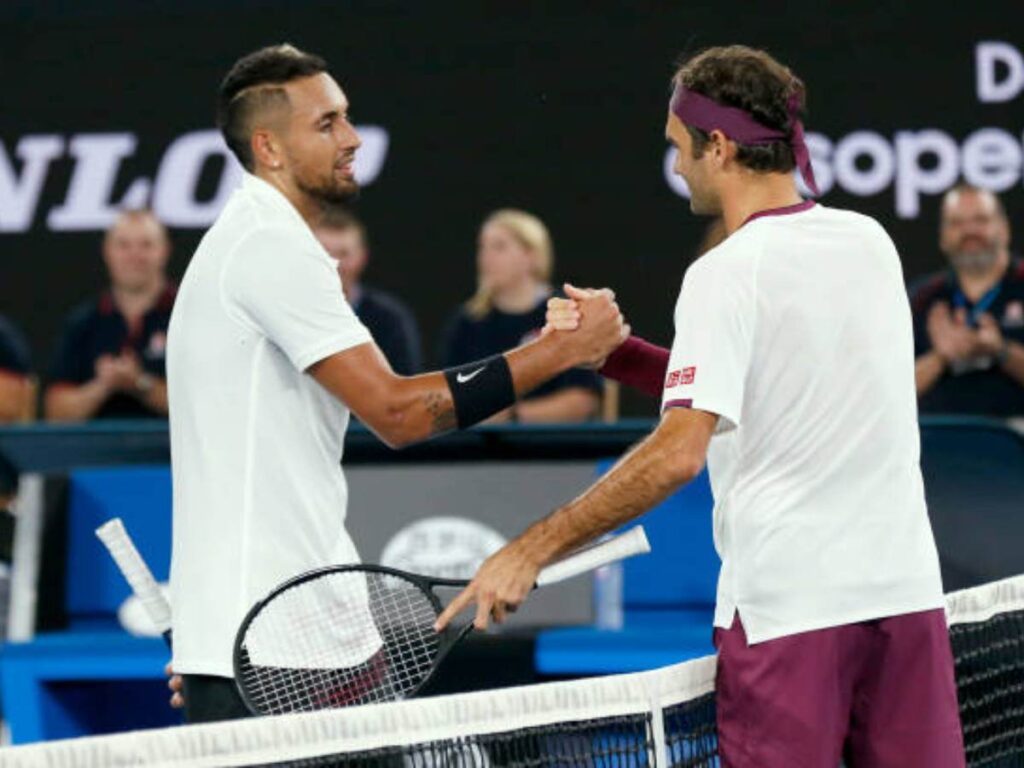 Nick Kyrgios referred to his Miami Open encounter with Roger Federer as his "favorite match" and reflected on it with great pleasure. The player was forced into three tiebreakers that decided Federer's victory. With the 2023 edition in full swing, Kyrgios thought back on his memorable confrontation with the retired Swiss.
Kyrgios posted about the tiring but remarkable match, once again, on his Instagram handle. The Australian is currently recuperating from a knee injury that led to surgery and caused him to withdraw from the Australian Open. Kyrgios has not yet participated in a tournament-level match in this year's season.
In case you missed it:
Wimbledon to allow Russian and Belarusian players as 'Neutral' athletes revoking their ban
Venus Williams closer to comeback as she gives another update on her return