It was a break-heart pass for Sania Mirza and Rohan Bopanna in the mixed doubles final of the 2023 Australian Open on Friday in Melbourne. Up against the younger combination of Luisa Stefani and Rafael Matos from Brazil, the Indian pair fought hard but could not pull out the big shots and lost in straight sets 7-6 (7/2), 6-2 in an hour and 26 minutes.
"Thank you, everyone. Very different, playing with Sania. Thank you, our team for supporting us. Truly special for me to play with Sania. Our first match together was when Sania was age 14. Thanks Sania for what you have done for Indian tennis and for inspiring so many players," said Rohan. "Wishing you a great retirement, Sania," said an emotionally choked Bopanna.
"Well, I just want to say if I cry these are happy tears. I am still going to play few more tournaments but my journey started in Melbourne in 2005," said Sania crying. Sania was choking with emotions. "Rod Laver Arena, thank you for making me feel at home here," added Sania. "Rohan was my first doubles partner when I was 14. He is my best partners, thank you Rohan. Our families were here. Never thought I could play in front of my child and our families," added Sania.
Her last event is in Dubai next month. This was a match where emotions were high for the Indian pair, playing for the last time together. If matches could be won on emotions alone, it would be different. Just that, on this day, Stefani, age 25, and Rafael Matos, named after the famous fighter aircraft showed more aggression and cohesion on the court in a big match.
In case you missed it: "Poison him," Tommy Paul's coach Brad Stine jokes about the strategy to defeat Novak Djokovic in the Australian Open semis
Sania Mirza's Grand Slam career ends with a loss but not before great fighting spirit shown with Rohan Bopanna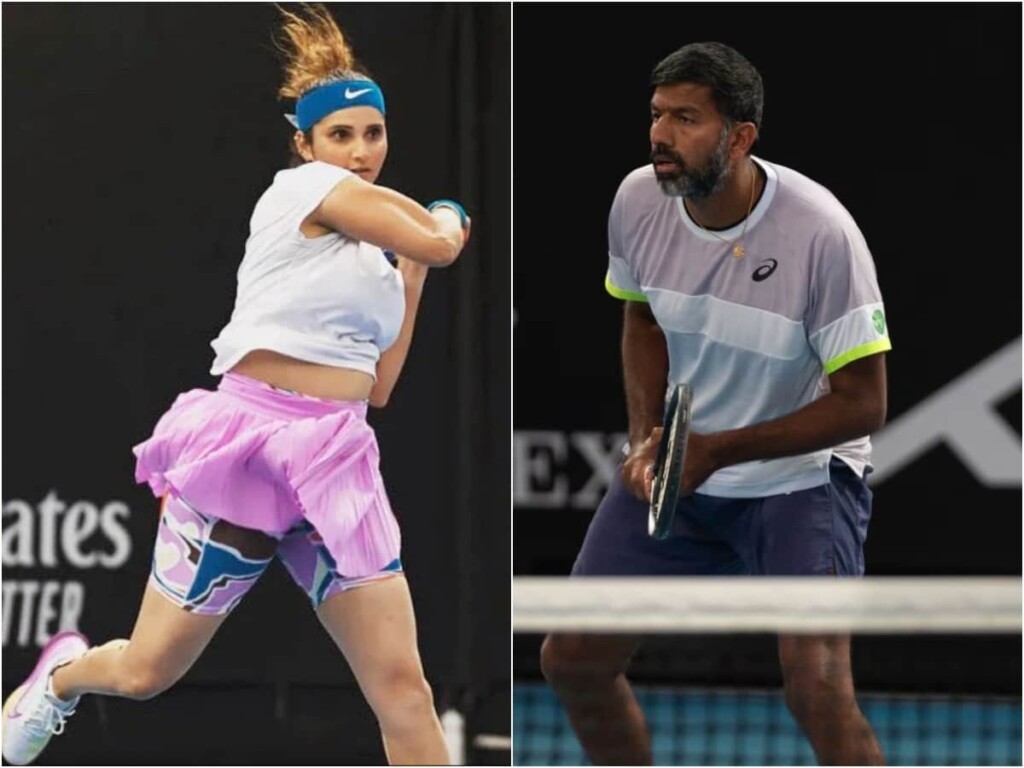 Doubles is about chemistry and holding nerves on the big stage. Points can be snapped up in no time. Then again, there is a big difference between a young pair of legs, in fact, two young pairs from the Brazilians against the Indians. The combined age of the Brazilians is 52 and that of the Indians 77.
Stefani's serve was, indeed, standout on Friday afternoon in hot Melbourne. She kept the serve very steady and there was not much big difference between the first and second serves. Rafael, like the famous aircraft, was also in full flight with his array of strokes today. It included shots from the mid-court as well as at the net.
What was a bit surprising on Friday was how Rohan's game was a bit shaky today. He, usually, does not make too many errors with his serve. But it was the serve that caused him problems in the first set tie-break, including a double fault. Added to it, there were some forehand errors also from Rohan Bopanna, which cost in a match where the pressure and stakes were high.
For Sania, this was an emotional afternoon, saying goodbye to Grand Slam tennis. This was her swansong, this was her sweet last blow of kisses to the fans, this was her day of fighting tears. No, not because she was losing but saying the last day goodbye at the office was hard. Sania had planned for this farewell, which, actually was scheduled for the last US Open in September 2022.
That she suffered an injury and had to delay her farewell to 2023 was well thought of. Moments of brilliance, streaks of doubles sublime tennis shots, all this reminded fans of how good the Indian pair were in their heydays. They kept Indians awake in India early morning. People braved the chill just to see this duo warm their cockles.
Overall, for the Brazilian pair of Luis Stefand and Rafael Matos, this was a big day. They handled the big stage well, they soaked in the pressure and did not show they were a pair with a great pedigree and not having won a Grand Slam title together before. In their own careers as doubles players, they have high individual rankings, which they justified to a nicety. Brazilians are not great doubles players. one thought.
At the Australian Open, they changed the script, dramatically, as Sania's last service game was teary to watch. The Super Mom was bidding adios to Grand Slams, a stage she had dominated in her own way. For someone who rocked the singles stage almost two decades ago at the same venue, the farewell at AO ended in a loss but not a disgrace.
Sania still has fans in billions the world over, as she walked to the net and hugged her opponents from Brazil. It was very sad for Sania. But then, she has shown what it means to be a Super Mom.
Continue Reading:
Victoria Azarenka asked to remove her PSG shirt before the 2023 Australian Open semi-final
Maria Sharapova feels relieved to have not faced Ons Jabeur calling her a 'Nightmare' of an opponent in Break Point