International Women's Day is important for sporting icons. For, gender balance, pay parity, and equality have been spoken of since the days Billie Jean King was a superstar in every sense. Having won an assortment of 39 Grand Slam titles, underlined by 12 singles, 16 doubles, and 11 mixed doubles, Billie was the tennis Queen from 1966 to 1975.
Almost five decades after stepping away from play, Billie is still relevant to the sport and women's issues at large. She was the one with a large heart, bold and brave. Perhaps, in the same mold is Martina Navratilova, who won more titles. Martina was the quintessential fighter, she still loves to pick on politicians as well, Donald Trump included.
Who would have thought the Czech-born champion, who took up citizenship in the USA, would rage, just like she did on the tennis courts. Martina's credentials as a tennis player were even more lavish, with a collection of 59 Grand Slam titles, with 18 singles, 31 doubles, and 10 mixed doubles titles decorating her showcase. Both Billie and Martina are flag bearers of the LGBTQ. At the same time, their pioneering efforts in tennis and being vocal has helped the cause of women big time.
After all, Billie was the one who showed a large heart, guts, and gumption to conquer "Pig" Bobby Riggs in the Battle of Sexes, in 1973. It was America's biggest televised event, which, to date, evokes great memories. At a time when people argue why women tennis players should get paid less than men as they play only the best of three sets at the Grand Slams, women like Billie Jean King and Martina Navratilova fought great battles, off the court.
Related: Most Tennis Grand Slam winners of all-time: Who has won the most titles?
Celebrating International Women's Day listing the greats of the game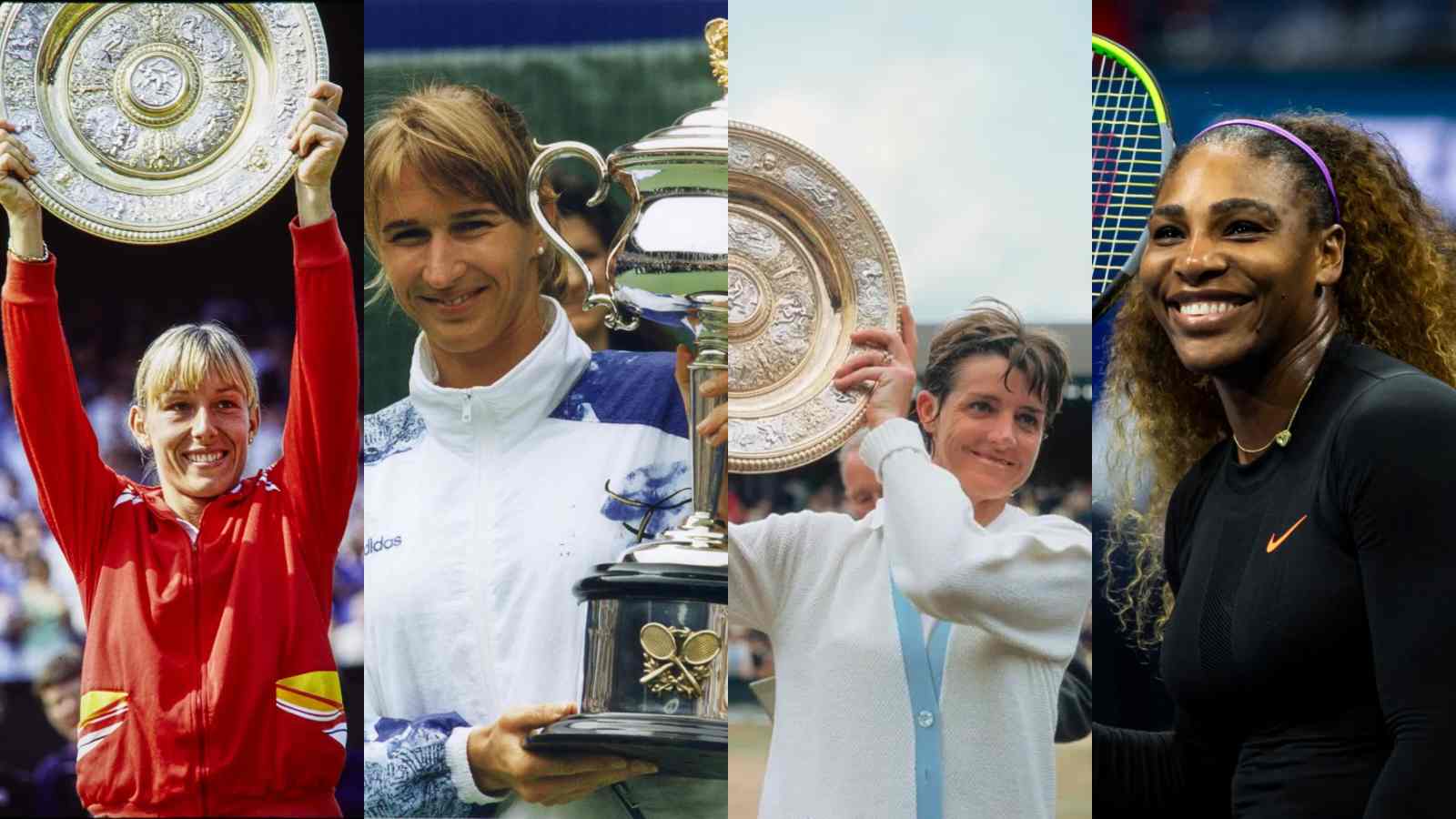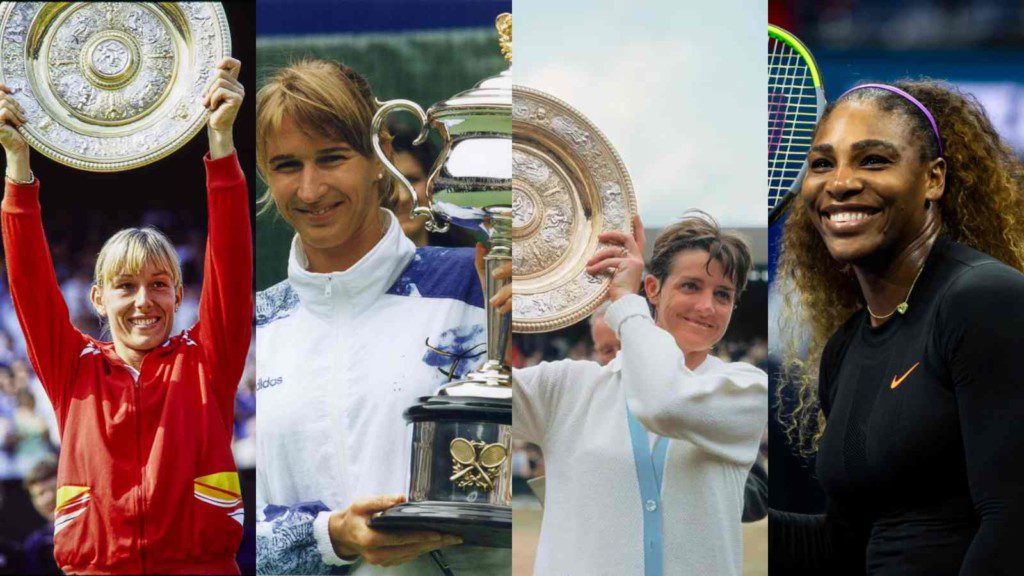 Thanks to these two giants, women's tennis sees much more respect for this generation today. Prize money and endorsements apart, the women's tour, led by the WTA — Women's Tennis Association — is a brave and bold body. One is talking of all this on IWD — International Women's Day (March 8) for various reasons. Women's emancipation and women leading in all walks of life has become the talking point.
Had it not been for pioneers like Billie and Martina, successive generations in tennis may have been muffled. They may have played the sport and not gotten the same fame and fan following. That women's tennis is now rocking, in every sense, is a given. They grab more eyeballs, they attract more viewership. If the number of titles alone won could define greatness, that would be just a mathematical exercise.
Tennis is grateful it has seen two divas from two different generations and two different countries, Germany and the USA light up modern tennis. Agreed, Margaret Court will remain evergreen as she won a massive 24 Grand Slam singles titles out of a total of 64. Yet, that was a different era, a different age, in tennis. What Steffi Graf did for women's tennis, winning 22 Grand Slam singles titles was massive. The German blonde made millions of fans fall for her looks and game.
Yet, as the brand ambassador for women's tennis, she showed flair, feel, and how she could overpower opponents with her brilliant forehand, razor-sharp, executed with guile. Her inside-out forehand and attractive volleys and net play made her awesome. That is why, even today, people are remembering Steffi for her 377 weeks as the No.1. That record was bettered by Novak Djokovic.
People have forgotten, Graf completed the Golden Slam in 1988 — winning the four Majors and Olympics gold at the Seoul Olympics. Graf was divine, Graf was different, she knew when to quit, for her wrist injury was painful. When she was winning, she could beat any player on any surface. That quality alone marked her out as the biggest champion.
That she slipped away so soon after marrying Andre Agassi was also unique. She did not want to hang around needlessly, though, as a woman she showed that her game was more attractive to watch then the men. Perhaps, Graf had that rare blend in her game which made her so unique. Enter Serena Williams, modern tennis's biggest star. She had the game, the looks, the appeal, and the aura. On the court, she overtook her sister Venus Williams.
Many feel Serena is arrogant but that's what happens when you have a game that is so big. Serena's career has been punctuated by struggle, toil, laurels, and riches. Rising from the ghettos in drug-infested Compton to staying now in lavish places, Serena deserves every bit of fame. She still enjoys a great presence, post-retirement at the US Open in 2022.
As a champion with a massive social media following, Serena flaunts it. And when she speaks or is into modeling, Serena carries it off beautifully, the way she won 23 Grand Slam singles titles. Serena's interviews are filled with laughter, excitement, and pun. She has messages for society at large.
As she said in 2019: "International Women's Day is dedicated to celebrating women's achievements across social, economic, cultural, and political spheres. Every year, I look at IWD as a reinvigorated call to action: together, we can accelerate global efforts to reach true gender parity."
Her words still resonate, which is why Serena makes people still turn their heads. Like it or lump it.
TOP 10 LIST:
Serena Williams
Steffi Graf
Martina Navratilova
Billie Jean King
Chris Evert
Margaret Court
Monica Seles
Venus Williams
Suzanne Lenglen
Evonne Goolagong Cawley
Continue Reading:
Top 15 longest winning streaks in Women's Tennis