Tennis has witnessed some fascinating and intense rivalries over the years. These rivalries have produced some incredible matches and have significantly increased the quality of the game. Here we take a look at the top 6 rivalries in men's tennis which has dominated and provided us with memorable moments to cherish.
Also Read Career Loss percentage against each other of The Big 4
Ivan Lendl and John McEnroe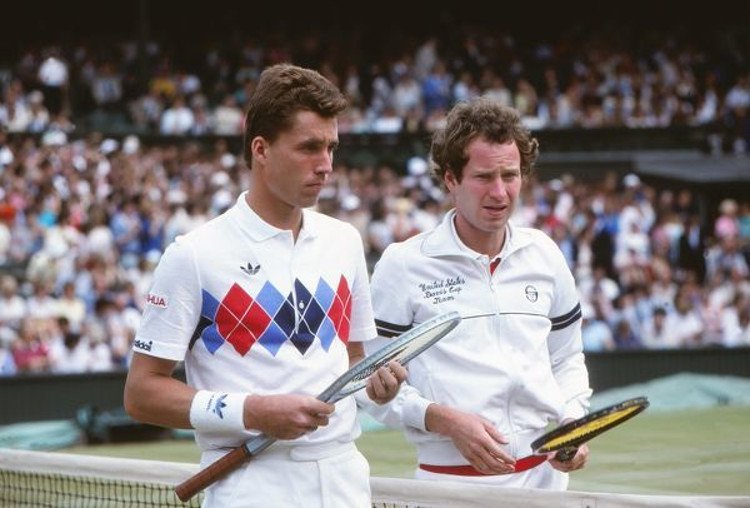 This was one of the striking tennis rivalries in the open era. The Czech Ivan Lendl and the American John McEnroe played against each other in 36 matches between 1980 and 1992 with Lendl leading 21-15 head-to-head wins over McEnroe.
It was a rivalry oozing personality and exceptional playing styles. Lendl with his piercing expressions and forehands with heavy topspin, and McEnroe known for his high temperament and extraordinary serve and volley, dished up some amazing matches.
The most memorable match between the two was in 1984 at the French Open where Lendl came back from two sets down to post a gritty victory over the American. Though it was a bitter rivalry, they have cleared their mutual differences between them since then.
Also Read Former US Davis Cup Captain Patrick McEnroe Feeling Fine After Mild Case Of COVID-19
Borg and McEnroe
Famously known as Ice and Fire, Borg and McEnroe had one of the greatest rivalries between 1978 and 1981 where they faced off in 14 matches. They had seven wins apiece with the most famous match between them coming in the 1980 Wimbledon finals.
McEnroe had to save five match points in a fourth set tie-breaker lasting 20 minutes. McEnroe eventually won the tiebreaker 18-16. But he was clueless to the serves from Borg as he clinched the set and match. It is considered one of the best tennis matches ever played.
The 1981 Wimbledon finals saw McEnroe exact revenge as he ended Borg's 41 match winning streak at Wimbledon.
Also Read 5 longest matches in tennis history
Sampras and Agassi
Men's tennis in the 1990s was dominated by the incredible Sampras-Agassi rivalry. Sampras leads Agassi 20-14 in their head-to-head playing in 34 matches. They had unique strengths to their game which made their matches a spectacular fixture. Sampras was brilliant at serve and volley while Agassi was a great baseliner with his magnificent returns to Pete's serves.
The most notable match between them was at the 2001 US Open quarterfinal where all four sets went into tiebreak as both players couldn't manage any breaks. Sampras did get the better of his American rival in the labored four setters.
Also Read Pete Sampras: 1999 Wimbledon final against Andre Agassi my best-ever match
Federer and Djokovic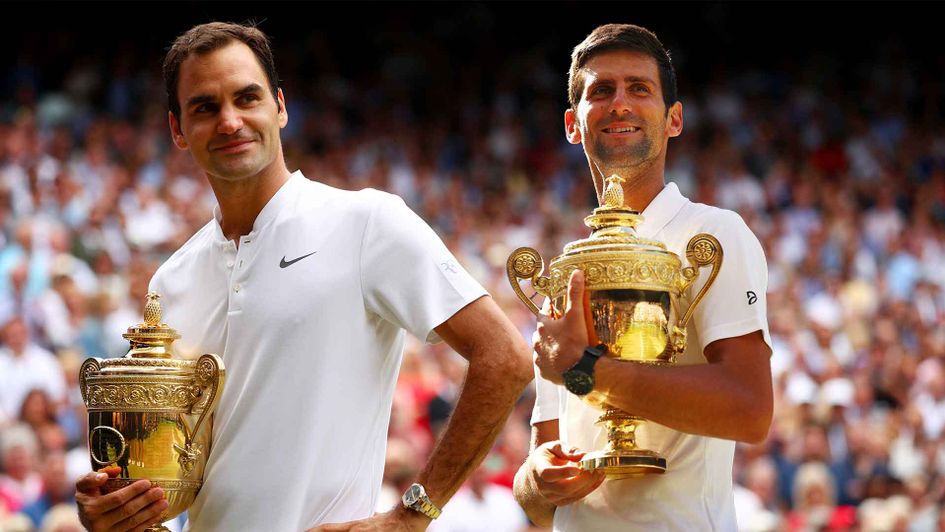 When Djokovic first faced Federer in 2006, he was facing an established superstar who was at the peak. Djokovic was an upstart looking to climb the ladder and he eventually claimed the prized victory over Federer which marked his intentions of being a world-beater.
Fast forward to 2016, Federer had the tables turned as he went into the season as the underdog and Djokovic was the superstar. They have faced each other in 50 matches with Djokovic leading Federer in their head-to-head 27-23.
They have had several outstanding games with highlights being the 2010 US Open, 2011 US Open, 2011 Roland Garros semifinals, and the most recent 2019 Wimbledon final which lasted almost 5hrs among the most notable ones. Djokovic and Federer have played each other in a record 17 Grand Slam matches in which Djokovic leads 11-6 head-to-head.
Also Read Top 10 greatest comeback victories by Novak Djokovic
Nadal and Djokovic
This is one of the closely fought rivalries having met a record 55 times. Djokovic edges out Nadal 29-26 in their head-to-head. They have had many closely fought matches and it is not easy to predict a winner when these two meet.
Many of their matches have been epic encounters and the most acclaimed of their meetings was at the 2012 Australian Open final. That match lasted for 5 hours and 53 minutes. The high level of tennis played during this match has been widely lauded by several legends, commentators, and analysts of the sport.
Djokovic defeated Nadal in this marathon five-setter and also claimed that this match was one of the finest he has played in his career. This particular rivalry is also one of the underrated and exciting rivalries. It is so even and anything can happen on any surface because of their flexibility in dominating any given surface.
Also Read The desire is to reach 25 Grand Slam Titles: Rafael Nadal
Federer and Nadal
The Federer-Nadal rivalry also dubbed the Fedal rivalry is one of the historic and most sought after tennis rivalries in the modern era. The popularity for both Federer and Nadal is enormous and no player has had such big fan bases and this makes this rivalry unique among the many rivalries witnessed in the history of this sport.
They have played 40 matches and Nadal leads Federer 24-16 in their head to head. Out of the 40 matches, 16 have been played on clay courts, 20 on hard courts and 4 on grass. Nadal leads 14-2 on clay while Federer leads 13-7 on hard courts and 3-1 on grass.
Between 2005 and 2007, they shared an extraordinary 11 Grand Slam titles and have also shared 211 consecutive weeks as the top two in ATP rankings between 2005 and 2009.
Also Read ATP's new ranking system will benefit 'Rafael Nadal' the most