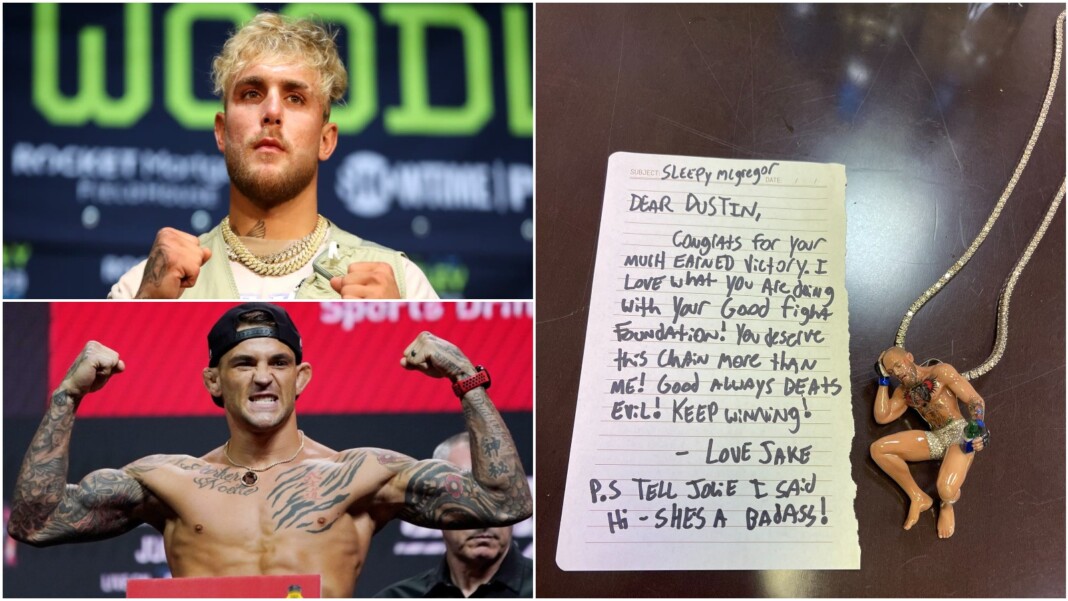 Conor McGregor had a night to forget at UFC 264, against Dustin Poirier. After having lost to Poirier at UFC 257, McGregor had revenge in his mind going into the UFC 264 fight, but little did he know that he would have his ankle snapped at the end of the first round. McGregor lost the match to Poirier due to a TKO due to doctor stoppage.
YouTube personality Jake Paul who has dived into professional boxing in recent times, mocked McGregor with a new chain that he had bought for $100,000. 'The Problem Child's chain featured McGregor lying knocked out cold after Poirier's flurry of punches at UFC 257. Following Poirier's win at UFC 264, he promised to gift 'The Diamond' the chain. And now, it looks like he has sent Poirier the gift.
"It's on the way Dustin Poirier" – Jake Paul
Jake Paul tweeted, "Crazy press week but finally got time to get to a FedEx to ship this to Dustin. It's on the way @DustinPoirier." He also had a note written alongside the gift which could be seen in the photo he tweeted.
Paul's message read, "Dear Dustin, Congrats for your much earned victory. I love what you are doing with your good fight foundation. You deserve this chain more than me. Good always defeats evil. Keep winning – Love Jake. P.S – Tell Jolie I said Hi – She's a badass!"
Dustin Poirier acknowledged Paul's gift as he replied with a fist bump emoji. Paul is currently busy with his pre-fight press conference ahead of his fight against Tyron Woodley. The fight takes place on the 29th of August, which also marks the pro-boxing debut of Woodley.
As for Dustin, he will be taking on lightweight champion Charles Oliveira for the lightweight title next.
Also Read: Watch video: Conor McGregor breaks his ankle against Dustin Poirier at UFC 264
Also Read: UFC 264 (main event): Dustin Poirier beats Conor McGregor as 'The Irishman' breaks his leg; doctor stoppage victory