It doesn't matter if Dustin Poirier is bedridden, he'd still keep his fans entertaining! inside the octagon or outside the octagon, "The Diamond" is a true star and his recent exchanges with the fans will attest to that.
Staph infection is one of the minacious diseases that haunt MMA fighters. Unfortunately, fan-favorite Dustin Poirier is hospitalized suffering from it. The fighter has not shied away from sharing his experiences from the hospital with the fans. The fighter has made sure that fans know the stages of his recovery with constant Twitter updates. Poirier feeding the fans with regular updates might have just created a "monster".
Yesterday, after the fighter got out of surgery, fans began demanding the fighter for "feet pics" and Poirier has given into the fans' indulgence it seems. The fighter, who's never backed down from fan interactions on his social media has dropped pictures of his massively swollen foot infected by staph. After giving the fans what they wanted, Dustin Poirier has come to the realization that maybe charging fans for his "feetpics" isn't a bad idea after all.
The hilarious fighter is not only sharing memes posted by the fans on his infection but is also hinting at a possible side venture in "OnlyFans". After the popular demand, Poirier posted a picture of his foot in medical dressing and jokingly wrote, "About to start charging yall for foot pics."
This is today after surgery. About to start charging yall for foot pics https://t.co/AO45Pa3gxl pic.twitter.com/vmM6G9kt0L

— The Diamond (@DustinPoirier) December 9, 2022
Read more: "Wut da helllll," Dustin Poirier shares a HORRIFYING photo of his staph infection and provides an update on the situation
Dustin Poirier shares hilarious Joe Rogan meme of his staph infection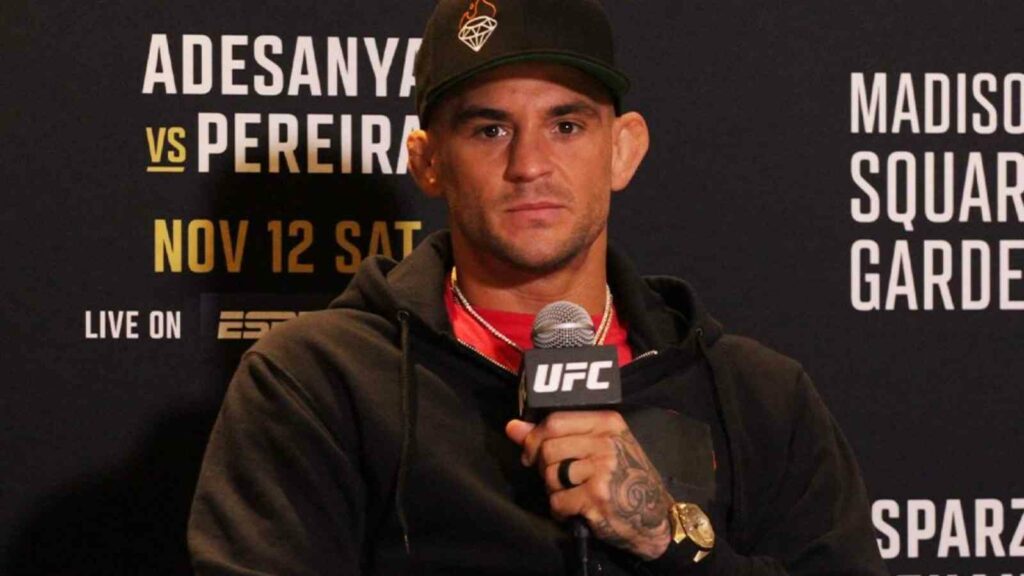 Dustin Poirier's foot is not the image you'd want to come across if you're scrolling through your social media. However, it's tough to not take a glance at it when you've got UFC commentator Joe Rogan photoshopped in the image as though he's trying to interview the infected foot. As the internet says, "Joe's gotta get that interview." Dustin agrees.
MMA fans can sometimes be the most ruthless fanbase in sports but mostly they're hilarious. Fans did not waste any time getting into the lab and making memes out of Dustin's infected foot. From Joe Rogan interviews to Poirier's rival Conor McGregor's "My foot was a balloon" memes, the fans have nailed it this time.
December 9, 2022
@DustinPoirier @joerogan pic.twitter.com/BE6bCUaJaF

— katveej (@TheBitterBuffa1) December 9, 2022
Onlyfeet https://t.co/N7ClEIWgAD

— The Diamond (@DustinPoirier) December 9, 2022
Hummmm Yummy! pic.twitter.com/YKZNRW3DQ0

— Stove Albino (@StoveAlbino) December 9, 2022
December 9, 2022
Also read: From MAGA to Viva Putin! Here are 5 UFC fighters who went viral for their controversial political opinions
Safe to say Poirier is in good spirits and he sure is thankful that the fans can make light of this devastating infection. Poirier is coming off a spectacular win against Michael Chandler at UFC 281. Hopefully, the Louisiana fighter recovers soon and gifts the fans fight news for Christmas!
Also read: How Dana White used Donald Trump to prevent the Muhammad Ali Expansion Act from benefitting MMA fighters