Islam Makhachev's UFC run as the champion has only started and is already being challenged by UFC featherweight champion, Alexander Volkanovski at UFC 284. Makhachev achieved the UFC gold after scoring a submission victory over the former champ, Charles Oliveira at UFC 280.
In a recent vlog by famous pranksters and podcasters, The NELK boys visited Dagestan to meet and train with UFC lightweight champion, Islam Makhachev. In the video, the FULL SEND team was received in Makhachkala by social media star, Hasbulla's team. From there on the team made their way to Dagestan via Chechnya undergoing heavy questioning and frisking by the Russian authorities.
After reaching Dagestan and meeting the LW champion, the NELK boys were treated hospitably by Makhachev's team and were allowed to participate in training. The NELK boys got to explore the Dagestani champ's insane cardio regime which included long and elevated miles of sprinting and jogging in extreme weather conditions at higher altitudes.
The NELK boys were assigned to run around several miles which they cheated by traveling in a van but later realized that it was just a warm-up for the Dagestani team. Later, Makhachev made the NELK boys sprint thirty rounds up and down on an elevated and snowy hill slope. While the FULL SEND team struggled to do the task, the Dagestani fighters easily finished the task.
Islam Makhachev is scheduled to fight UFC featherweight champion, Alexander Volkanovski at UFC 284 in February. The fight will be for the UFC lightweight title as Volkanovski moves up to 155 lbs to achieve the double champion status. Volkanovski is currently UFC's pound-for-pound #1 fighter followed by Islam Makhachev.
Related: "I think I'm bigger than him," Michael Chandler boasts weighing 190 pounds ahead of potential Conor McGregor fight
Former defending UFC lightweight champ, Charles Oliveira targets rematch for the UFC gold on return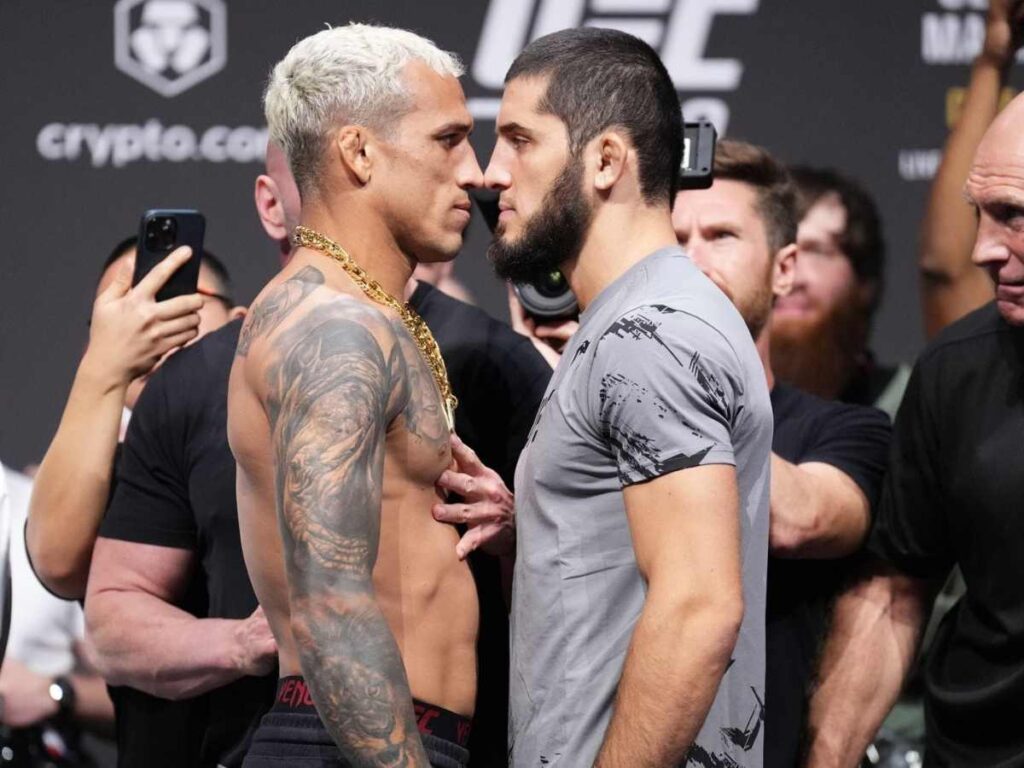 Former lightweight champion, Charles Oliveira along with many other fans believes that he deserves a title rematch upon his return. The former Brazilian champion successfully defended his title once after defeating Michael Chandler at UFC 262.
Oliveira's two successive wins during the championship run came against former interim champions, Dustin Poirier and Justin Gaethje. At UFC 280, Oliveira's 11-fight win streak came to an end after a submission defeat against current Lightweight champ, Islam Makhachev.
"With all due respect, I had 10 minutes off on a bad night. I wouldn't change anything to fight Islam Makhachev. This fight will happen again. Be sure of that…I'll fight in April or May, no matter who that is, and god will bless me with a win, and I'll have my rematch with Makhachev by the end of the year," Oliveira discussed his thoughts after loss at UFC 280.
The Brazilian champion's impressive UFC resume includes victories over, Dustin Poirier, Justin Gaethje, Jim Miller, Michael Chandler, Tony Ferguson, and Kevin Lee among many others. Oliveira also holds the record for most wins by submission in the UFC with 16 submission wins and 19 finishes.
In case you missed it:
Controversial kickboxer Andrew Tate worth $350 million reveals how much money is too much money
WATCH: Multi-billionaire Elon Musk impressed by UFC commentator Joe Rogan's samurai sword from 1500s