UFC Fighter and former Bellator lightweight champion, Michael Chandler has been seeking opportunities to fight the former two-division champion, Conor McGregor since his entry into the promotion. In his recent interview on former UFC middleweight champion, Michael Bisping's podcast to discuss and compare his career with Bellator and UFC.
In his UFC debut, Michael Chandler was scheduled to fight the then #5 UFC lightweight, Dan Hooker which Chandler won via TKO. Chandler was then scheduled to fight the former lightweight champion, Charles Oliveira for the lightweight championship. Despite losing to Oliveira, Chandler became an exciting fighter to watch due to his explosiveness and power.
Currently, Chandler is coming off a loss to former Interim lightweight champion, Dustin Poirier via submission at UFC 281. Mike Chandler also holds an iconic yet vicious knockout victory over Tony Ferguson at UFC 274. Since his victory over Ferguson, Chandler has been calling out Conor McGregor to fight at welterweight.
In his interview with Bisping, Chandler debunked the theory that McGregor could potentially be scheduled to fight Tony Ferguson. "I think it was just a tweet by Ferguson… I think I'm bigger than him (McGregor). I'm walking around almost at 190 lbs. I don't like making 155. 170 would be a dream come true. I think I'm still bigger than Conor," Chandler replied.
Chandler has called out McGregor multiple times since entering UFC and has also been received positively by McGregor over Twitter. McGregor's long lay-off since a TKO loss to Dustin Poirier at UFC 264 due to a devastating leg break and Chandler's callout has rumored a potential fight between the two fighters.
Related: "You took money from single moms," The ONE time trash-talk king Conor McGregor was left speechless by his opponent
Every time Michael Chandler called out Conor McGregor both inside and outside the octagon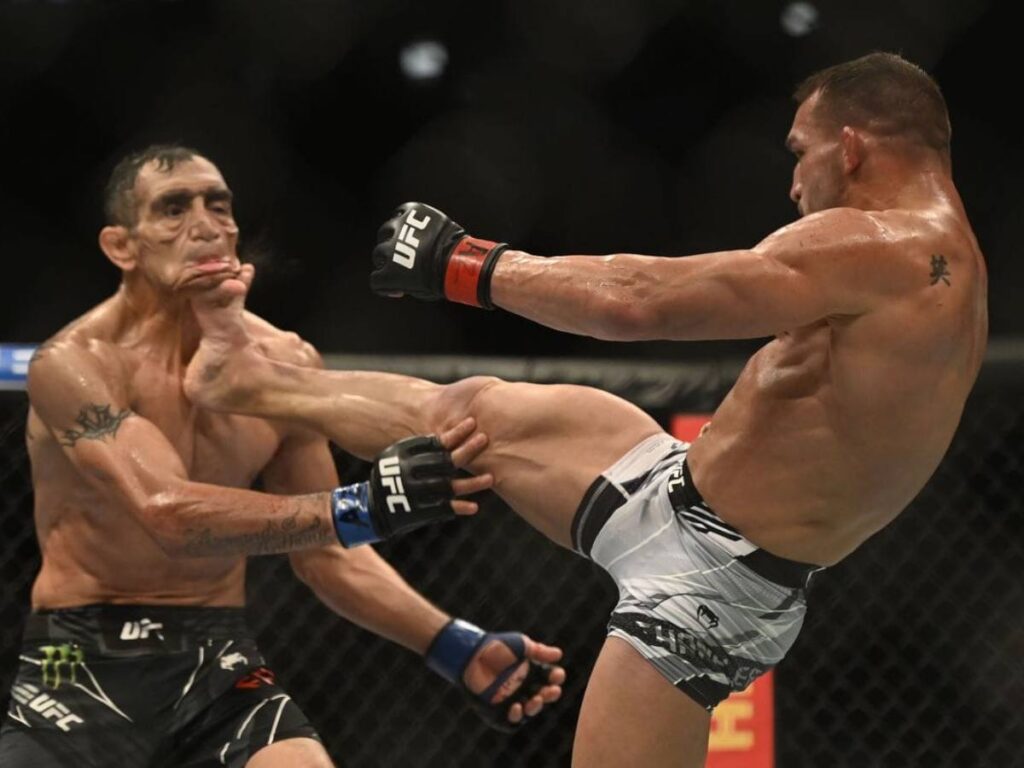 Iron Mike Chandler has become one of the most entertaining fighters in the UFC and has given some of the most exciting fights to the MMA world. However, his dream to fight former two-division UFC champion, Conor McGregor is yet to come to fruition.
Despite several callouts and acknowledgments, Chandler has been unable to schedule a fight with McGregor. Chandler has called out the Irishman numerous times in the UFC both inside and outside the octagon. Michael's explosiveness and incredible striking have made him one of the most watched fighters in the past couple of years.
The former Bellator Champion called out McGregor after his KO victory over Tony Ferguson last year and has shown interest in coaching in The Ultimate Fighter (TUF) as well. Chandler has also shut down the possibility of a fight with lightweight contender Arman Tsarukyan to focus on making the McGregor fight happen.
Meanwhile, UFC boss, Dana White has also shown interest in making Chandler vs McGregor happen in the near future on the Irishman's return to the octagon after a long lay-off.
In case you missed it:
"Joe can be biased sometimes…." One of the funniest UFC fighters explains the reason for not going on Joe Rogan Experience
"Is that an E-cigarette?" Ariel Helwani tries to get Jorge Masvidal in trouble for smoking Cannabis in parked car