Michael Chandler is coming off the back of a stellar win over Tony Ferguson at UFC 274, where he knocked the Oxnard, California native out cold with a scintillating kick to the face.
When Michael Chandler arrived in the UFC, hype was abuzz about him potentially mounting a solid title challenge to the top guys – namely, the Khabibs, the Dustin Poiriers, the Khabibs and the Justin Gaethjes of the world. In a turn of unexpected events, after Khabib's retirement, Michael Chandler found him battling Charles Oliveira for the vacant lightweight title.
While many people believed it to naturally go to Dustin Poirier after his flamboyant wins over Conor McGregor, Charles Oliveira proved all the naysayers wrong – beating first, Michael Chandler, then Dustin Poirier and in his last fight, Justin Gaethje.
Before the Tony Ferguson fight, Chandler found himself at the precipice  – he was 1-2 in the UFC, and losing to an ageing Tony Ferguson would have boded badly for his career.
Related– WATCH: Michael Chandler hilariously chucks 'rival' Dustin Poirier's signature HOT SAUCE in the trash can
Michael Chandler returns to the octagon against fan adored Dustin Poirier on November 12th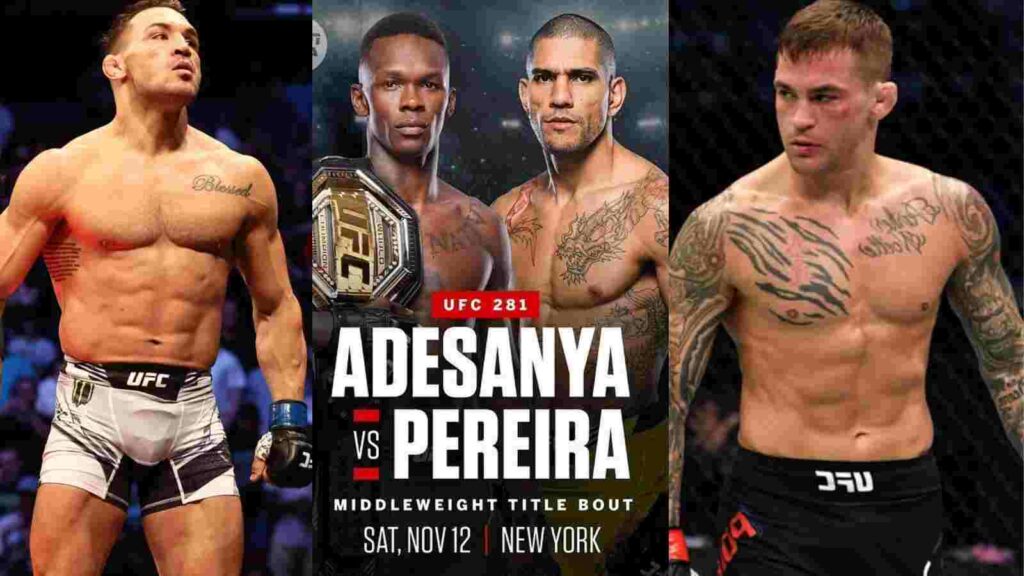 Before catching Tony Ferguson with a kick flush to the chin, Michael Chandler was being beaten in the striking department by him. In the middle of the first round, Chandler found himself in a spot of adversity as Ferguson managed to catch him on the chin, dropping him on his back. But, as we saw, Chandler recovered fast, and well, eventually won the bout.
Dustin Poirier, similarly, has faced some adversity in the recent past. Losing to Charles Oliveira in December last year by submission, the Louisiana native has since failed to be able to book a fight against a high ranked opponent in the division.
Sitting at #2 and #5 respectively, both Dustin Poirier and Michael Chandler must view this fight as a must win, if they are to mount another title challenge soon. Speaking to Ariel Helwani on the MMA hour, Chandler explained some of his thought process going in to the fight. He said, "It's not (personal). I've made fights personal in the past and it's never really worked out for me. People want it to be personal."
Also Read- Islam Makhachev sends a chilling message to Charles Oliveira promising to "get business done" within 3 rounds
Here, Chandler is referring to the altercation that ensued between Poirier and Chandler at UFC 276, where both fighters exchanged words with each other. Instead, the approach to this fight will be more traditional, according to Chandler. He added, "He and I will, as we always do, go out there and bite down on our mouthpieces and get into a hard fought scrap."
The two face off against each other on the undercard of the Israel Adesanya vs Alex Pereira title fight, at UFC 281. The card is completely stacked from top to bottom, and with the addition of these two, surely, sparks are bound to fly.
Also Read- This weird request by Tony Ferguson to Hunter Cambell got us the main event for UFC 279