Becky Lynch is probably one of the greatest WWE female wrestlers of all time. The WWE Universe adores and respects her a lot. Moreover, they are appreciating her ongoing storyline with Trish Stratus. Recently, WWE shared an emotional backstage moment of Lynch that came from Night of Champions.
Fans often want to see behind-the-scenes moments from major premium live events. WWE usually shares some reactions and moments from backstage to maintain an emotional connection with the fans. Recently, it released an unseen backstage moment where fans saw Becky Lynch emotional.
The video shared on Instagram shows a very adorable moment. Becky Lynch was seen getting emotional due to the loud reactions Sami Zayn and Kevin Owens received during their entrance. "The Man" could not hold back her tears when she saw how supportive the fans were.
Becky Lynch said she was just happy for both superstars and believes that they deserved that moment. Lynch said that she often gets teary eyes when she is quite happy. Without a doubt, almost every WWE fan loves Sami Zayn and Kevin Owens for their beautiful storyline with The Bloodline. They have come a long way together, with lots of ups and downs.
Sami Zayn had never been to Saudi Arabia before due to his Syrian origin. Night of Champions was the first WWE event Zayn attended on the Arabian Peninsula. The 38-year-old came out dressed in traditional Saudi attire, which gained even more applause from the local fans. Moreover, he even announced himself and Kevin Owners in Arabic, which received a huge reaction from the crowd.
Therefore, Becky Lynch was emotional, recalling how Sami Zayn's journey has been. She shares a good bond with the current Tag Team Champion and always supports him. Lynch getting emotional shows the amount of love she has for Sami Zayn and Kevin Owens. Watch the video here.
Related : WATCH: Zoey Stark horrifically breaks Becky Lynch's nose to help Trish Stratus get the win at Night of Champions
Trish Stratus and Zoey Stark attacks Becky Lynch on the recent episode of Raw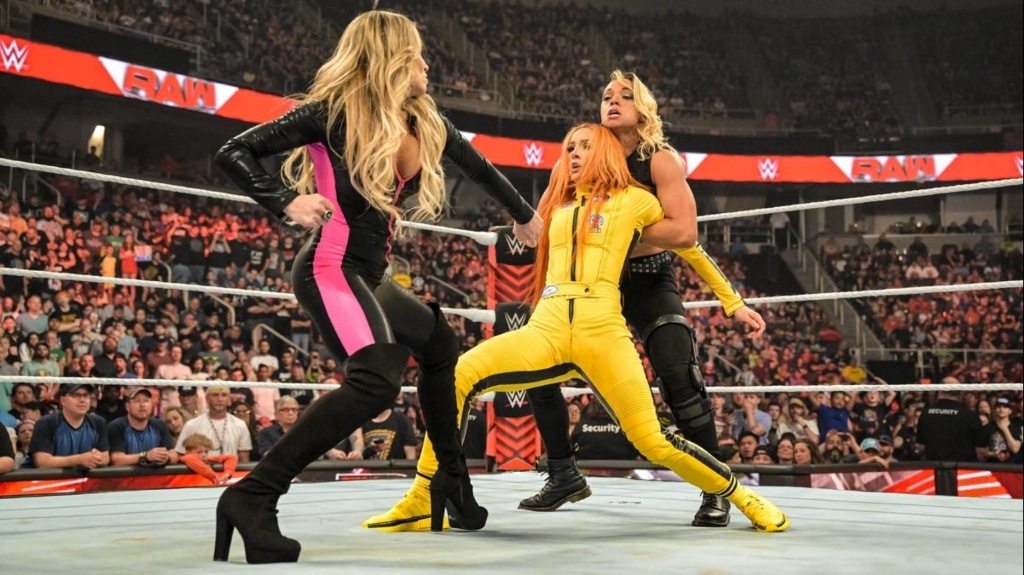 The recent episode of Raw did not go well for Becky Lynch. Zoey Stark appeared on the show and delivered a promo. She talked about the greatness of Trish and said that she was a big fan of her. She went on to disrespect Becky Lynch and her career. Besides, the Hall of Famer warned Becky that she would hurt her if she ever came her way.
As a result, Becky Lynch came out to seek revenge for her loss at Night of Champions. However, Stark and Stratus had the numbers advantage and attacked Lynch in the ring. It was more disrespectful when they both made Becky wear a t-shirt that read "Thank You Trish". This storyline has become a great thing for the WWE Universe. It is far from being done right now.
In case you missed it: