Bray Wyatt made his huge return to WWE at Extreme Rules last year. Ever since then, he has tried to do something fresh with his character, becoming more humble and realistic. The Eater of World even introduced a new character in his universe called 'Uncle Howdy'. This character revamp, though, has been an underwhelming one. It is nowhere near Wyatt's all-time greatest gimmick, 'The Fiend'. However, according to the man behind the mask himself, fans may never see the terrifying masked demon again.
In an interview with Ryan Satin, Bray talked about a lot of stuff, including his character evolution through the years. While tracing each of his characters' histories, Bray revealed the emotional reality behind what is shown on the screen. The former WWE champion almost certainly put an end to the cult leader Bray Wyatt and the Fiend, while citing reasons for each of them.
Bray Wyatt said, "For me, the Hawaiian shirt, cult Bray, he can't be without Brodie [Lee], to me, you know? So I can't be that without Brodie. It's just not the same. It's disrespectful to my best friend. It just can't be without him, but the Fiend died that day in Tampa, Florida at WrestleMania to me, you know? And again, The Fiend is not just a goof in a mask like people think. That's just ridiculous (laughing). To me, it's so much more and what you see, where all these things come from, you know, or how they sculpt me or how they molded me as a human being. But he died that day to me and it could never be again. It's gone." The interview is uploaded on 'WWE on FOX' YouTube channel.
Related: Positive update over Bray Wyatt's WWE future
Bray Wyatt shared an iconic moment with the Undertaker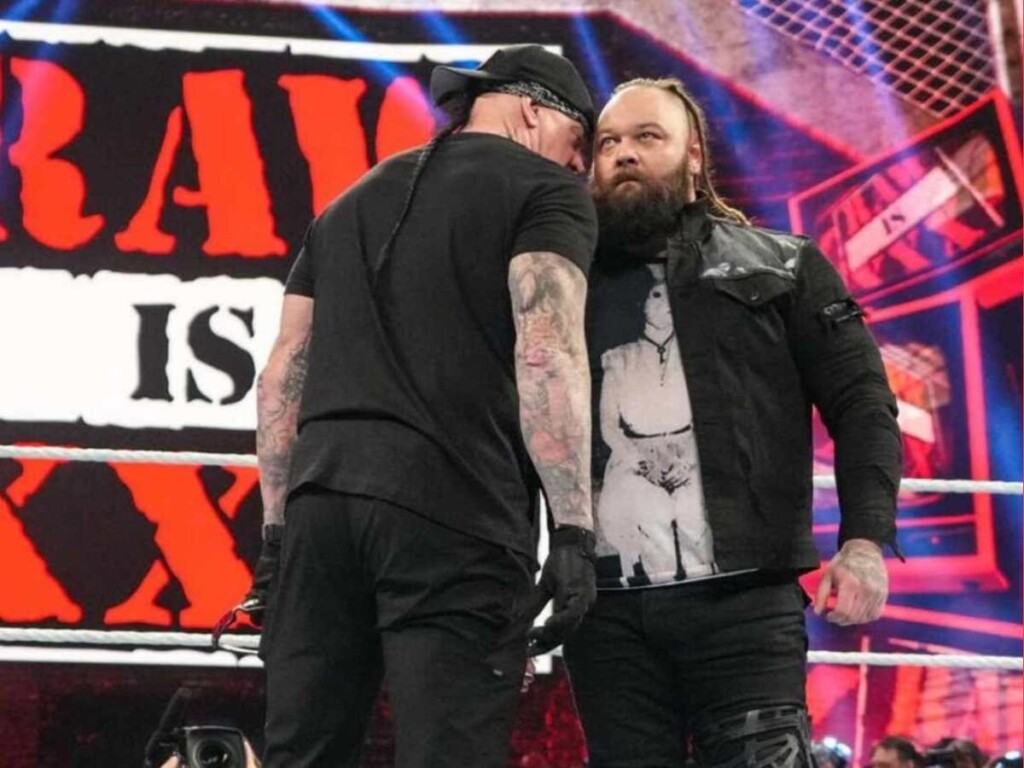 At Raw XXX, the fans were delighted to see The Undertaker make his return to WWE. At the show, the Deadman and the Eater of Worlds, Bray Wyatt shared a historic moment in the ring together. Undertaker and Wyatt worked in tandem and laid out LA Knight. While he was leaving, the American Badass whispered something in Bray's ear, which remains a mystery to the fans. Nonetheless, this 'passing of the torch' between two supernatural and mystical characters of two different generations sent chills down everyone's spine.
Bray Wyatt started his first feud with LA Knight in November, soon after his return. Since then, the involvement of Uncle Howdy has left many fans feeling perplexed. Wyatt and Knight will meet in the ring for the first time in a Pitch Black match this Saturday at the Royal Rumble. The details of the match are still not known, so the WWE universe still sits in much anticipation of what will unfold at the event.
In case you missed it!