WWE star Carmella took to social media last month when she announced her pregnancy and that her child was due in November. Mella and her husband, WWE commentator Corey Graves, revealed the gender of their baby to be a boy earlier this month. The couple seemed overjoyed while announcing this news, and the WWE Universe congratulated them. Carmella recently shared a breathtaking bikini picture flaunting her baby bump.
Carmella and Graves started dating in 2019 and got married to each other on April 7, 2022. A year later, the couple came up with the good news of their baby boy coming into the world following her miscarriage in 2022. Carmella will have her first baby, while Graves has three children from his first marriage. Her co-workers and fans have been sending good wishes to the couple.
A recent post on Carmella's Instagram gave fans a glimpse of her well-being during her pregnancy period. The WWE superstar shared lustrous pictures of herself in a blue bikini, showing off her baby bump. She was seen relaxing on a boat and having fun in the sunshine of Pittsburgh. She shared the pictures with a silly caption saying, "all I can see is the tag sticking out of my top 🫣."
Carmella was seen struggling during her recent run in the WWE. It looks like she will be on hiatus for quite some time. On the other hand, Corey Graves has been regular at his job on Monday Night Raw, and other premium live events as a commentator. It will be interesting to see when Carmella makes her return to the WWE.
Related: WWE Superstar Carmella and Corey Graves reveal the gender of their baby due in November
Carmella's controversial Money in the Bank win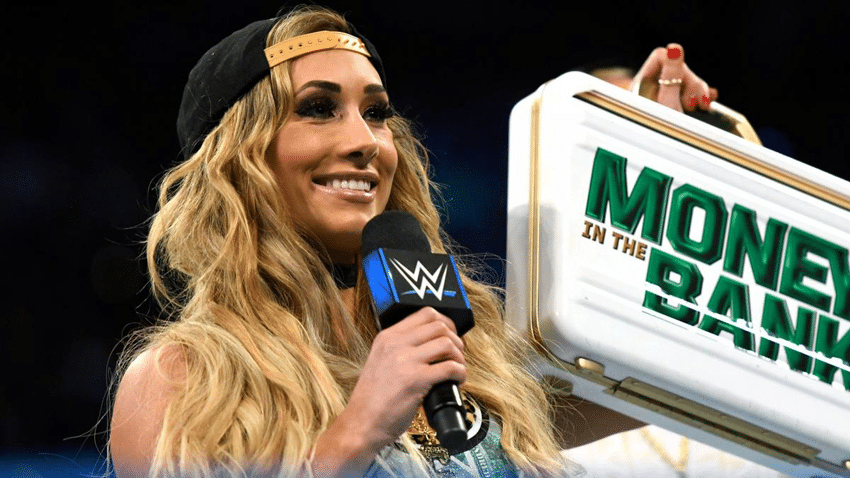 WWE superstar Carmella won the first-ever Women's Money in the Bank ladder match back in 2017. Her pay-per-view win did not receive much appreciation from fans. She went on to win the SmackDown Women's Championship. It was undoubtedly one of the biggest moments of her WWE career.
Carmella's heel run in 2017 saw her get aligned with James Ellsworth, who came to her aid during the ladder match. Becky Lynch was all set to grab the briefcase when Ellsworth pushed the ladder, resulting in Lynch's fall from the ladder. James then climbed up the ladder, claiming the briefcase before tossing it to Carmella.
This controversial win by Carmella resulted in WWE booking the same match on the following episode of SmackDown. James repeated by doing the same, but this time Lynch tipped the ladder, having Ellsworth fall onto the ring. However, taking advantage of this situation, Carmella made it to the top, winning the match ethically.
In case you missed it: