Dwayne Johnson has one of the most iconic entrance songs in WWE history. However, he didn't have the exact theme song from the beginning of his career. Recently, The Rock revealed that he used Tupac Shakur's famous song, "All Eyes On Me" when he first began wrestling.
On his Instagram account, The Great One posted a video of him and Deion Sanders walking backstage before the Colorado Buffaloes game. In the background of the clip was his first entrance theme. First, The Rock mentioned that he and "Coach Prime" had a talk about hard work philosophies and most importantly, their love for fishing.
Furthermore, he praised Sanders for being straight-up, kind, and loving. Previously, Dwayne surprised the Colorado coach when he appeared on the College GameDay show. Moreover, the Hollywood star claimed that Deion Sanders "galvanized" college football in Colorado. The Rock wrote in his caption about the Tupac song, "All Eyes On Me."
According to Dwayne Johnson, this was his first walkout music in wrestling before his WWE career kicked off. "I may have been broke as hell, only been making $40 bucks per match, but I was a bad MF walking to the ring," noted the legend. The Rock returned to the WWE on last week's SmackDown after almost four years. However, there was no report to suggest that the comeback was more than a one-time deal.
Related: After suffering $60 million loss, Dwayne Johnson might follow in his former boss Vince McMahon's footsteps
Jeff Jarrett believes The Rock didn't show up at WrestleMania 39 due to WWE-UFC merger
Dwayne The Rock Johnson recently dropped a bombshell when he stated that his dream match with his cousin, Roman Reigns, was locked in for WrestleMania 39. However, the Brahma Bull believed that it didn't make sense for him to return earlier this year. Despite that, WWE Hall of Famer Jeff Jarret thinks otherwise.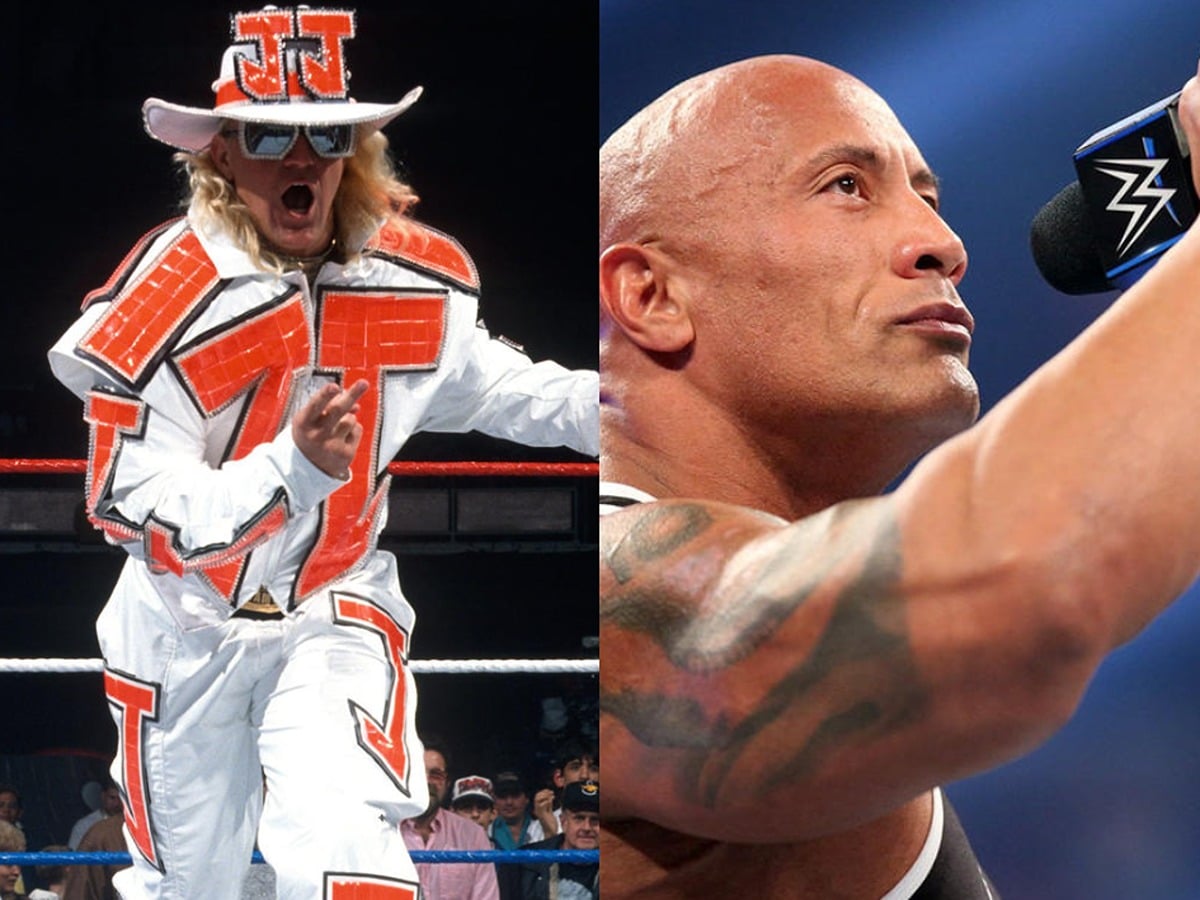 While speaking on his podcast, My World With Jeff Jarrett, the pro wrestling veteran claimed that The Rock stalled plans due to the WWE-UFC merger. According to him, The Great One waited so that he could demand a bigger payday for an appearance. "I can kind of see in my man Dwayne, second and third generation wrestler, going, you know, there's a lot more upside to having some more patience," added Jarrett.
Many fans have backed the 56-year-old's claims, with The Rock showing on the first televised show under the TKO Era. Also, the People's Champ mentioned that he was down for a match against Roman Reigns at WrestleMania 40 during an appearance on The Pat McAfee Show. Therefore, the battle between the two biggest Anoa'i family superstars may soon take place.
In case you missed it: