WWE legend John Cena is one of the greatest superstars to have stepped foot in the squared circle. Not only were the fans impressed by his in-ring performance and mic skills, but they also loved his real-life personality. On the other hand, Edge, one of his biggest rivals, is one such superstar who is equally loved by the fans.
Edge and Cena's rivalry dates back to 2006, with their matches being considered some of the classic ones. Having such a relationship with the Rated-R superstar, John Cena called him his real-life friend and got emotional while discussing his real nature. In a video posted by WWE, the 16-time World Champion addressed the WWE Hall of Famer's contribution to the company while being unable to hold back his tears.
The video showed The Cenation Leader speaking about how amazing and caring Adam Copeland, a.k.a. Edge is. John Cena described The Ultimate Opportunist as a great human being and spoke about his love for the sport. He further stated his role in the company's success and everything he has given to the community.
John Cena also recalled the moments he shared with Edge in the industry. He thoroughly praised the Hall of Famer and respected his passion for WWE. Fans have seen the two legends square off many times in the ring in the past. Their last singles match happened on an episode of Monday Night RAW on September 20, 2010.
The heartfelt video of the Cenation Leader received massive reactions from the fans, with them getting emotional over Cena's rolling tears. It evoked a keen sense of sadness in the older generation of fans. Watch the video here.
Related: Why John Cena bashed young Seth Rollins for using ice pack after a match in WWE
Edge and John Cena's feud kicked off in a memorable way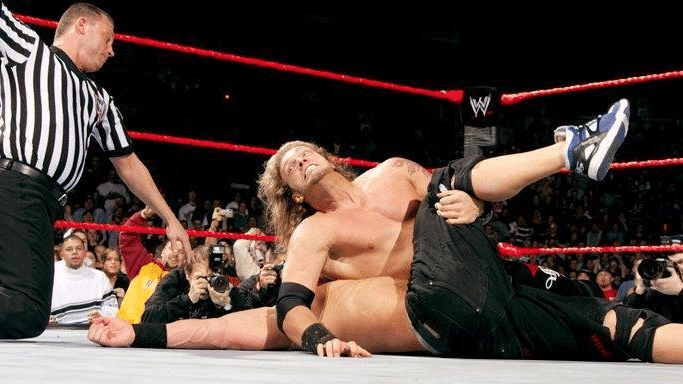 John Cena and Edge have had multiple matches throughout their rivalry. But their feud started with Edge's Money in the Bank cash-in on The Cenation Leader. With the Rated-R superstar winning the first-ever Money in the Bank ladder match in 2005, Edge capitalized on its successful cash-in in 2006.
The New Year's Revolution event on January 8, 2006, saw Cena square off in an Elimination Chamber match for his WWE Championship. John Cena, after having a hard time against the five other competitors, retained his title with a rolled-up pin on Carlito. As John Cena survived the chamber, Vince McMahon came out to officially announce Edge's cash-in.
The match started immediately, with former WWE Champion being battered and helpless after his tiring match. Still, Cena kicked out upon Edge's first spear. But he failed to retain his title after another spear from the Ultimate Opportunist. Edge won his first-ever WWE Championship in the most remarkable manner, kicking off the ever-longing feud between him and Cena.
In case you missed it: